10 Things You Must Do When You Are In Memphis, TN
I am home from an amazing girls weekend in Memphis, TN! This was a great trip because not only did we stay at Big Cypress Lodge but we also had the opportunity to see some of the top attractions in Memphis. While we were there we created a top 10 list of things to do when you are in Memphis and thought we would share that with you! We did not see everything but this is a great highlight trip. We would love to go back and see other things that the city has to offer but if you are there for 48 hours like we were this is a great list for you!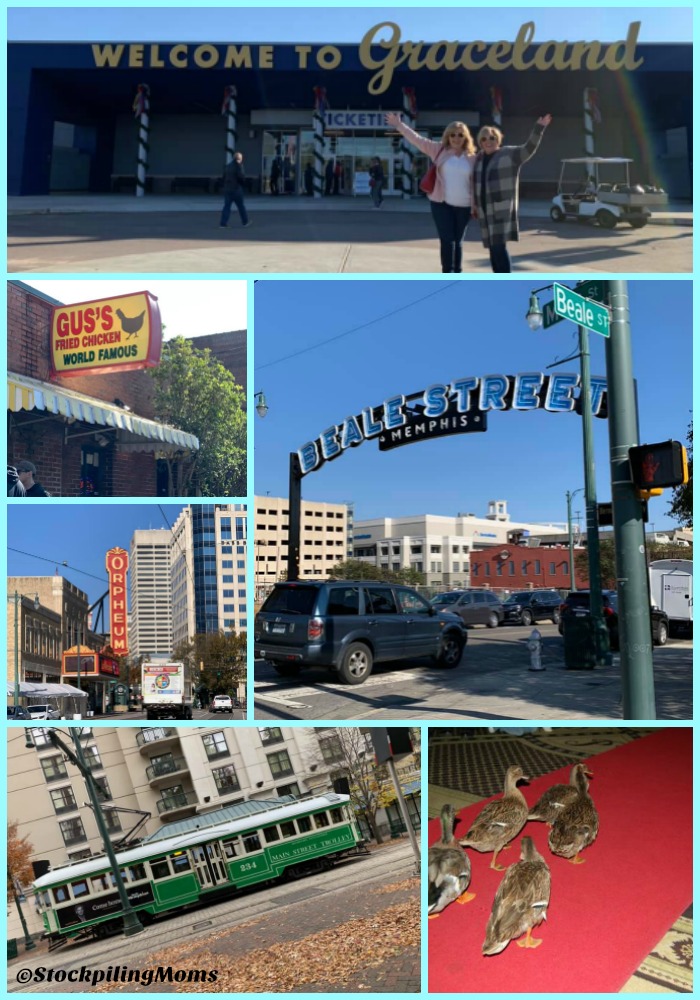 If you have never been Memphis is a city on the Mississippi River in southwest Tennessee. It is famous for the influential artists of blues, soul and rock 'n' roll that originated there. Elvis Presley, B.B. King and Johnny Cash recorded albums at the legendary Sun Studio, and of course Elvis Presley's Graceland is a wildly popular attraction.
Regardless of which of the attractions that you choose to see I wanted to share a few of our top picks with you. We chose Memphis because of its proximity. My friend Teresa lives in Jackson, Mississippi and I was able to catch an inexpensive flight. We are so glad that that we chose Memphis because it was the perfect destination for our girls getaway. If you have a chance to go it is a great destination for girls trip!
10 Things You Must Do When You Are In Memphis, TN:
Spa – I mean it really isn't a girls trip if you don't go to the spa! Our first stop after checking into our room was at Rachel's Salon and Spa located just minutes from Big Cypress Lodge in downtown Memphis. If you have never been to an AVEDA spa you are truly missing out. The products are natural and chemical free. When we arrived we were greeted with a glass of wine and the relaxation and pampering began.
I enjoyed a 60 minute customized full-body massage with essential oils and my friend Teresa enjoyed a relaxing spa pedicure. The only complaint that we had is that we wish we could have stayed longer. We left relaxed and de-stressed and it was the perfect way to start our girls weekend! Rachel's Salon and Spa is the perfect destination for a relaxing start to a girls weekend in Memphis, TN!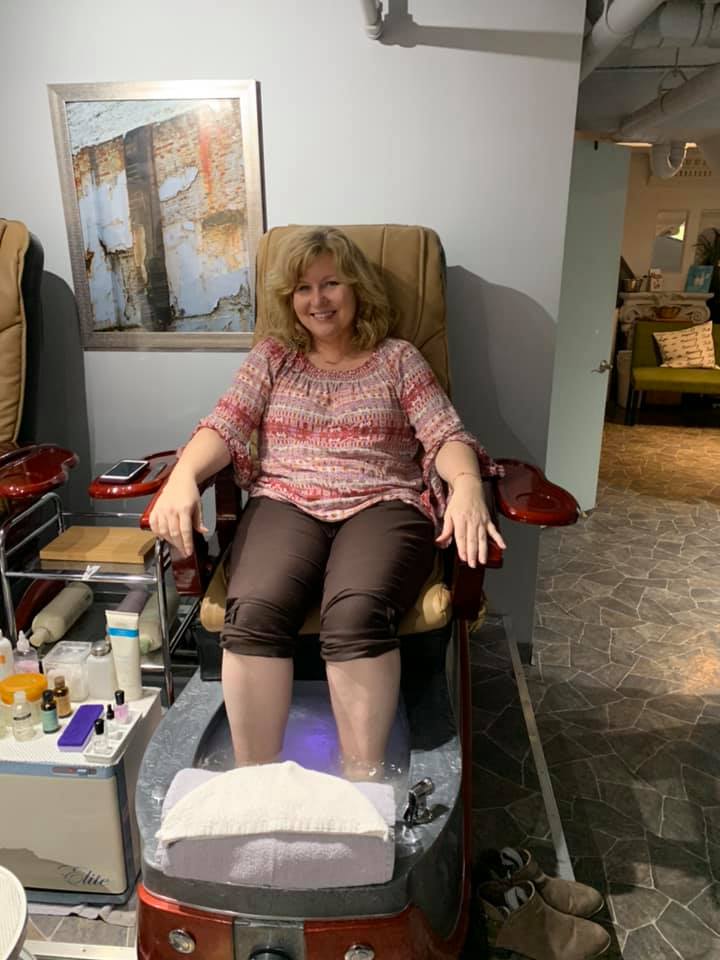 Food – Don't start a diet before you visit Memphis. There is so much good to eat! From barbecue, to fried chicken to chicken and waffles! We found all of the good food! Some of my favorite restaurants included Rendezvous BBQ, Top's BBQ, Gus's Fried Chicken, Bedrock Market and Cafe (amazing gluten free waffles) and The Lookout at Big Cypress Lodge just to name a few!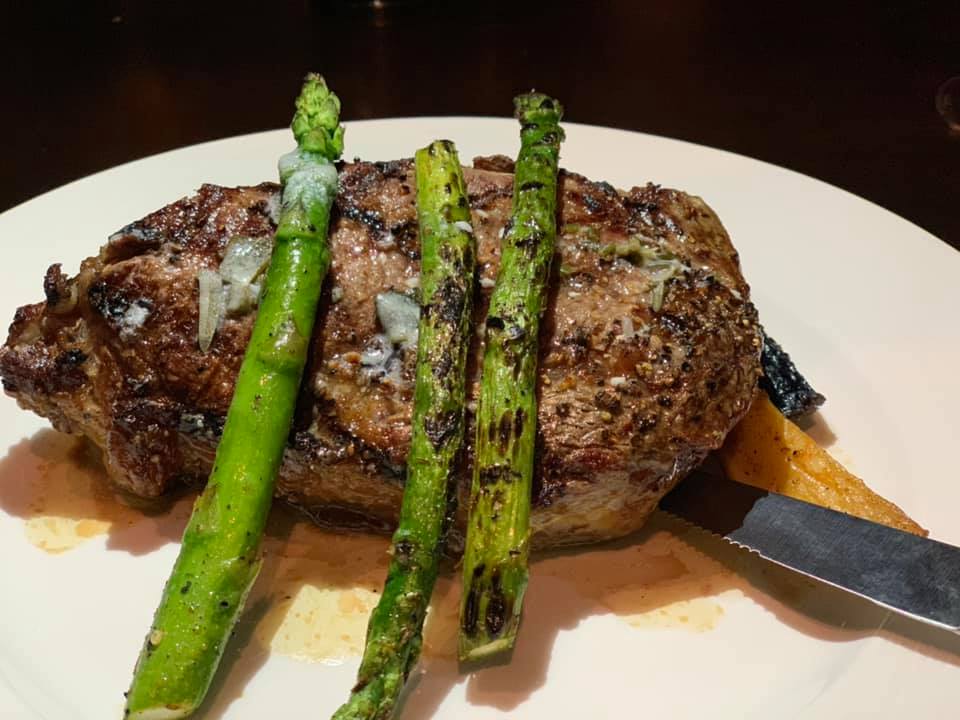 However the biggest thing is come hungry because there is so much to eat! Gus's Fried Chicken is World Famous with the line to prove it! A must to eat at when you are in Memphis, TN.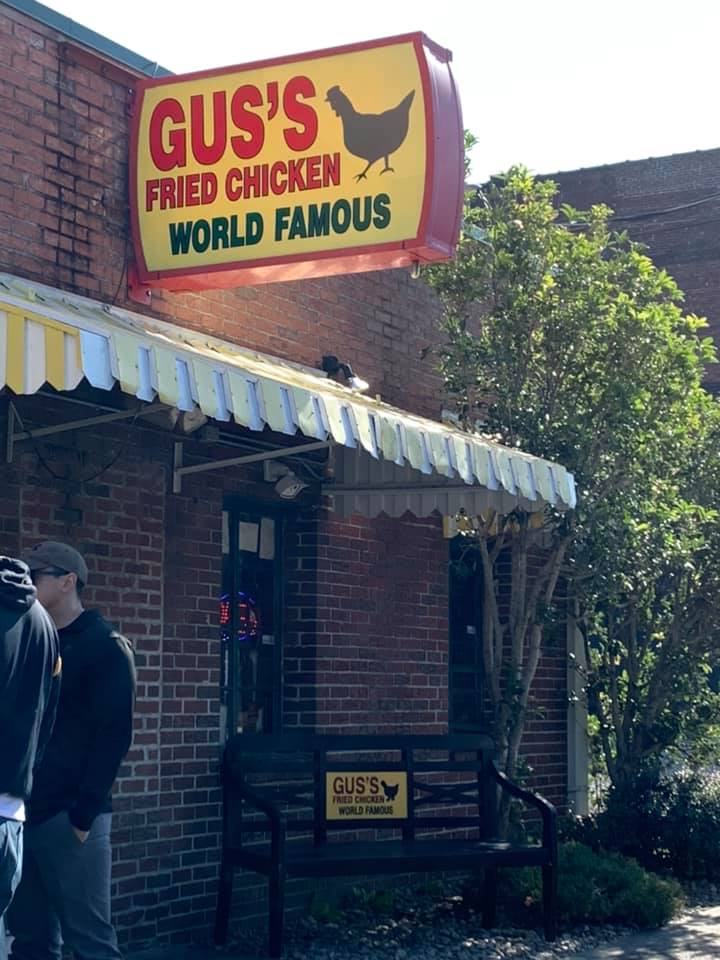 Blues – Memphis is known for amazing Blues musicians. No trip to Memphis is complete without a stop at Beale Street. It won't cost you anything to tour Beale street, but you will likely have to pay a cover charge at some of the bars you visit if you choose to do so. This is a great place to visit both in the day and evening.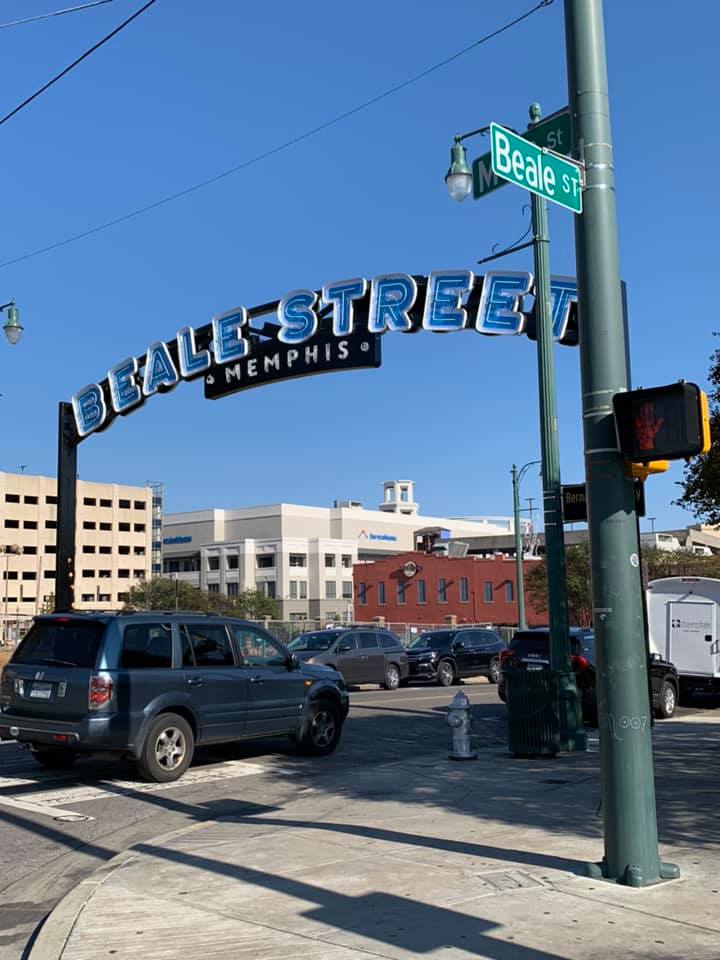 Graceland – If you are an Elvis fan this is the place for you! Of course even if you aren't this is a pretty cool place to visit and we consider it a bucket list destination. My Mom grew up loving Elvis so it was neat for me to see even though I am not a huge Elvis fan.
Do plan on at least 2-3 hours to see everything and wear comfortable walking shoes. I also suggest a small backpack or cross body purse to carry and try to keep your hands free as you will be using an iPad with earphones to guide you through the house. Also, no food or beverages can be taken with you when you tour the house.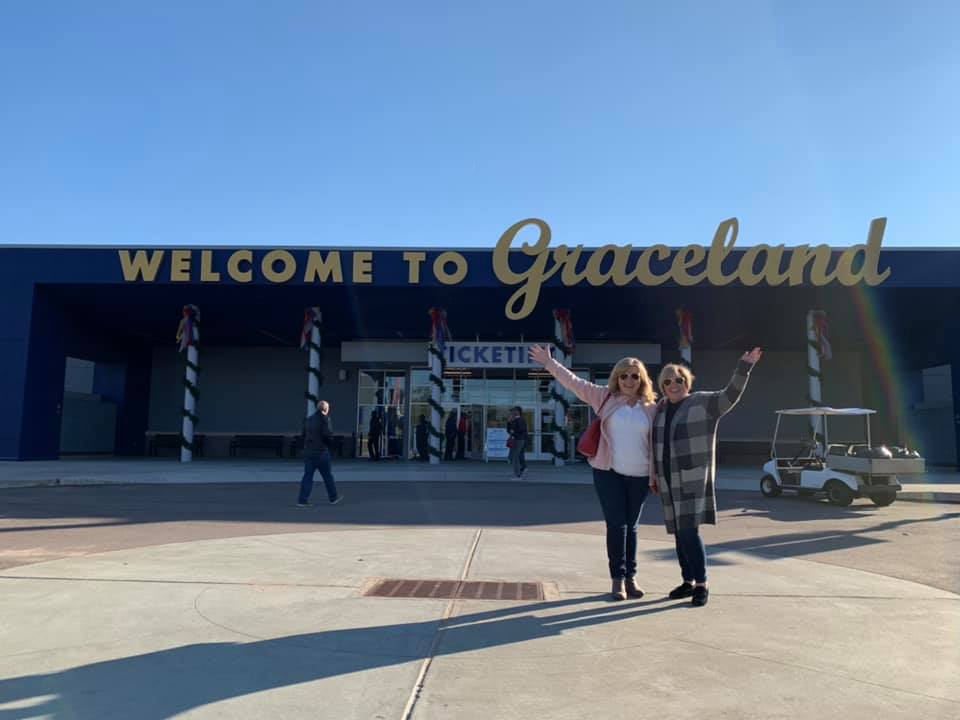 Located approximately 10 miles south of downtown Memphis, this is one of the most-visited private homes in the country. We were shocked by the amount of people who were there (and we even saw one Elvis impersonator). You will see the infamous Jungle Room, Family Room, Elvis's parents bedroom, dining room, kitchen and bar.
Elvis' grave is also located on the Graceland grounds. I suggest that you arrive early or later in the day to avoid crowds and check the visitors bureau for deals and discounts on tickets. Graceland is a bucket list item when you visit Memphis, TN.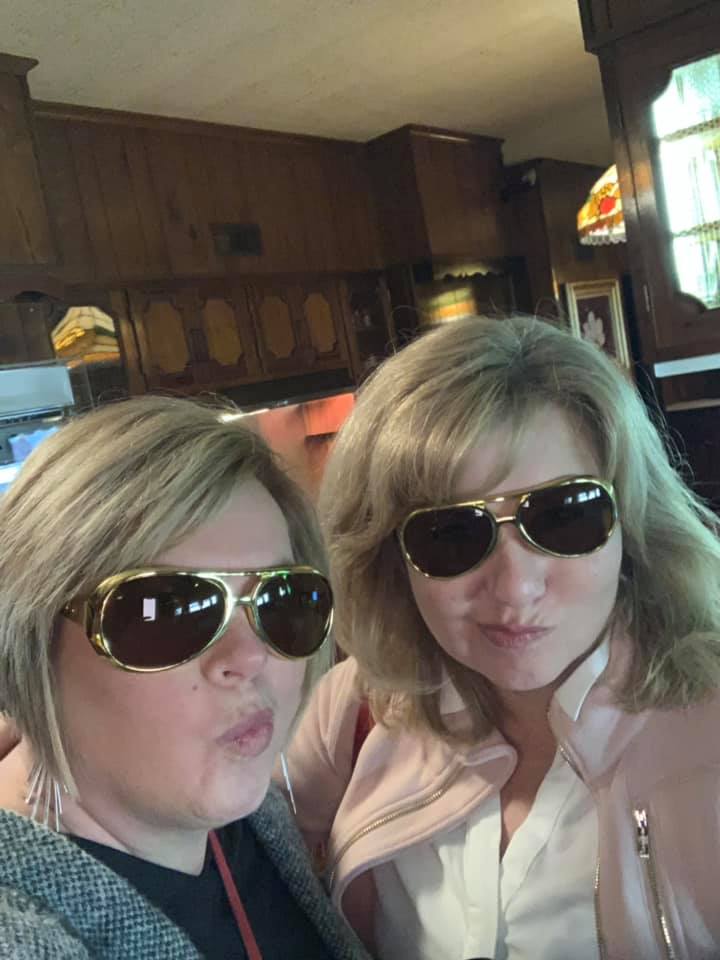 The Memphis Pyramid – You have to visit when you are in Memphis. It was originally built to be a sports arena. In 2015, the Pyramid re-opened as a Bass Pro Shops "megastore", which includes amazing shopping, Big Cypress Lodge, restaurants, a bowling alley, an archery range, and an outdoor observation deck.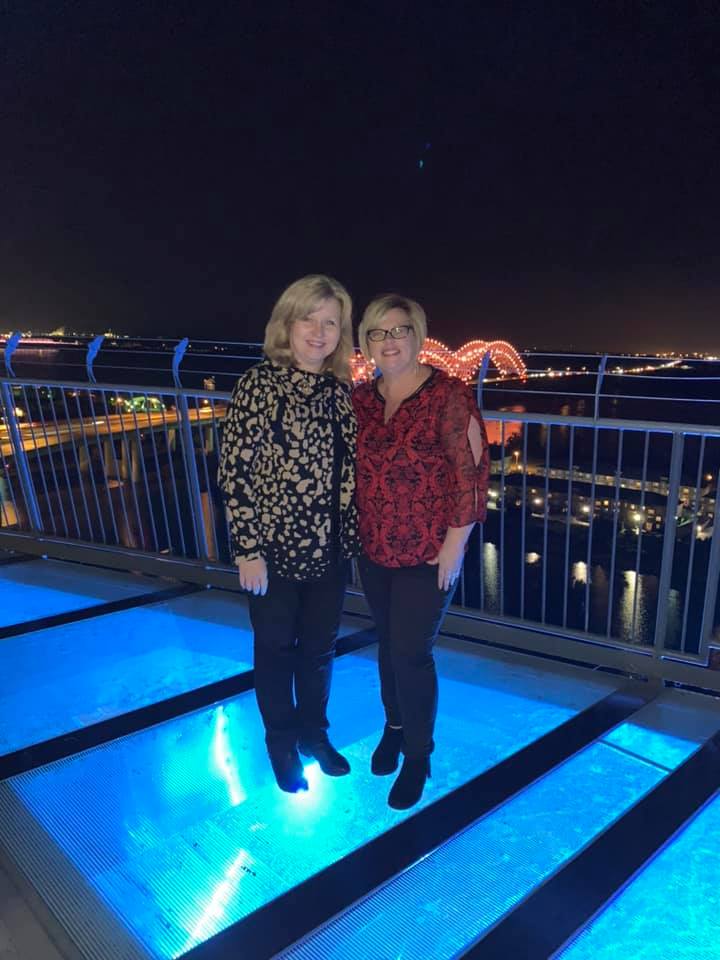 It features the tallest freestanding elevator in America and takes visitors to The Lookout at the Pyramid at the apex of the building, where you can take in the view on an indoor and outdoor observation deck or dine and drink at the The Lookout. Bass Pro at the Pyramid contains 600,000 gallons of water features and the largest collection of waterfowl and hunting related equipment in the world. It is a must see when you are in Memphis.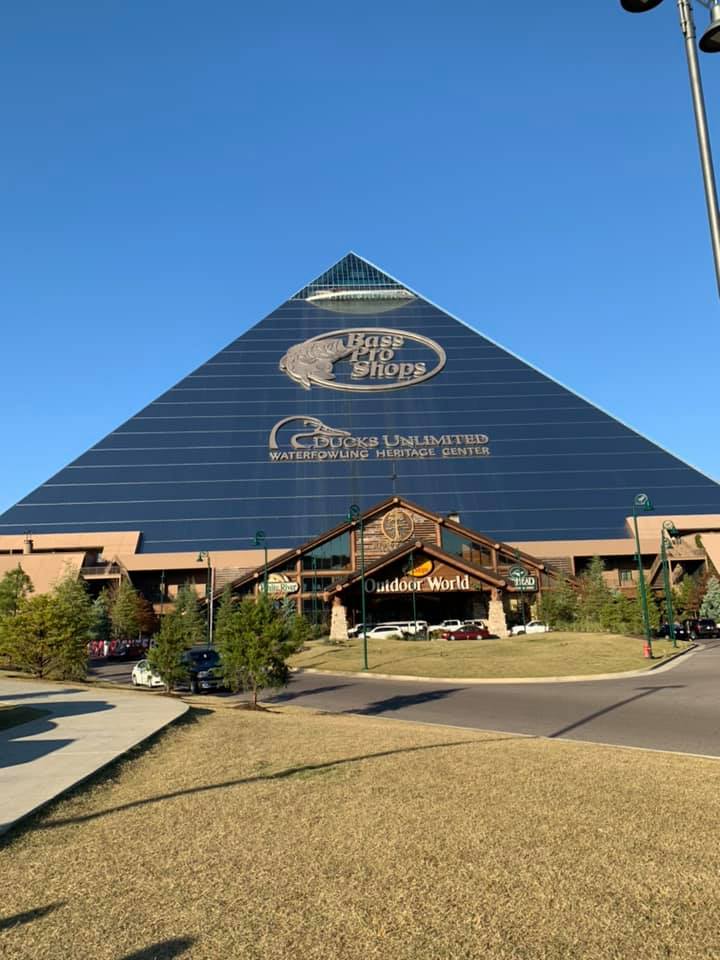 City Tour ($1 Trolley) – A great way to see the city of Memphis is to hop on one of the trolleys! This was our favorite way to enjoy the sites without having to worry about parking. We just simply hopped onto the trolley and took a scenic tour.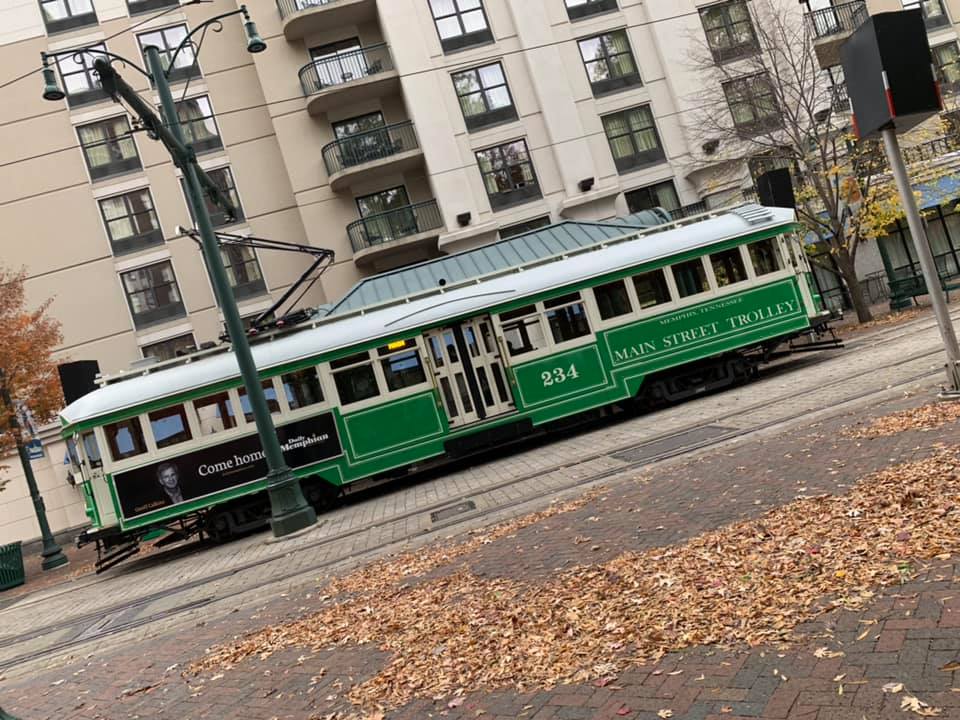 Sun Studio – Sun Studio is known worldwide as "The Birthplace of Rock'n'roll". It is the discovery location of musical legends and genres of the 50's from B.B. King and Elvis Presley to Johnny Cash and Jerry Lee Lewis; from Blues and Gospel to Country and Rock'n'roll. Located in downtown Memphis, Sun Studio is open to visitors seven days a week from 10 a.m. to 6:15 p.m.
We stopped but didn't take a tour. Guided tours are given at the bottom half of every hour, from 10:30 a.m. to 5:30 p.m. Tours last approximately 40 to 50 minutes. Admission costs $14 for adults and $12 for students, military and AAA members. Children ages 5 to 11 get in free; children younger than 5 years old are not permitted on the tour. It is an amazing place to visit! Next time I want to be sure to take the tour.
National Civil Rights Museum – Located in the Lorraine Motel. This is where Martin Luther King Jr. was assassinated on April 4, 1968. The museum features multimedia presentations on the civil rights movement. Located south of downtown Memphis in the South Main District, the National Civil Rights Museum is open every day except Tuesday from 9 a.m. to 5 p.m.
From Memorial Day weekend through Labor Day, the museum stays open until 6 p.m. Admission is $16 for adults, $14 for seniors and students, $13 for kids between the ages of 5 and 17 and free for toddlers 4 and younger.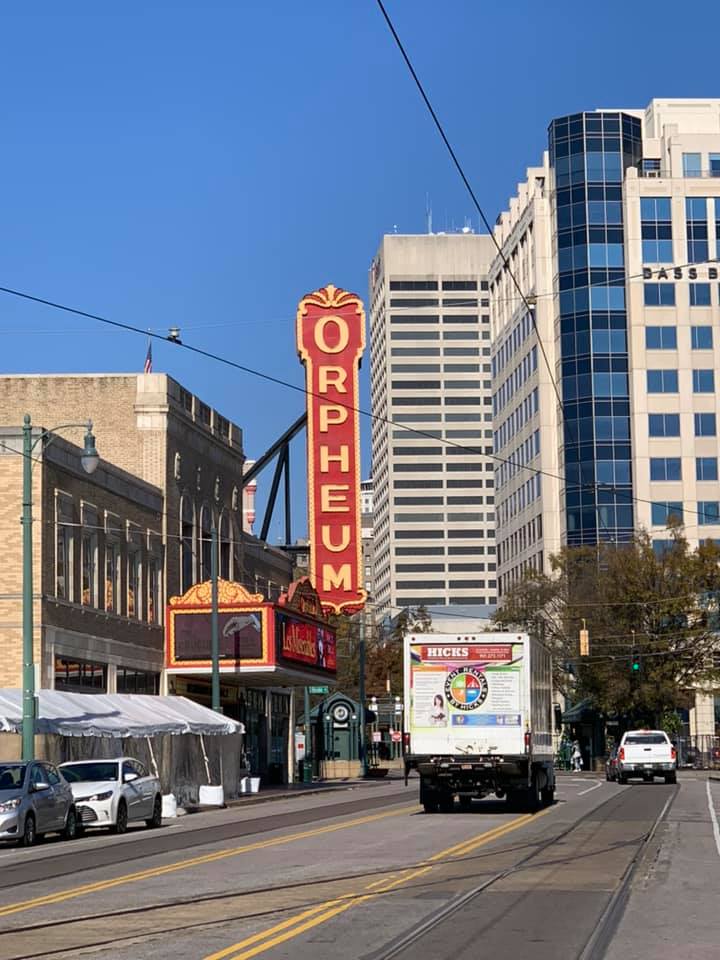 Orpheum Theater – Former opera hall hosts touring theater troupes, music acts, opera & ballet performances. The Orpheum Theatre, a 2,308-seat venue listed on the National Register of Historic Places, is located in downtown Memphis, Tennessee, on the southwest corner of the intersection of South Main and Beale streets.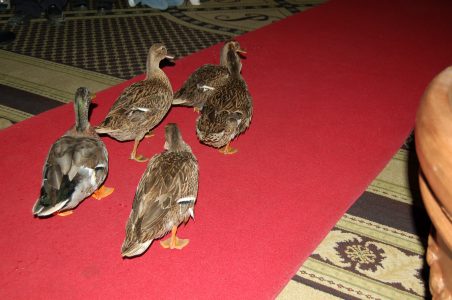 The Peabody – I mean you can't go to Memphis without a stop to see the ducks! The Peabody Memphis has held a long-standing reputation as one of the finest hotels in the South. While the building itself is quite breathtaking, the real attraction here is the march of the Peabody Ducks. Since the 1940's, these North American mallards have been a staple feature of the historic hotel. Visit around 11 a.m., when the ducks make their way from their Royal Duck Palace on the hotel's rooftop down the red carpet through the hotel lobby and into the Peabody Fountain.
At 5 p.m., the tune picks up again and the ducks hop out of the fountain and make their way back along the red carpet to their home. The lobby can get crowded, so be sure to secure a good view by arriving early and heading up to the second-floor atrium. The Peabody Memphis is located less than a half-mile from downtown. The daily duck march is free to watch. This is on my list of places to stay the next time I visit Memphis.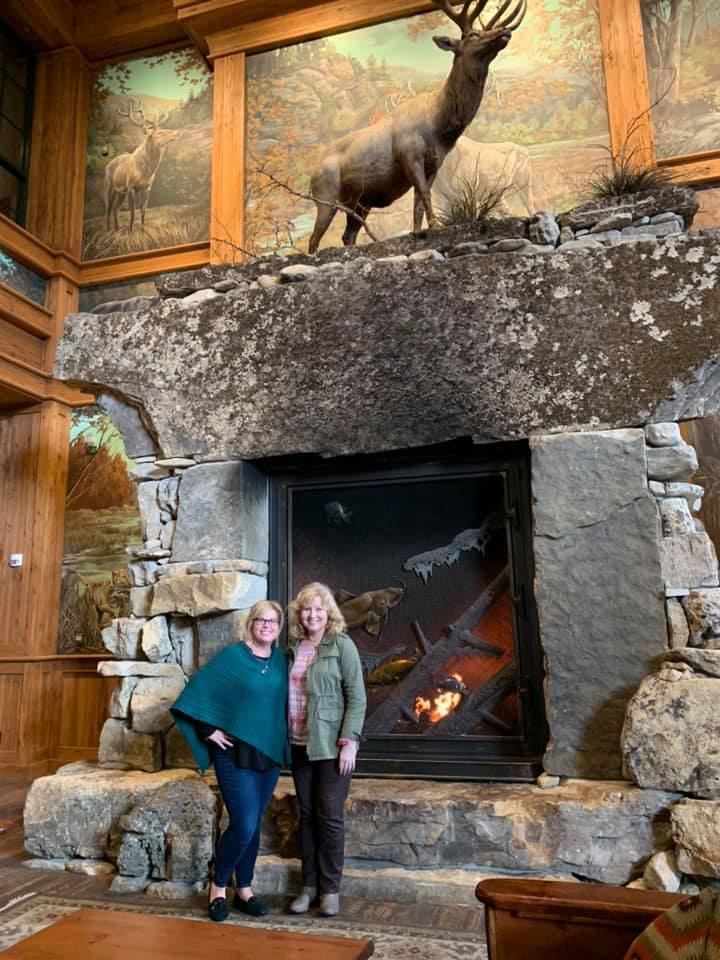 I hope this list of 10 Things You Must Do When You are in Memphis, TN help you when planning your trip. This was a girls trip and one that we will never forget! Memphis was the perfect destination for catching up. With lots to see and do you will love your time in Memphis.
Disclosure: We were provided some admissions to these attractions to facilitate our review. All opinions are 100% our own.
Melissa is a football and soccer mom who has been married to her best friend for 24 years. She loves sharing recipes, travel reviews and tips that focus on helping busy families make memories.