Utilizing Coupon Clippers – 7 Days of Stockpiling
Utilizing Coupon Clippers – 7 Days of Stockpiling. We are often asked about which coupon clipper is best to order from and how we know what coupons to order. Honestly there is no exact science to it. After you have stockpiled for as long as we have, we have a good idea of what products will go free or near free. We also know the HOT coupons that come out.
When you are starting the best advice, I could give you is to order coupons with high values ($1.00 or more off of 1 item) and if you have a store that doubles order coupons that double to $1.00 or better off of one item. I find these are the "best" coupons and often times will net free or rock bottom. I also love Buy One Get One Free Coupons and Get This Free When You Buy That Coupons.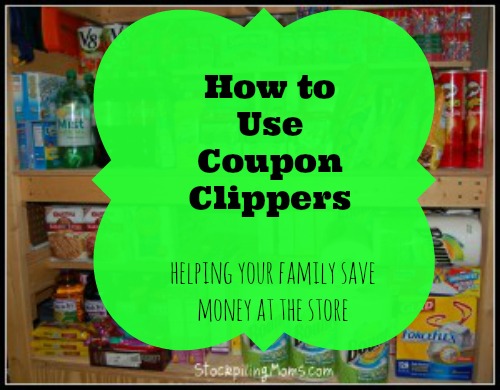 There is no science to it – it is truly a game of chance. You order based on the hope that the product will cycle to rock bottom while you have a coupon that matches. Most of the time I find it does, even if it is in the last couple days of the sale (like this week with the Kroger/Lysol matchup).
When it comes to which clipper to order from that really varies on your personal preference. I personally like to order clipped coupons versus whole inserts unless there are tons of high value coupons in the insert. I like to use clippers because it takes the time out of my process in terms of clipping/sorting and filing. Now, I simply order, check my mail and file. So, for me it is a huge time saver. If you want the coupons in time to use during the week you order, be sure to order from a clipper that lives near you and factor that in when selecting.
We are affiliates with 7 coupon clippers. They are all legitimate and we have their location listed. I always order from a local clipper when possible if I want in on the sale that week. If it is coupon, I am just strategically ordering then that doesn't matter, and I order from whichever clipper has it in stock and at the price that is best for me.
Ordering from clippers allows you purchase coupons with a different value from your local paper if you want as well. I personally made the switch to using coupon clippers 9 months ago and love it! I buy 1 paper and my Mom gives me her inserts and then I utilize coupon clippers for the rest of my coupons.
I hope this helps. I personally love using coupon clippers. Have you used them? What are your thoughts?
Here is the 7 Days of Stockpiling:
Day 1 –Utilizing Coupon Clippers
Day 2 – Organizing Your Coupons
Day 3 – How Do I Build A Stockpile?
Day 4 – How To Be An Extreme Couponer
Day 5 – Overage
Day 6 – Utilizing the Freezer
Day 7 – Living in the "Land" of Doubles
If you are new or just catching up here are our most popular posts:
Crockpot Bacon Cheese Potatoes
Weight Watchers Peanut Butter Cool Whip Treat
Downy Unstoppables in my Wax Burner? Who Knew?
Melissa is a football and soccer mom who has been married to her best friend for 24 years. She loves sharing recipes, travel reviews and tips that focus on helping busy families make memories.