Tips for Limiting Screen Time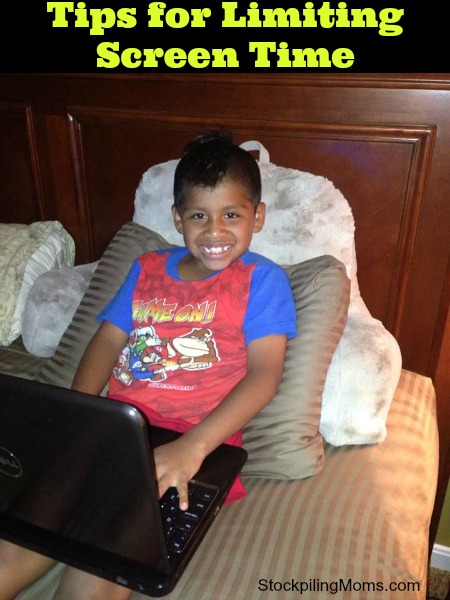 Today I am sharing my Tips for Limiting Screen Time. At our house we limit screen time to 2 hours or less a day. This is not always "easy" because there are so many screens at our house. If you consider the TV/DVD/Computer/DSI/Leapster we have a lot to choose from.
When my son turned six, we made the decision for him to "earn" his screen time. This is working really well for us. He earns time for chores and for completing responsibilities.
Tips for Limiting Screen Time
He earns 20 minutes for getting up, brushing his teeth and getting dressed without help and only being asked once. He earns an additional 10 for eating his breakfast, putting away his dishes, putting on his shoes, jacket and picking up his backpack. Once we moved to this system our morning routine became a breeze! He was really dragging in the morning and our morning was not happy. Not he jumps out of bed in the morning, and it is "his routine" and our mornings are happy!
What is nice when he earns it before he leaves for school, he knows that he has 30 minutes when he gets home. He normally chooses to use it immediately while he eats 🙂
He also earns screen time for loading clothes into the washer and from the washer to the dryer. In addition, he also earns time for washing dishes (plastic cups/plates) and drying them. He gets 10 minutes for the clothes and 10 minutes for the dishes. What is funny is now he asks me to save dishes for him.
Other responsibilities include picking up his toys and taking his dishes to the sink after every meal. He also sorts recycling items. These are simply chores/responsibilities that allow him to have the opportunity to earn screen time while also teaching him responsibility at the same time. A win/win for us all!
Our pediatrician actually suggested the idea to us, and it is working great. To keep up with his screen time we are using a great app that my husband found. It is called iReward Chart.
How it helps: With this app, when your youngsters demonstrate good behaviors like sharing, picking up toys and saying please and thank you, you can reward them with star points. They can redeem their stars for a reward, such as a new book or an hour of TV. You customize everything, including the tasks, rewards and stars required.
Devices: iPhone, iPod Touch and iPad
Price: Lite version is free (limited to one kid, four tasks a week); full version, $3.99
This is working really well for us! I feel like it really shows our son how to balance his day and is holding him responsible. I am wondering how the summer will go. Luckily, we don't spend much time indoors 🙂 I would love to hear how you limit screen time or if you do. Please share any tips or challenges you face.
Back To School Posts:
Tips for Transitioning from Summer to School
5 Tips for Back-to-School Success
20 Ideas for Breakfast on the Go
7 Tips for Saving Money for Back to School
Melissa is a football and soccer mom who has been married to her best friend for 24 years. She loves sharing recipes, travel reviews and tips that focus on helping busy families make memories.