In my opinion coupon organization is key to stockpiling success. If you are unorganized then you are simply not going to be able to save as much money because you won't be able to find your coupons to cash in on the deals.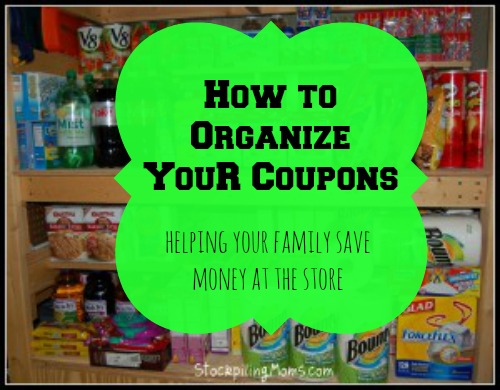 Organizing Your Coupons:
A tip that I want to start with is always purchase your papers/coupons in even numbers so that you can take advantage of Buy One Get One Free Sales.
I use the binder method filled with baseball card inserts. In particular I use the Coupon Clutch. I personally love this method because I can easily scan through and see very quickly what coupons I have available when I am matching and when I am shopping in the stores. I personally clip all the coupons from the inserts that I will possibly ever use (not the ones I would never use…for example diapers/baby products as we no longer have a baby in the house). The reason I clip all of my coupons is because though I may not buy a particular brand or item "normally" I will buy it if I find it free or near free.
I have my coupons divided into categories that make sense to me and I suggest you do the same. I personally have them divided by: Baking, Beverages, Breakfast, Canned, Dairy, Drugs, Frozen Foods, Heath and Beauty, Household, Fruits/Veggies, Meat, Organic, Other, Rebates and Store.
I use a coupon binder because it closes shut, I can carry it on my shoulder, and it is stylish… I find this the easiest way to be able to carry my coupons, shop and keep organized (plus I have dropped my binder several times in the checkout process, and this has become a huge life saver). I use two 3 hole zipped pouches at the front of my binder. One holds my "hot coupons" " and the other holds my restaurant coupons. Also in my binder, I keep a calculator, small pair of scissors and the current weekly sales ads.
If you don't clip all the coupons from the inserts it is important to keep and file the inserts (or what is left after you clip them). A helpful tip to know is that the date and name of insert is printed in very fine print on the outside of each insert cover. I like to take a black permanent marker and write the date on the cover.
Now, I am going to give you two schedule scenarios for keeping organized.
Clipping Your Own Coupons:
Sunday – Clip Coupons
Monday – Sort and File
Tuesday – Shop
Ordering Your Coupons:
Saturday – Order
Tuesday – Check Mail and File
Wednesday – Shop
Being organized will take time in the beginning however once you are organized it will end up saving you money in the end! I also want to add that I NEVER leave home without my binder. I take it with me in the van every time I leave the house. The one big tip I can give you is if you don't have all of your coupons with you then you won't be able to save money when you run across a great deal! I hope this helps you and if you have any questions please don't hesitate to ask.
7 Days of Stockpiling Series:
Day 1 –Utilizing Coupon Clippers
Day 2 – Organizing Your Coupons
Day 3 – How Do I Build A Stockpile?
Day 4 – How To Be An Extreme Couponer
Day 5 – Overage
Day 6 – Utilizing the Freezer
Day 7 – Living in the "Land" of Doubles
Melissa is a football and soccer mom who has been married to her best friend for 24 years. She loves sharing recipes, travel reviews and tips that focus on helping busy families make memories.