Stockpiling 101 – Stockpiling For The Holidays™
One of the best money saving tips for Christmas is the start Stockpiling For The Holidays. Have you started your Holiday shopping? A few years after we got married I began buying for the holiday's and other special occasions throughout the year in order to spread out our spending so we were not "hit" so hard at year end.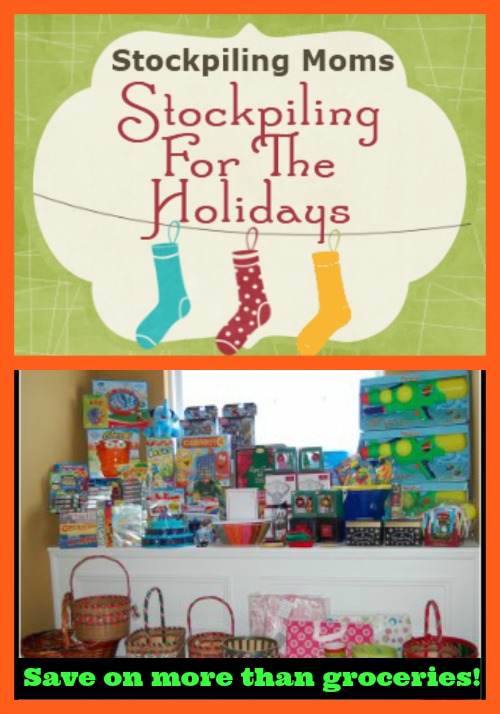 After we began our International adoption in 2004 I had to find a way to save money so I began stockpiling my gifts. First, I eliminated as many gifts as possible by telling friends and co-workers that I was unable to exchange with them anymore and really cut my shopping list down to just close family.
Stockpiling 101 – Stockpiling For The Holidays
The goal of stockpiling is purchase your items when they hit rock bottom. This can be applied to shopping for all occasions! I have a list of who I buy for, I have a budget of how much I can spend per person and I begin shopping for the following year the day after Christmas. However for the past two years I actually have started purchasing for the following year on December 23rd. I started on December 23rd with Kohl's because they have fabulous sales on the 23rd and 24th and last year you actually earned Kohl's cash on those days! I use the Kohl's cash redeemed on my after Christmas shopping the day after!
In order to stockpile you need a location to store your gifts. My hubby built me a huge window seat and that is where I "house" my gift giving stockpile. In addition I have overflow in two storage containers that are hidden in one of our closets.
In order to purchase items to use as gifts at rock bottom you need to not only buy items that are on sale you need to also use a coupon and buy clearance. It is quite surprising how many "toy" coupons exist! You never know when a great sale or clearance will come along. These matched with clearance items mean rock bottom savings!
I do a lot of my Christmas shopping at Kohl's. They have great toy sales throughout the year and on top of that they offer up to 30% off coupons to the store credit card holders. They often have toys up to 50% off and then you will get a 10-30% coupon to use on top of that. What is even better is that they clearance toys and other items all of the time and matched with a store discount on top you can get rock bottom deals all of the time. Kohl's is my favorite store for major savings when it comes to Christmas shopping. Check out my post on why I love Kohl's Cash.
In addition I purchase a lot of toys at Kmart during their clearance sale. This is a great time to stockpile for birthday's too!
You can also do well at picking up clearance toys at Target. In July 2009 I pick up several toys at 90% off! My best deal was the Tag learning system that I picked up for $13.99 after clearance and coupon. It is regularly $49.99! I also found tag books for .98 cents to $2.99! Always check for clearance items when you are at Target.
Don't forget consignment stores! I have picked up items for my son and though they are not "in the box" they work well as gifts from Santa. You can really get a lot for your money when consignment stores mark down their toys.
I have been able to "fill" my hubby's stocking for free this year by shopping at the drug stores and by signing up for freebies and samples online! In addition to "buying" gifts we enjoy making crafts and baked goods.
My best advice is start shopping on December 26th (or earlier) for next year. Late January and February are great deep mark down times. Use Kohl's cash that you earn to purchase gifts as that brings your out of pocket expenses down. Shop for Toys in July as they get clearanced to make room for the new toys coming out. If you change your way of thinking of how you shop you will be able to save BIG for the Holidays!
Stockpiling 101 Series:
How to use the freezer to stockpile
Coupon organization – How I sort and file
Entertaining your children on a coupon run
Inventory your stockpile – FIFO
Checking out – Make sure your hard work pays off
Filing complaints with corporate
Stockpiling with Little Storage
Store Policies – How to coupon at all the stores
What if you Catalina doesn't print
Stockpiling Moms can be found in all your favorite places. Hop on over to Instagram and follow the fun. We love posting memes, family fun, travel, and whatever we are feeling that day. Pinterest is also an amazing place to visit Stockpiling Moms. This is where you can pin all your favorite articles from our Food, Travel & Lifestyle Blog.
Melissa is a football and soccer mom who has been married to her best friend for 24 years. She loves sharing recipes, travel reviews and tips that focus on helping busy families make memories.