Food Saver and Stockpiling
Food Saver and Stockpiling. Do you have a Food Saver? I got one for Christmas and I have to say I am in love with it! I am going to have to rank it on my top 10 favorite gifts! This is some important Stockpiling 101 information.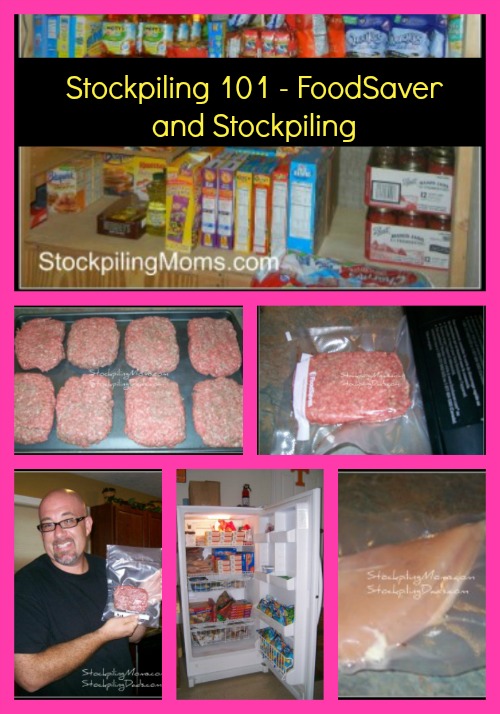 If you are a stockpiler, I highly recommend the food saver. My only regret is that I didn't get one sooner. We used it for the first time this past weekend and it was so easy to use!
Food Saver and Stockpiling
There are a few tips that I want to share with you. When you are freezing an item, it is best to "pre-freeze" it. Meaning that you want to lay it flat and freeze it until it is firm (2-3 hours). We simply weighed our hamburger into 1/2 lb. portions and patted them and put them on a cookie sheet to "pre-freeze".
After 3 hours we then simply placed them into the food saver bags and sealed them. Another tip is that if you want the food to be moist then you want to use the moist setting so for all meat you would use that setting.
Here you can see that we placed the meat into the package and sealed it. The thing I love is that you can thaw the meat directly from the freezer in the sealed package! It is simple to mark directly onto the package with a permanent marker the date you sealed it and according to the manufacturer it adds 2 years to the life of the meat.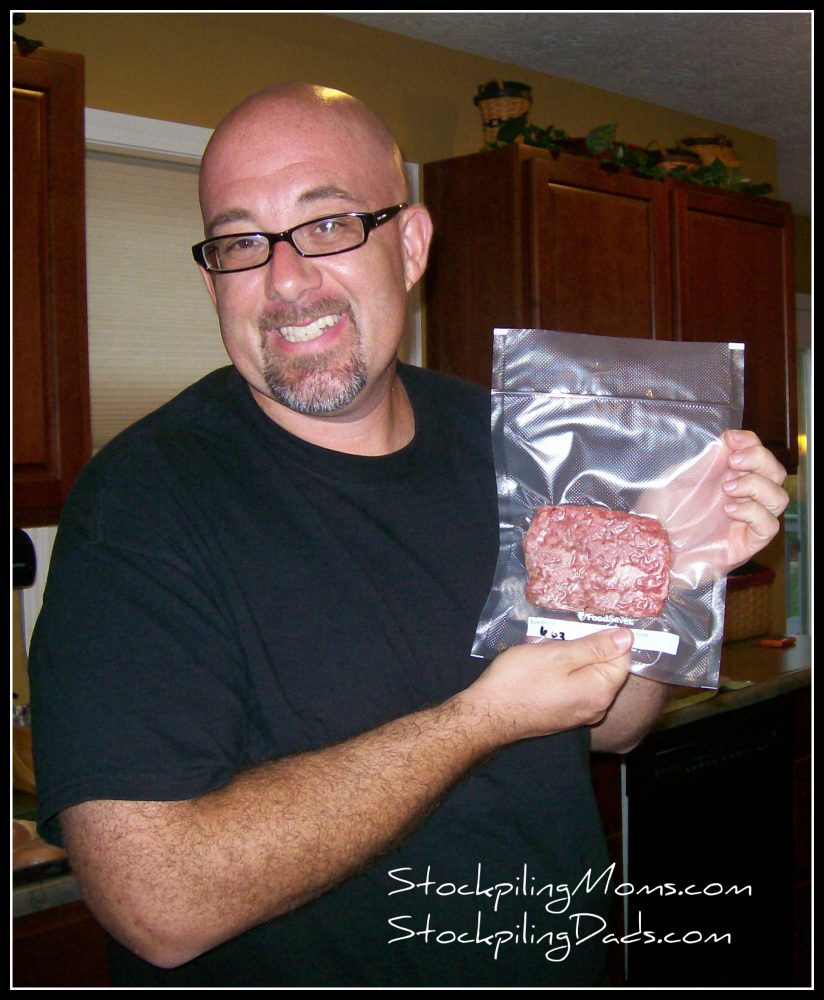 Here is the final product! As you can see hubby helped me use the food saver and is showing off our handy work! You can use the food saver to expand the life of so many foods that you stockpile. The food saver says that it extends the life of frozen items for up to 2 years! I use it for fruits and berries, meat, poultry, fish, vegetables and marinara! By using the food saver, you can really extend the shelf life of foods. It is an awesome way to build you stockpile and think outside of the box.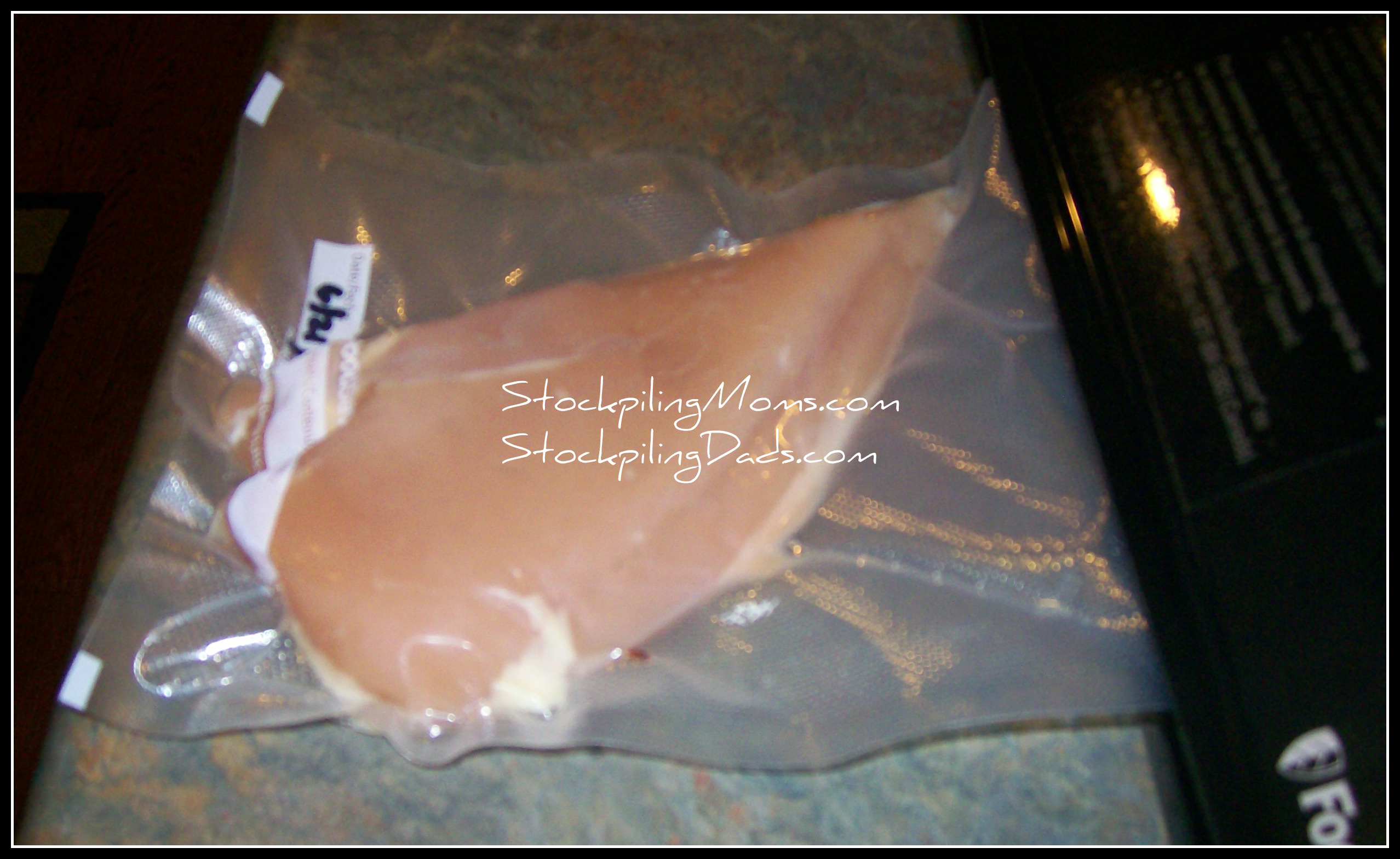 Items you can freeze include but are not limited to fruits, vegetables, raw meats, poultry fish, bread, buns, butter and much more!
Always be on the lookout for clearance and sales on the food saver and bags! You can often find great deals at Foodsaver.com. I would love to hear what you think about the food saver. Do you love it as much as I do?
Be sure to check out our Freezer Cooking Series:
Part 1 – Sample Menu and Getting Started
Part 2 – Why Does Freezer Cooking Work
Part 4 – Tips and Tricks for Freezer Efficiency
Part 7 – Tips for Thawing Your Meals
Part 8 – Make Your Own Freezer Pancakes
Stockpiling Moms can be found in all your favorite places. Hop on over to Instagram and follow the fun. We love posting memes, family fun, travel, and whatever we are feeling that day. Pinterest is also an amazing place to visit Stockpiling Moms. This is where you can pin all your favorite articles from our Food, Travel & Lifestyle Blog.
Melissa is a football and soccer mom who has been married to her best friend for 24 years. She loves sharing recipes, travel reviews and tips that focus on helping busy families make memories.