Gluten Free, Organic & Healthy Lunchbox Ideas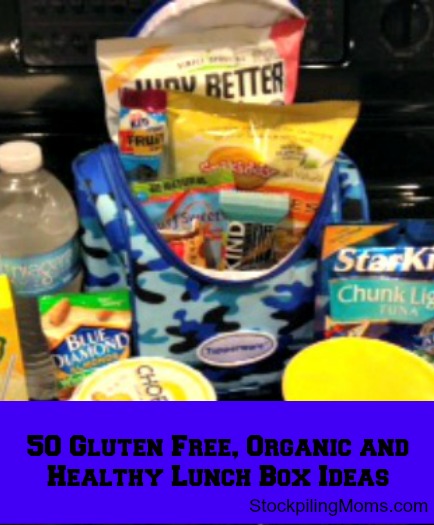 Here are 50 Gluten Free Organic & Healthy Lunchbox Ideas for Kids & Adults too!
I pack my sons lunch 5 days a week. I try to plan the menu using all the food groups and in our school we do not have to follow nut free. They do have a nut free table in the cafeteria however I can pack items that include nuts. I take the approach of sending a variety. I do require him to bring back what he doesn't eat so I can get an idea of what he is "really" eating and I also go to the cafeteria at least one day a week and eat with him which is a lot of fun and very eye opening 🙂
Here are 50 Gluten Free Organic & Healthy Lunchbox Ideas for Kids & Adults
Gluten Free Main Choices:
Sandwich made with Udi's Bread
Udi's Bagel with cream cheese or nut butter
Turkey/Cheese or Ham/Cheese Rollup (no bread)
Gluten Free Tortilla Rollup
Cheese Stick
Egg Salad
Hard Cooked Eggs
Salami Rollups
Cheese Cubes
Pepperoni
Wholly Guacamole Snack Pack
Chobani Yogurt served with Udi's Granola
Salad with Walden Farms Dressing
Gluten Free Sides:
Glutino Pretzels
Way Better Snacks
Snikiddy Fries
Crunchmaster Crackers
San J Crackers
Kettle Brand Chips
Banana Chips
Raisins
Nuts
Fritos
Hummus
Enjoy Foods – Mambo Mix, Plentifuls
Trail Mix
Glutino Pretzels and Peanut or Nut Butter
Nilla Wafers and Peanut or Nut Butter or Nutella
Apple Sauce (I love GoGo Squeez or Buddy Fruits)
Fruits – consider making a kabob, adding a fruit dip or freezing grapes
Gluten Free Desserts:
Microwave or Thermos Meals:
Pastarisa Rice Mac n Cheese – I like to add chicken, tuna, peas and/or carrots
Pad Thai Noodles
Gluten Free Pasta with Ragu
Gluten Free Soup (several Progresso available)
Gluten Free Chicken Pasta – Recipe
Vegetable Beef Soup – Recipe
Mom's Chili – Recipe (Use Gluten Free Pasta)
Skyline Chili, Gluten Free Pasta, Shredded Cheese, Crackers
Allergy Foods Chicken Nuggets and Tenders – simply amazing!
I like to serve thermos meals with Cheese Cubes & a choice of Goldbaum Chow Mein Noodles, Goldbaum Mini Croutons, Crunch Master Crackers or San J Crackers
Tips for Packing Hot Lunches – this is a how to heat your thermos post and video
Drinks:
Honest Kids Juice Pouch
Organic Milk Box
Water (True Lemon)
Organic (not gluten free)
Clif Kids Organic Brownies and Bars
Annie's Organic Bunny Crackers – Peyton LOVES these
Soft Pretzel with Cheese – Homemade is a nice option!
Chicken Noodle Soup – homemade is a nice option!
You may also want to check out:
Lunch Notes – Sending Your Children Off With Love

Quick Tips for Better Sack Lunches
This is my personal go to list. There is nothing on this list that I won't personally eat myself. Only brands that I use and love are included on this list. If your brand would like to be included you can email me at pr (at) stockpilingmoms.com and submit product for review and consideration will be given.
Stockpiling Moms can be found in all your favorite places! Hop on over to Instagram and follow the fun! We love posting memes, family fun, travel, and whatever we are feeling that day! Pinterest is also an amazing place to visit Stockpiling Moms. This is where you can pin all your favorite articles from our Food, Travel & Lifestyle Blog!
Melissa is a football and soccer mom who has been married to her best friend for 24 years. She loves sharing recipes, travel reviews and tips that focus on helping busy families make memories.