Crayola Marker Airbrush Review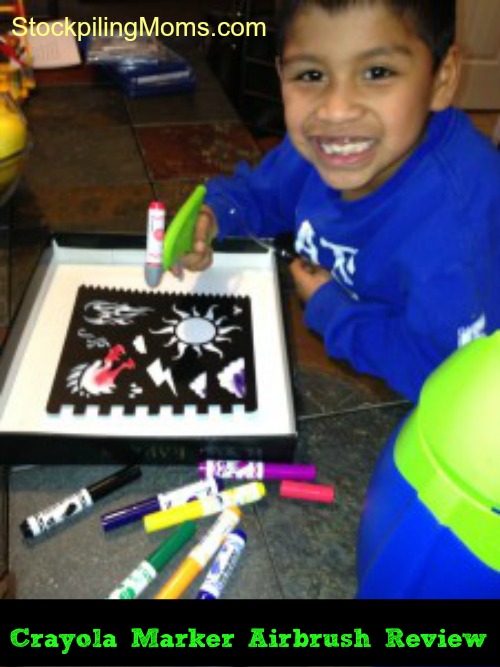 Peyton got this Crayola Marker Airbrush for Christmas. I snagged it on Black Friday at Michael's for only $19.99. Today we opened the Crayola Marker Airbrush and he really liked it. You can use it both on paper and fabric! Both types of markers are included and paper is included too. I picked up a small pack of t-shirts at Walmart for a couple of bucks and he was set.
I got the Crayola Marker Airbrush, for $19.99 – (Regular Price $39.98) and got the Crayola Table Top Easel, FREE. It was a door-buster (Regular Price $9.99). For the price I paid for both this was really worth all of the fun that Peyton has had with these Crayola products. The Crayola Marker Airbrush product kept Peyton busy for a couple of hours today. He made several sheets and 1 t-shirt.
I would advise when your kids play with the Crayola Marker Airbrush that they wear old clothes and that you put something down on your furniture to protect it. We actually used a lid from a boot box and it worked perfect. I am keeping it for next time.
I asked Peyton what he thought and he said, "It was a lot of fun and a good workout". Gotta love an 8 year old 🙂
Some other ideas to keep the kids busy:
Disclosure: This is not a sponsored post. I paid for my Crayola Marker Airbrush and all opinions are 100% my own.
Melissa is a football and soccer mom who has been married to her best friend for 24 years. She loves sharing recipes, travel reviews and tips that focus on helping busy families make memories.