How to shop at Whole Foods without spending your Whole Paycheck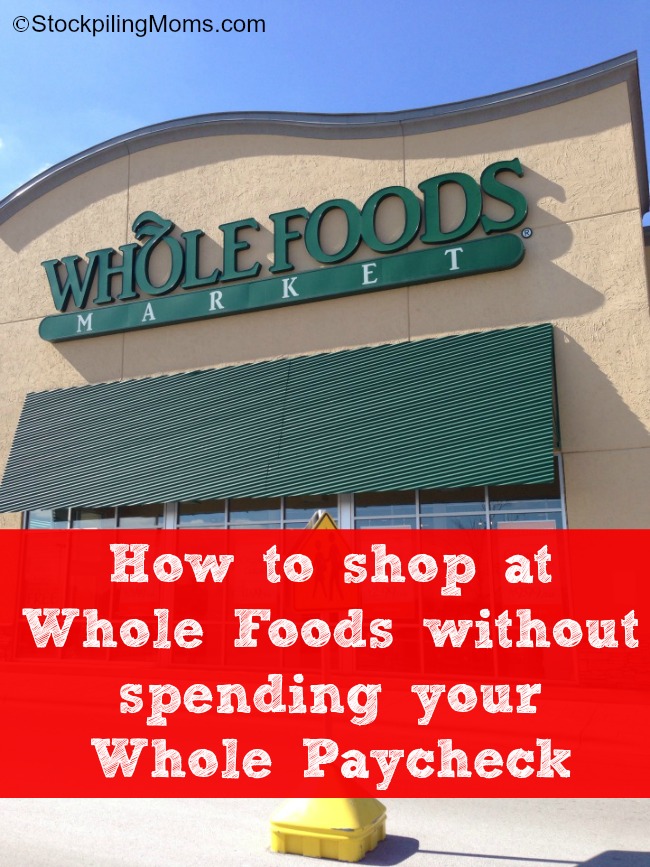 Do you shop at Whole Foods? If you are like me you more than likely have the opinion that it costs a fortune to shop at Whole Foods. I will be honest with you I have ALWAYS called it Whole Paycheck. Did you know that Whole Foods is the only organic certified grocer in the United States. I decided to visit my local Whole Foods in Mason, OH and do some in store research and see if I could get out of the store without spending my whole paycheck.
How to shop at Whole Foods:
What I find at Whole Foods is that they offer anything from value items to the $40 jar of honey. So it can be shocking when you shop at Whole Foods because you see expensive items on the shelf. By utilizing these strategies and by focusing on the One Day Deals, Whole Deals Coupons, Sure Deals and the 365 Everyday Value® product line it is actually possible to leave Whole Foods without spending your Whole Paycheck!
One Day Deals – Every Friday from open to close Whole Foods offers a deal good for one day only. Often times it is a meat or seafood deal and sometimes a cheese deal, however it varies each week. This is a stockpile time each Friday because not only is the price great it is also the quality standards that makes it such an amazing deal. Whole Foods carries meats with no antibiotics/hormones and that are never caged, crated or crowded.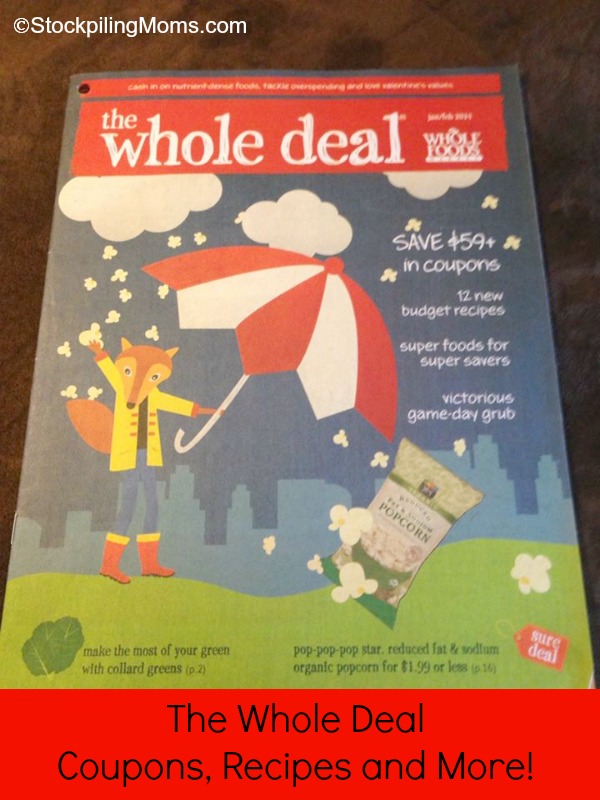 Whole Deal Booklet is published every 2 months. This booklet is full of store coupons that can be STACKED with manufacturer coupons. The Whole Deal is available both in store and online. What is nice is that you don't have to have a store coupon for each item that you purchase. One coupon can be used for multiple items in the same transaction! There are NO limits to the number of coupons that you can redeem per transaction. You can print online or preview online and then clip once you get to the store (which is what I do). The Whole Deals Book features budget friendly recipes, meal planning ideas and money saving tips in addition to the coupons.
Sure Deals – In addition to the Whole Deal Booklet there are sure deals that are also on sale. Always check the sure deals online before visiting the store.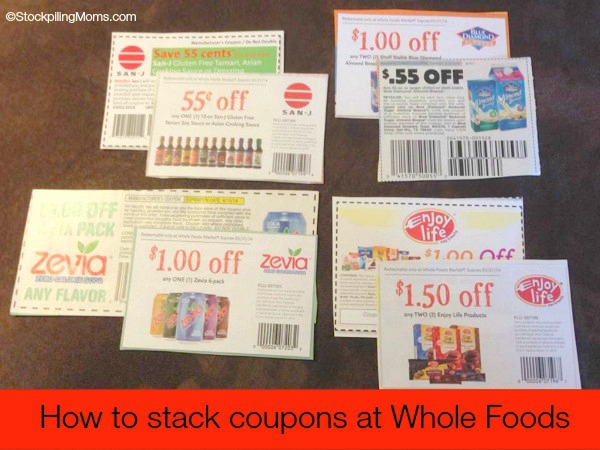 You can also find coupons in our FREE coupon database.
Ibotta – By using this app you can save even more at Whole Foods. Simply download this app for FREE and then when you make qualifying purchases you can put cash in your pocket with every shopping trip. Download the free app from Ibotta.com.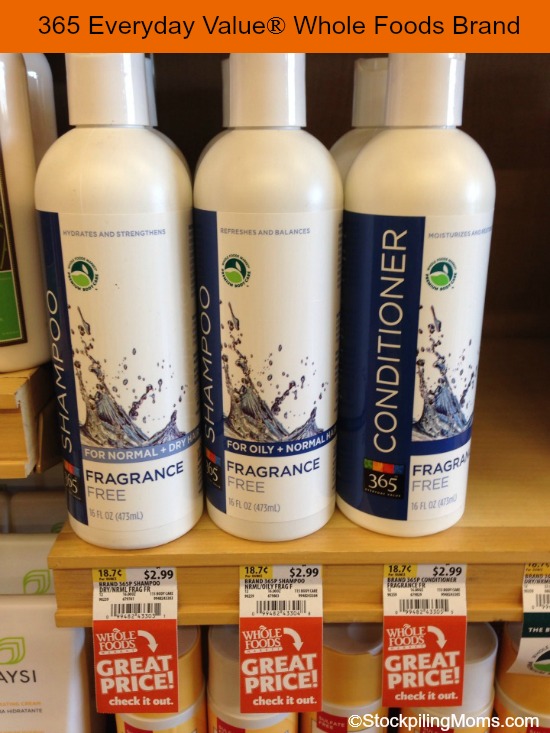 365 Everyday Value® – Whole Foods Brand helps you save every day; it's the broadest selection of natural and organic products at the best prices. They are priced low to save you money and this even meat, dairy and health and beauty items! It is a great way to save on Organics. I am a huge fan of this product line!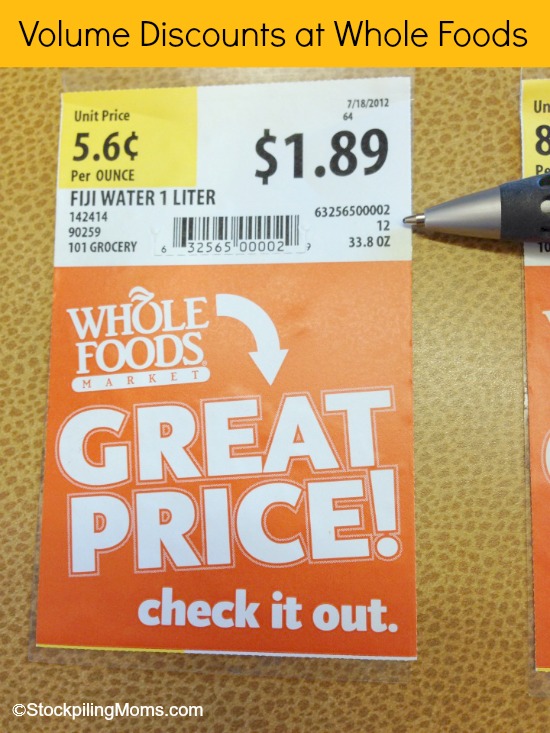 Volume Discounts – You can get discounted pricing on many items is when you buy a full case or more. Get the details for your particular store at their customer service desk and by looking on the sales tags. It is a 10% off savings and you can mix and match. So for example when purchasing body wash you can purchase a variety of scents.
Bulk Bins – Purchase grains, oats, flours, herbs and tea in bulk. Save on the price because you are not purchasing the packaging. It is priced per oz/lb. A tip is that you do the opposite of the name. If you need 1/2 tsp of dried cilantro you can go get 1/2 tsp of dried cilantro instead of buying the entire bottle of dried cilantro. A great way to save money!
Price Match – Whole foods will price match. They price match the same size product with a current sales ad or picture of the product with sales tag (that you take with your phone) and show them.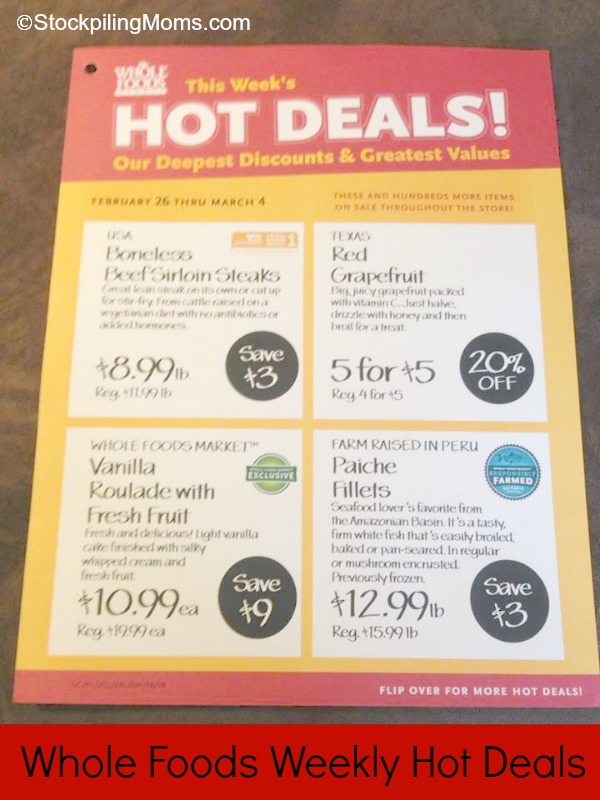 Hot Deals Flyer – Select items on sale for the week. This changes weekly and is available both online and on a sales flyer. On average it includes around 15 items including fresh produce, meat and other stockpile items. These are products that are on sale and at a stockpile price.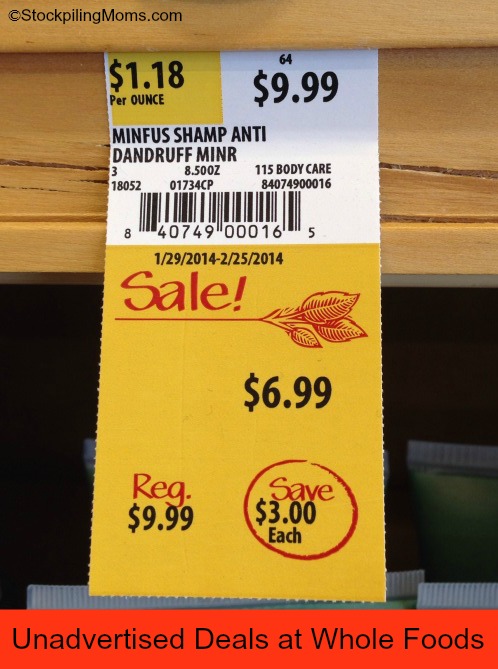 Unadvertised Deals – Whole Foods offers both bi-weekly and monthly unadvertised deals. You can find these when you look for the sales tags.
Whole Body – You can often find additional savings in the whole body section of your store. Both coupons and rebates with these offers hanging on the neck of the product (hang tags) or on tear pads.
Build a Meal – $24.99 all week which includes one entrée and two sides for a family of four. Just heat and serve.
Sales Cycle – Prices do cycle at Whole Foods. If you want the sales cycle and match with coupons you can save money. Whole Foods do not make Manager's Specials because they donate items to local food pantries. If you do find a clearance item which is not often, you can use coupons. Groupon – Watch for deals. Recently we saw a $10 Whole Foods Gift Card on Groupon for only $5. A great way to save at Whole Foods! You can use this coupon to put FREE food in your grocery cart.
Kids Eat Free – On Wednesday from 4-9 pm kids eat free when a parent purchases a $6.00 meal. There is no limit to the number of children who eat free with the paying adult.
Half Pint Kids Club and Free Events – Be sure to check your local Whole Foods Event Calendar. There are so many free and inexpensive educational opportunities. It is a great resource for your family.
Subscribe and Follow – Join the Whole Deals email club to get your stores newsletter via email. You will also get an email with the One Day Sales and other unadvertised sales plus exclusive coupons emailed to your inbox. I would also suggest following your local store on Facebook and Twitter for additional sales, giveaways, savings and specials.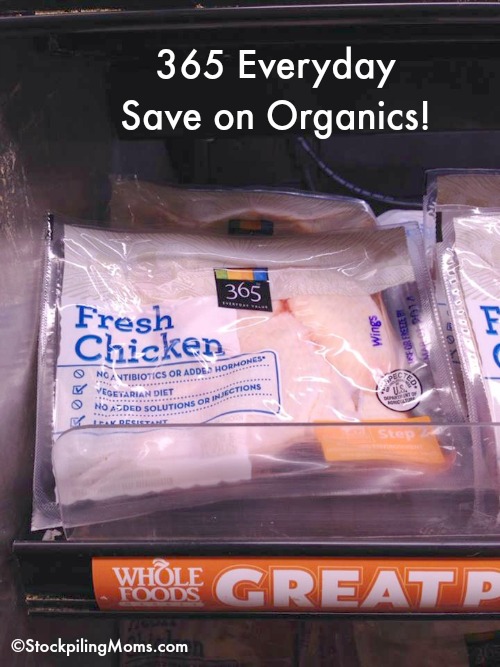 Product Guarantee – Whole Foods offers a product guarantee. If you purchase a product that does not meet your satisfaction you can exchange it for the full product value. I love this especially when purchasing organic, natural and gluten free products. There is no concern about trying a new brand when you purchase it at Whole Foods because they will refund your money if you are not satisfied. That is a great thing when trying a new gluten free product for sure!
Bring Your Own Bags and Save – Whole Foods offers a $0.05 discount for each reusable bag that you use at checkout. They also offer the $0.05 discount for a reusable container for baked goods (only cookie table and pastries, not actual cakes). The only thing is that you need to make sure if they are buying something by weight, that they know the weight of their container. We hope these tips help you save big at Whole Foods and allow you to NOT spend your Whole Paycheck!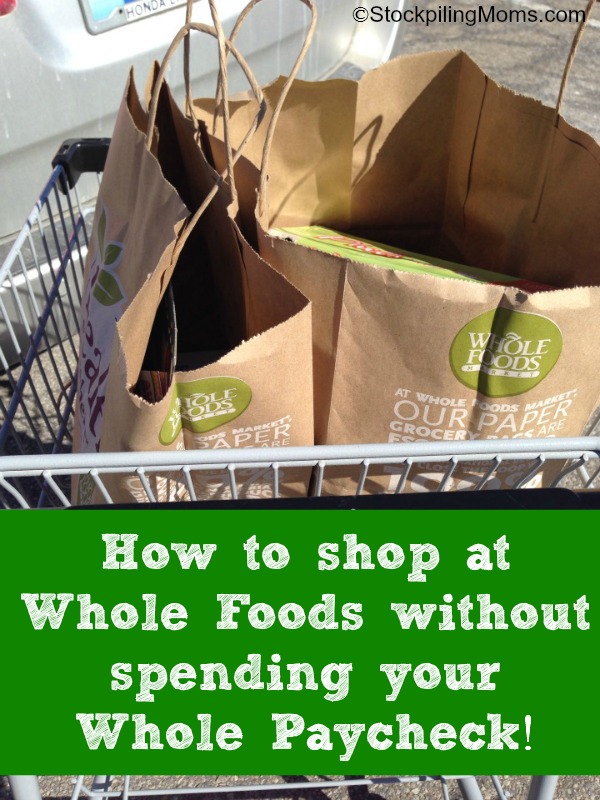 Whole Foods Market Global Coupon Policy
A store coupon and a manufacturer coupon can be combined on one item.
When the value of the coupon exceeds the value of the product no cash back is given.
Coupons are never doubled or tripled.
All types of coupons are accepted with the exception of those that are obviously photocopied.
Competitor coupons are not accepted with the exception of Michigan stores in Midwest.
Case discounts can be combined with coupons.
If there is a BOGO FREE promo, one coupon can be used for the full price item.
All regions will allow Whole Deal coupons to be combined with manufacturer's coupons.
Team Member discounts may be used in conjunction with all Whole Deal coupons.
Regions will override printed guidelines when necessary for customer/guest satisfaction.
Prices and sales vary from Region – The Cincinnati and Mason stores are based out of Maryland. You can view the regions.
Whole Foods Articles:
10 Most Popular Whole Foods Brands Products
How to Select, Store and Cut a Mango
How to shop at Whole Foods without spending your Whole Paycheck
Farm Raised VS Wild Caught Fish Myth Busters
Stockpiling 101
Melissa is a football and soccer mom who has been married to her best friend for 24 years. She loves sharing recipes, travel reviews and tips that focus on helping busy families make memories.