The number one question we receive is, what is a stockpile? Believe it or not most people don't know the answer. So, we are here to help you understand and build one.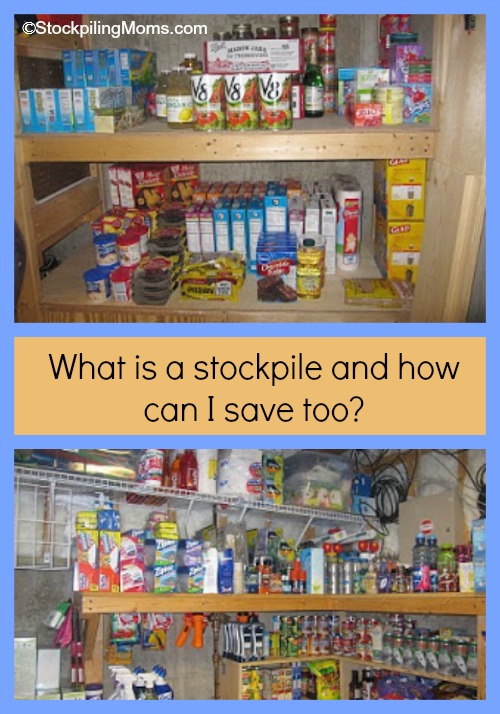 What is a Stockpile?
What? A stockpile is a pile or storage location for bulk materials. In this case meaning groceries, personal care or household products.
Why? To save money! If you stockpile your groceries by strategically using coupons, you will never pay full price or retail for your groceries. If you stockpile successfully, you will save hundreds every month = thousands a year!
When? Stockpiling is a strategic game. The objective is to "match" grocery sale prices to your coupons to take advantage of when your groceries are at the very lowest price or what we call "rock bottom". This is when you stockpile.
How? You compare the coupon policies at the stores you have available to you as well as any incentives they offer you to shop there. Finally, "match" your coupons to the sales ads and purchase when you find a deal that is at rock bottom. I stockpile when the price is free or close to free (70% off). You purchase in a quantity to last your family until the item can be purchased again at rock bottom. This is tricky because some products like cereal cycle every six weeks however some products like baking goods or BBQ sauce only cycles at rock bottom once a year.
How can I save money from my grocery budget?
In order to successfully stockpile you are going to need to purchase or obtain multiple papers or purchase your coupons/inserts from a clipping service. Because you need to stockpile the quantity necessary to last your family until the next cycle. Once you are shopping from your stockpile weekly instead of from the grocery, this is when you are going to see the savings! It takes on average 3 months to build a stockpile. Normally the first month you will see an increase in spending and by the end 2nd and 3rd you will begin to see a savings. By your 4th month you should be saving hundreds of dollars a month!
I hope this helps you answer the question, what is a stockpile? And now you will know how you can start to stockpile.
Stockpiling 101
Hop on over to Instagram and follow the fun! We love posting memes, family fun, travel, and whatever we are feeling that day! Pinterest is also an amazing place to visit Stockpiling Moms. This is where you can pin all your favorite articles from our Food, Travel & Lifestyle Blog!
Melissa is a football and soccer mom who has been married to her best friend for 24 years. She loves sharing recipes, travel reviews and tips that focus on helping busy families make memories.