How to Shop at Aldi and save BIG
One of the most overlooked grocery stores in my opinion to save money shipping at is Aldi. This is even considering that Aldi does not accept coupons. You are reading that correctly – they do not accept coupons. Why?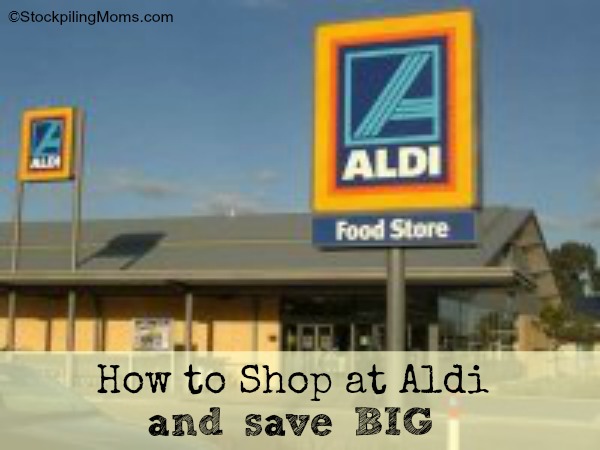 Aldi offers low prices, especially on produce and special buys. Even without using coupons Aldi is a great way to save. They don't carry multiple brands. They are not a traditional grocery store. They carry only 1 brand (their own) name. Aldi carries Gluten Free foods, so this is a great place to save from your gluten free budget!
How to Shop at Aldi and save BIG
First of all, sign up for the Aldi Email Club. By subscribing to the weekly email, you will receive the latest offers from ALDI. This includes Top Picks of the week. You will also find additional savings with featured special buys and other special offerings. Be sure to use your junk email when you sign up!
Aldi offers Special Buys are offered for a limited time, while supplies last—usually, a few weeks or less. Some examples of special buys include:
Seasonal food items (watermelons in summer, turkeys at Thanksgiving).
Small kitchen appliances under Aldi Crofton® label.
Bed and bath items carrying under Crofton and St. Cloud® labels.
Aldi offers a double guarantee on their store brands. They believe that they have the best quality products. They've designed and tested their brands to exceed the national brands in taste and quality. They're so confident in their products that every item in their stores is backed by an unbeatable Double Guarantee.* If for any reason you are not satisfied with any product they will replace your product AND refund your money. *The Double Guarantee does not apply to non-food Special Buy items and alcohol.
Aldi has a Wednesday Meat Special Buy Day. Every Wednesday, look for the Meat Special Buy item. It is weekly special and prices and quantity is limited.
You can also price match to stores that price match with the Aldi ad for fresh produce. This is a great way to save both time and money. Read this post – How to price match for all the details. I like to price match at Walmart and Target with the Aldi sales ad.
Aldi Shopping Tips:
Bring a quarter with you to use the grocery cart – you will get it back after you return your cart. It is a system to be sure that you return your cart back to the front of the store – it cuts expenses for the brand.
Bring your own bags – they don't provide them (they can be purchases for $.10 each) and you bag your own groceries. If you don't bring a bag then you can collect boxes from around the store to use (my Aldi keeps a stash of empty boxes by the register too). Aldi doesn't stock shelves like at traditional grocery stores. They use the boxes to save money so you will find empty boxes available.
Aldi's prices for produce, dairy and meat really can't be beat. They are far less than traditional grocery stores.
Melissa is a football and soccer mom who has been married to her best friend for 24 years. She loves sharing recipes, travel reviews and tips that focus on helping busy families make memories.