Understanding the Wording on Coupons
I wanted to answer this question which was asked on Understanding Coupons earlier today. This is a key to success when you use coupons and stockpile, so I wanted to explain it a bit.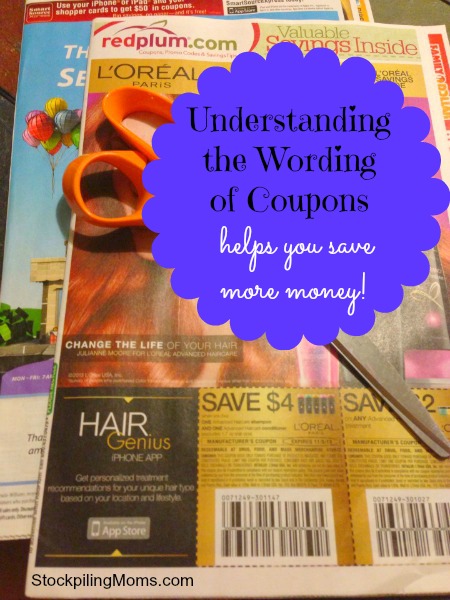 Question:
Ok, when a coupon has no exclusions in print and the photo is of an obviously higher priced item how do you respond when the management seems to not really want to take it and makes a comment that the coupon was not intended for this "special purchase" packet but the regular size pictured.
Example, Walgreens has a 3 pk Cream of Wheat right now for $1 and I had $1 coupon (that of course beeped). It took 10 mins to check out because they tried to think of any excuse not to take it and let me out with 6 boxes free.
Answer:
Coupon use is all about the WORDING. It does not matter what picture is on the coupon it only matters on the wording. So, for instance if there is the wording reads "ANY" then it can be redeemed on any size. However if it says "32 load" then it should be used on a 32 load bottle of product. If it says 32 load + then it can be used on a 32 load or larger size product. The picture does not matter because they are only using a stock photo from the brand. The same holds true for $1/1 then you only need to purchase one product however if it is $1/2 then you would need to purchase 2 of the product to use the coupon.
Understanding the Wording on Coupons:
The reason the coupon often beeps is because the product is reducing to free. All that means is that the cashier would need to over-ride or push a button to allow the coupon to go through. What the cashier may "tell you" is that the product must match the photo. That is simply because the cashier is not educated on correct coupon use. Often times I find that I have to educate the cashier (and often times the manager as well).
I hope this helps!
Stockpiling 101
Melissa is a football and soccer mom who has been married to her best friend for 24 years. She loves sharing recipes, travel reviews and tips that focus on helping busy families make memories.