Stockpiling at Wholesale Clubs?
Stockpiling at Wholesale Clubs? We are often asked which is better shopping at a wholesale club or stockpiling using coupons. That really depends on where you live and what your stores coupon policies are. If you are purchasing the smallest size allowable based on the wording of your coupon, you may do better than purchasing BULK sizes without using coupons. This of course varies based on the wholesale club's coupon policy and if you store doubles coupons.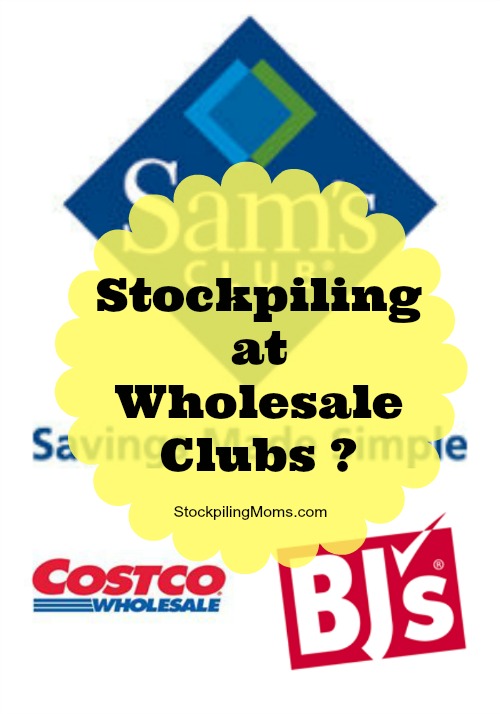 There are three major wholesale clubs. BJ's, Costco and Sam's Club. You have to pay a membership fee in order to shop at each. Unless you are shopping for a business or an organization you typically would only need a basic membership. Here is the run down on each Wholesale Clubs coupon policies. BJ's accept both store coupons and manufacturer coupons (they can be stacked). Costco does not accept manufacturer coupons however they do distribute monthly coupons to members. Sam's Club does not accept manufacturer coupons and only premium members receive store coupons.
One way to save money at Wholesale Clubs if you decide to become a member is to "gap" your membership. When your membership is nearing expiration stock up on items to last you three to six months and as you run low on these products then renew your membership. By doing this you will pay the membership fee every 15 to 18 months versus every 12. It is one way to save yourself some money when it comes to paying for the membership fees. Another idea is to share a membership if the store allows.
Another tip for saving money at wholesale clubs is to shop the clearance section. Each wholesale club offers markdowns. Items to consider purchasing at Wholesale clubs include perishables and items that you cannot find coupons for. In particular dairy products including milk, eggs and butter don't often have coupons. By purchasing these items in bulk, you may be able to save enough to compensate for your membership cost. Some wholesale clubs offer discounts on prescriptions, gasoline, alcohol and photos, you could factor these discounts if applicable when deciding if you want a membership.
Purchasing some items in bulk may not really be a great deal if you don't use them. Consider shopping with a friend to split large containers so that they don't go bad before you use them or consider freezing to extend the shelf life. You can read more about how to freeze each of the products.
The biggest thing to remember is that just because an item is sold in bulk does not mean it is better price than purchasing the smaller size with a manufacturer coupon, especially if you shop at a store that accepts manufacturer coupons (and if they double coupons). You should carry a calculator and create a price book when you shop so you can divide the total cost by the amount in the package (Unit Price) and compare if you can get it for a lesser price at the grocery store using a coupon.
Hopefully this helps you in deciding if a wholesale club membership is worthwhile to you. Recently we posted a great membership deal for Sam's Club through a daily deal site. When offers like that come along, I do suggest that you snag them. One or two trips a year may be worth a membership depending on what you buy. Both Shelley and I are Sam's Club members. Now that our stores are not doubling coupons like they used to you can find some good stockpile price deals at Sam's Club so it is something you may want to consider too. I also want to add that we often shop Black Friday at Sam's Club too – I find that I get my membership back in a visit or two, so it is worth it to me to maintain it and shop at Sam's Club.
Stockpiling Posts:

How to use the freezer to stockpile
Melissa is a football and soccer mom who has been married to her best friend for 24 years. She loves sharing recipes, travel reviews and tips that focus on helping busy families make memories.