How to be an Extreme Couponer
Have you always wanted to know how to be an Extreme Couponer if so then check out our 7 Days of Stockpiling series? It is a great way to get started in saving your family thousands of dollars a year. Even if you don't want to be extreme you can still save your family money! In this economy saving money with us without coupons is a good thing!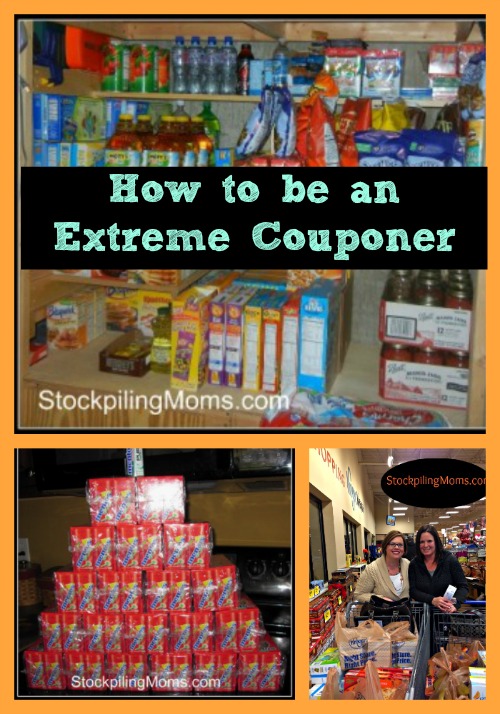 How to be an extreme couponer:
Day 1 –Utilizing Coupon Clippers
Day 2 – Organizing Your Coupons
Day 3 – How Do I Build A Stockpile?
Day 4 – How To Be An Extreme Couponer
Day 5 – What is Overage?
Day 6 – Utilizing the Freezer
Day 7 – Living in the "Land" of Doubles
I do consider myself extreme however to me being extreme is buying enough to last my family through the sales cycle. I don't generally purchase 1,000 of product but instead enough to last my family and when I have more than I need, I donate it.
I have been talking about Extreme Couponing long before the TCL show Extreme Couponing aired. There are times when being extreme makes sense. For example when I bought 200 bottles of Mentos Gum and over 50 bottles of Lysol last April. These are two examples of Extreme Couponing. Do I consider myself Extreme? Yes, however I do want to add that I consider myself Extreme within reason. My primary goal is to stockpile for my family and donate when I am able.
So, how do you become an extreme couponer?
Our number one piece advice to you is never go to the store without a shopping plan. If you do you will NOT walk out of the door with major savings. Every week you should target what is FREE or near FREE. Then you should target what is at ROCK BOTTOM and "match" what coupons you have and these are the items that you should stockpile.
To "match" compare what stores have the lowest prices, and then "match up" what coupons you have with the sale ads. Factor in which stores will double coupons when you match. Also keep track of any "bonus" offers such as if a store accepts digital coupons, Catalina's earned, bonus gift cards earned or free items earned.
Also, it is all about Brands and Product Size. You want to use your coupons on the smallest size allowable based on the wording of your coupon. This is the product size that will normally net free or near free. This is a big change for many of you. Also, you can not be brand loyal if you want to get in on the rock bottom deals. Check out our post on Brands and Product Size for more information.
You can also check out our Stockpiling 101 Series and Videos.
Ways To Save:
How to Shop at Whole Foods without Spending your Whole Paycheck
5 Ways to Increase Your Savings at Target
7 Ways to Save Money Without Couponing
How to get the Most out of your Sam's Club Membership
If you are new or just catching up here are our most popular posts:
Crockpot Bacon Cheese Potatoes
Weight Watchers Peanut Butter Cool Whip Treat
Downy Unstoppables in my Wax Burner? Who Knew?
Melissa is a football and soccer mom who has been married to her best friend for 24 years. She loves sharing recipes, travel reviews and tips that focus on helping busy families make memories.