Be Sure Your Hard Work Pays Off
When it comes to stockpiling, be sure your hard work pays off. After you have spent your time clipping, organizing, matching and shopping be sure that all your hard work pays off. My suggestion is to always have an idea of what you think your total will be before checking out.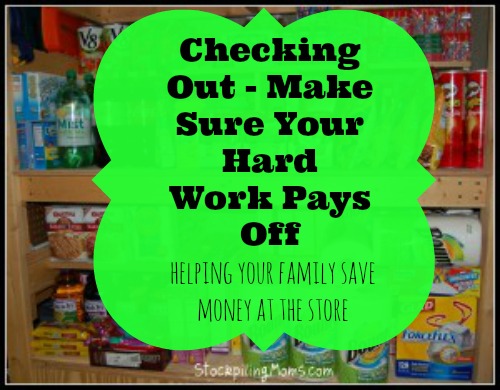 Prior to checking out I always count how many coupons I am using so that I know if they are all scanned. It is extremely important to pay attention during your checkout. I watch as each item is scanned to be sure that it is the correct price and as every coupon is scanned to see that it is removed from my total (and doubles if applicable). <
What I have found (the hard way) is that if you are not very aware during check out than all of your hard work may be for nothing. Often a cashier can look like the coupons are being used when they may not. I have found that in particular when you are using a large number of coupons that they may stick together, or a cashier may skip some. Also, if a coupon beeps, then the cashier will have to manually enter or override it and often, they don't.
As a final check after I get home I go through and mark where I got each coupon taken off my receipt as well as to double check that I got the correct prices for sale items. I also keep and file every receipt so that if I find a rebate, I am able to submit it for additional savings!

It is easy to get distracted when shopping with a child or when someone strikes up a conversation during your checkout. I recently had an experience where the lady checking out behind me started a conversation and I was not paying attention to the cashier. As a result, I ended up not saving $18.00 from the sale. Had I immediately gone to the customer service desk I would have been able to get my savings back however I was in a rush to pick up my son, so I decided to deal with it later.
I had $14.00 in Meijer Meal box Coupons not come off my total and $4.00 in Manufacturer Coupons. This made a HUGE difference on my savings. I ended up taking my items and receipts back and got $14.00 in cash back for the Meijer Meal box Coupons because they scanned so I had proof. As for the $4.00 in manufacturer coupons there was no way to prove that they had been used so I lost that $4.00 in savings.
I learned the hard way to pay attention during checkout!
STOCKPILING 101
Stockpiling Moms can be found in all your favorite places! Hop on over to Instagram and follow the fun! We love posting memes, family fun, travel, and whatever we are feeling that day! Pinterest is also an amazing place to visit Stockpiling Moms. This is where you can pin all your favorite articles from our Food, Travel & Lifestyle Blog!
Melissa is a football and soccer mom who has been married to her best friend for 24 years. She loves sharing recipes, travel reviews and tips that focus on helping busy families make memories.