Gift Giving by Hosting a Direct Sales Party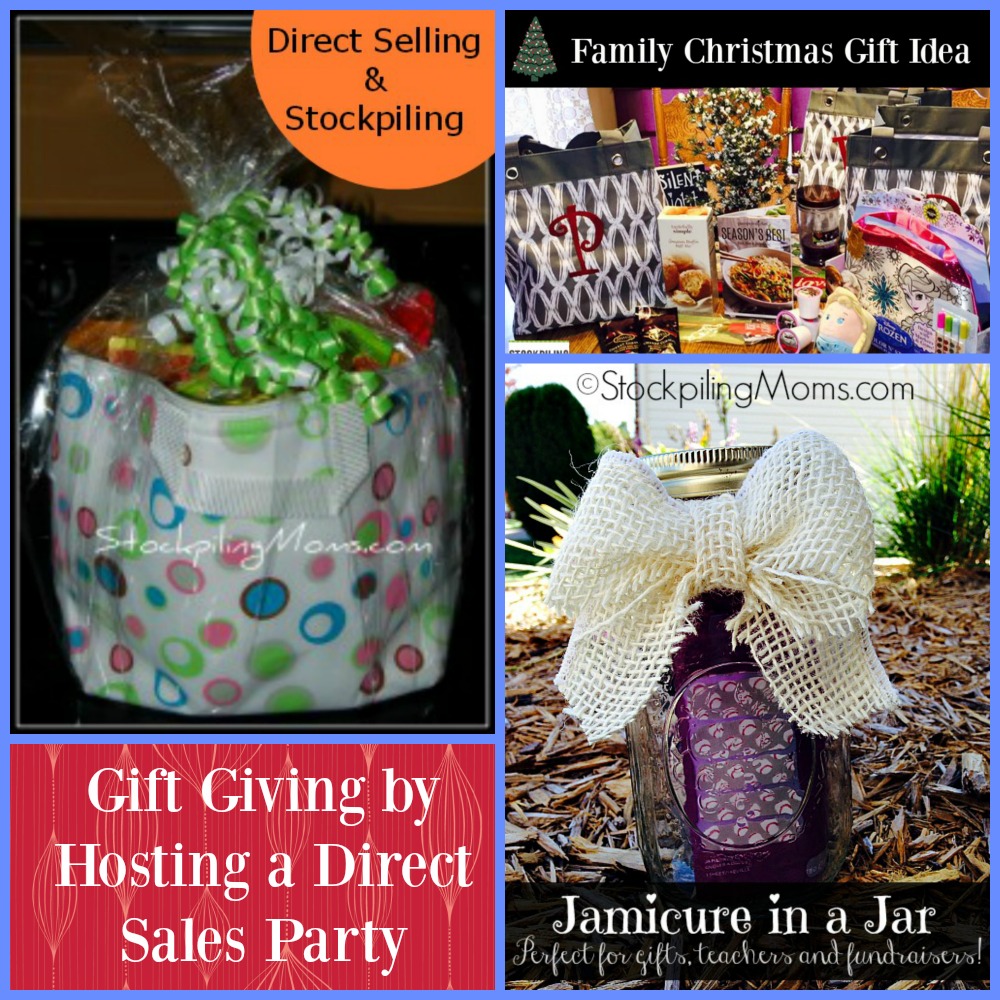 Gift Giving by Hosting a Direct Sales Party. For this week's Frugal Friday, I wanted to write about hosting direct sales parties and the benefits they bring.
As a follow up to my Stockpiling for the Holiday's post I failed to mention another source for inexpensive gifts for gift giving. Host a home party! I was in direct sales for 11 years and during that time I hosted a lot of parties for other home-based businesspeople in "exchange" for hosting one for me. What I found from all those years of hosting parties is that several home-based businesses offer great hostess incentives for having an in home or catalog party.
Gift Giving by Hosting a Direct Sales Party:
If you are a stockpiler, you can host a party very inexpensively! I recently hosted a jewelry party and served a simple dessert (brownies) and beverages (lemonade and water) and that was it! How simple and those items came directly from my stockpile. I love having parties because it is a great excuse to have my friends over and clean my house. By hosting an in-home party, you can really reap the benefits if the company offers a good hostess program.
It is a great way to stretch your gift giving budget because the hostess rewards can really add up. If you invite enough guests, you can literally end up for hundreds of free dollars' worth of free product.
For example, this past spring I hosted a Thirty-One Party and earned over $300.00 in FREE product! The best time to take advantage of hosting a party is when home-based business offers DOUBLE HOSTESS AWARDS! This is how I did so well when I hosted my party! Not only do you have an excuse to invite friends over and have fun you are able to earn FREE product for very little effort. I was able to use that $300 worth of FREE product for over 10 gifts for Christmas! I always say that you need to think outside of the box when it comes to gift giving and this is prime example.
If you are looking for an awesome direct sales business, be sure to check out Lemongrass Spa. It is an all-natural and organic company that offers gluten free, nontoxic skin care, body care, make up and essential oils. They offer really great incentives to their hostesses. Another option is signing up as a direct seller just to get the discount on a product you love! Don't overlook these home-based business opportunities. They can be a great way to earn free products.
Are you in direct sales? Be sure to link up your website!
Melissa is a football and soccer mom who has been married to her best friend for 24 years. She loves sharing recipes, travel reviews and tips that focus on helping busy families make memories.