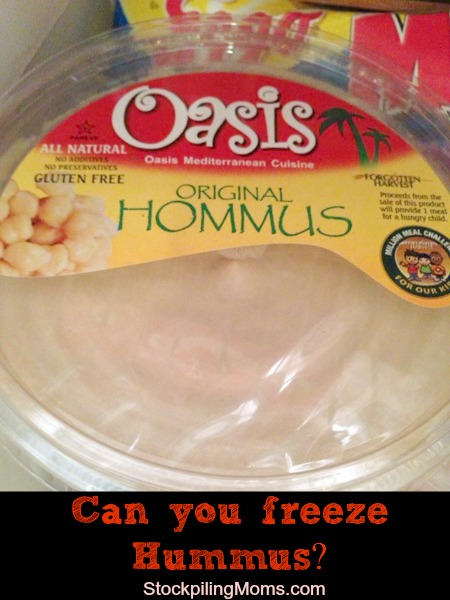 Can you freeze hummus? Recently we had a great coupon that netted FREE hummus at our local grocery store. One of our readers emailed and asked if you could freeze hummus. I honestly can answer that I had no idea. She decided to give a try since it was free she had nothing to lose. I was honestly excited that she was willing it to give it a try 🙂
Can you freeze hummus?
The answer is…Yes you can freeze it however depending on the manufacturer it may have an altered consistency after it has been frozen. It may alter its smooth and creamy texture.
If you freeze hummus, store it in an airtight, lidded plastic container. Leave about an inch of space to allow for the expansion that occurs when moist products freeze. Frozen hummus should be defrosted and consumed within 5-7 days. I have heard that by adding a TBSP of olive oil prior to freezing it will help with the consistency.
Our reader Jayme did confirm that the consistency did change however it was edible. So the answer is yes you can freeze hummus. Hope this helps for those of you who love Hummus like I do!
You may be interested in our other posts on how to freeze:
If you are new or just catching up here are our most popular posts:
Crockpot Bacon Cheese Potatoes
Weight Watchers Peanut Butter Cool Whip Treat
Downy Unstoppables in my Wax Burner? Who Knew?
Melissa is a football and soccer mom who has been married to her best friend for 24 years. She loves sharing recipes, travel reviews and tips that focus on helping busy families make memories.