7 Easy Herbs Kids Will Love To Grow
Look below at these 7 easy herbs kids will love to grow and see how fun it can be to get a mini garden going all of their own!
Kids love tending their own mini gardens, and herb gardens a great way to teach kids those basic gardening skills in a frugal and fun way. Herbs are inexpensive, grow quickly, and can be used in so many ways once they are harvested.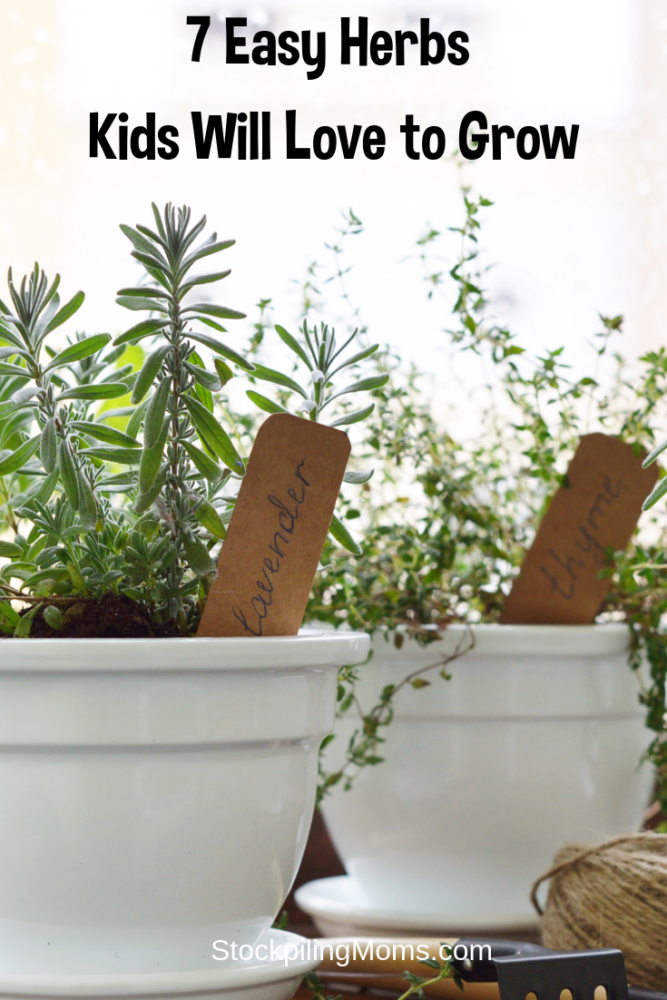 7 Easy Herbs To Grow:
1. Chocolate Mint – Chocolate mint is such a fun plant for kids to grow because it actually smells like chocolate. Trust me, this will blow their minds. You can find seedlings and seeds for as little as a dollar, and your plants will be ready for harvest in just weeks.

2. Basil – Basil smells amazing and also grows quickly. Kids can use the leaves to top their own pizzas or make salads. Basil also sprouts beautiful purple flowers, which are always fun for kids to keep an eye out for and pick.

3. Lemon Balm – Lemon balm offers super soft foliage and smells like sweet lemon. Kids will love touching it, sniffing it, and displaying it in small bud vases. Another perk is lemon balm is a natural pest repellent, so kids can brush it on their skin to keep bugs away!

4. Chives – Chives have a strong onion smell which is great for kids who are very hands on. They will love sniffing the foliage and the "ewww" effect. Chives can also be added to homemade chip dip, which is a fun recipe for kids to try whipping up.

5. Borage – This herb is quite beautiful, offering bright purple flowers as it grows. Kids will enjoy watching for these blooms and also the fact that borage leaves smell like cucumber! Borage seeds will start sprouting in just days, making this a fun and fast plant to grow.

6. Dill – If your kids love dill pickles, try growing your own dill. The soft and feathery foliage is fun to touch, and it can be used in so many ways. Use your fresh dill to make your own sun pickles, or add it to salads and salad dressing recipes. They will feel like master chefs.
7. Oregano – How fun would it be to grow your own "pizza garden?" Let kids add some oregano seeds alongside their basil and you have all you need to top your pizzas and pastas. Oregano leaves are a beautiful dark hue, and the plant grows fast for quick harvesting.

All of these herbs are perennials, so you can plant them once and enjoy them year after year. Or, plant them in small containers so kids can enjoy growing them on a patio or windowsill. Use wood sticks to make your own garden markers, and be sure to grab a watering can at your local dollar store.

Try these 7 herbs that kids will love to grow, and see how simple it can be to enjoy gardening with your child all season long.
Other ideas you may like:
Melissa is a football and soccer mom who has been married to her best friend for 24 years. She loves sharing recipes, travel reviews and tips that focus on helping busy families make memories.