10 Tips for Planning an Inexpensive Wedding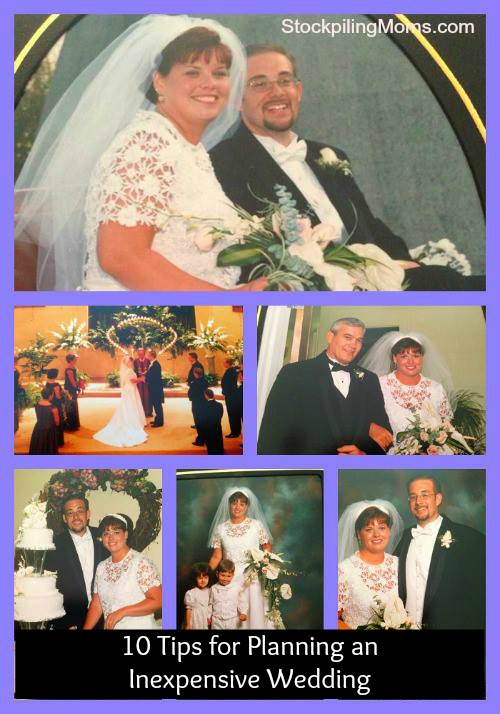 If you recently got engaged or know someone who did then you may want to share these 10 Tips for Planning an Inexpensive Wedding with them. Love is in the Air. Valentine's Day is a very popular day for engagements so I thought it was the perfect time to talk about planning a budget savvy wedding.
The best piece of advise is to create a budget and stick with it. You have to know what you have to spend so that you don't find yourself overspending and going in debt. Starting a life together in debt is NOT a good way to go. After you know the bottom line then you can use some of these tips for planning. A wedding can cost as much or as little as you are ready to spend. If you have $1000 – $10,000 to spend then you work within that budget and make choices based on that.
10 Tips for Planning an Inexpensive Wedding:
Guest List: Keep your guest list small to save costs
Date and Time: Selecting a date that is on an off night will be a great way to save costs. Also, if you have an evening wedding dinner will be expected, keep that in mind when you select the time and date.
Venue: Look for an affordable location. Keep in mind what they provide and what you would have to rent and or purchase (food). Look outside of the box when it comes to locations.
Bridal Party: Keeping the bridal party small will save you BIG! This includes flowers, gifts, food etc.
Dress: Buy a dress off the rack or at a local consignment store.
Invitations: Print your own and save big.
Photographer: In my opinion this is not where you should skimp. You want the memories that last a lifetime so hiring a friend may not be the way to go. However you could look for a good photographer who is looking to build their portfolio and save that way. Or you can "hire" a family friend.
Cake: You can get really nice cakes from local bakeries including Walmart, Kroger and Sam's Club! Consider a small cake and supplementing with a sheet cake! Skip a grooms cake (they are over-rated) or bake it yourself! Right now cupcakes are HOT too.
Flowers: Choose flowers that are in season and local. You could even create your arrangements with whatever is on sale or clearance. I personally think flowers are overrated and a great way to save is go simple!
DJ: They are not necessary! Find a karaoke machine and ask a friend or high school student to DJ for you.
I hope these tips help you! Visit our Party Planning and DIY Ideas Pinterest Board for more ideas.
More Party Planning Tips:
5 Tips for Frugal Party Planning
5 Tips for hosting a Summer Party
DIY Petals and Pearls Tea Party
How to host an Ice Cream Party
Melissa is a football and soccer mom who has been married to her best friend for 24 years. She loves sharing recipes, travel reviews and tips that focus on helping busy families make memories.