Tips for Saving Money at Walmart with the Walmart Savings Catcher
Tips for Saving Money at Walmart with the Walmart Savings Catcher. Walmart has been known for a place to get some of the lowest prices on many items for a long time, so it may not surprise you that you can save a lot of money there. However, they just rolled out a new program called the Savings Catcher to help you save even more money.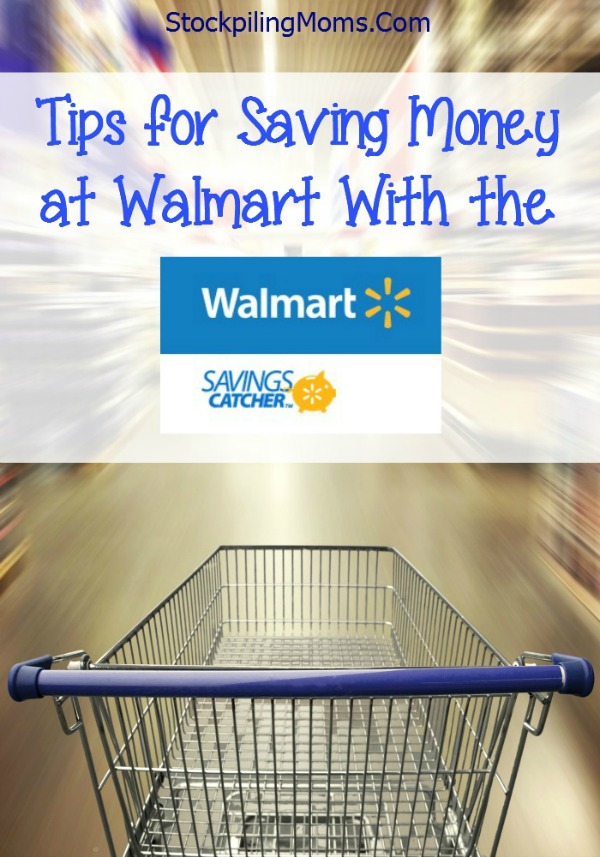 Here are some tips for saving money at Walmart and how you can use the Savings Catcher to maximize your budget and minimize your spending.
Tips for Saving Money at Walmart with the Savings Catcher
Here is how the Savings Catcher works:
You go to the Walmart Savings Catcher page and create an account. (https://savingscatcher.walmart.com)
From there, just save your receipts and enter your receipt numbers into the system (you have 7 days from purchase). If Walmart finds that a local competitor has a lower advertised price, they will give you the difference in your account. You can also use the Savings Catcher app to scan the barcode of your receipt.
For a limited time, you can get 2 times your Savings Catcher Reward Dollars every time you redeem to a Bluebird® by American Express Card* now through 2/28/15.
Here is how it works
Walmart's Saving Catcher compares the prices on your Walmart receipt to top competitors on eligible items. If Walmart finds a lower advertised price, we'll refund the difference onto a Walmart Rewards eGift Card, or you can double the difference when you redeem to a Bluebird Card.
What is Bluebird?
Bluebird is an easy to use financial account with flexible features and convenient management tools to help you get more from your money. You can learn more at bluebird.com/savings-catcher.
How do I get a Bluebird Card/Account?
Register online for FREE today at bluebird.com/savings-catcher for a Card.
How do I redeem Reward Dollars to my Bluebird Account?
1. Log in to your Walmart Savings Catcher account.
2. Click the button to redeem your Savings Catcher Reward Dollars.
3. Select the "Redeem to Bluebird" option. We'll turn your Reward Dollars into Walmart Buck$ – and automatically double them. (Walmart Buck$ are separate funds on your Bluebird Account that can only be spent at Walmart or Walmart.com.)
Spend at Walmart
Activate your Bluebird Card, then use it at Walmart stores or Walmart.com. Your available Walmart Bucks will be automatically applied at checkout.
You can redeem your reward dollars at any time. If you choose not to redeem to a Bluebird card, you can still redeem to a regular Walmart Gift card. You can let them add up, or, at the end of the year, Walmart will redeem them automatically. What a great way to save up for purchases like Holiday gifts!
There are some purchases that are not eligible for points dollars on the program. Be aware that BOGO deals do not count, deals that require you to make other purchases to get a low price of free item on something else ("Buy Oreos and get milk for $1 (or free)"), percentages off with no listed price and those great 90% off sales when businesses close. We also find that brand names are where you will find your earnings.
The good news is you can also use coupons and still get it cheaper if Walmart finds a Savings Catcher price cheaper elsewhere.
Also, keep in mind that you have limits on time and amount of receipts to enter. You only get 7 days to enter a receipt (which is why the app is ideal so you can do it right away as you leave the store) and you can only enter up to 7 receipts per week.
Additionally, the Savings Catcher does not look up all the items on your receipt. It is designed to only scan for certain items such as groceries (but not store brands), beauty, home, health and a few general merchandise items. So be aware that it will not work on products such as gas, prescription drugs, tires, tobacco, wireless services and alcohol.
Be aware that the Walmart Savings Catcher only scans for advertised prices. It won't scan for everyday prices on items.
What is great about this is not only how much money I have the potential to save, but it also makes things convenient. I can spend less time scanning ads, price-matching and comparing and more time with my family.
Have you used the new Walmart Savings Catcher? Do you have any tips on saving money at Walmart? I would love to know your thoughts on it.
Ways To Save:
How to Shop at Whole Foods without Spending your Whole Paycheck
5 Ways to Increase Your Savings at Target
7 Ways to Save Money Without Couponing
How to Get the Most out of your Sam's Club Membership
Stockpiling Posts:
How to use the freezer to stockpile
Melissa is a football and soccer mom who has been married to her best friend for 24 years. She loves sharing recipes, travel reviews and tips that focus on helping busy families make memories.