How to Maximize your Savings at the Drugstore
How to Maximize your Savings at the Drugstore. It used to be that we only went to the drug store when we were sick or needed to fill a prescription. Now days, drug stores offer much more than cough medicine and tissues.
You can save a lot of money on your household needs by shopping at pharmacies and drug stores, but how do you get the best deals? Here are some tips for saving money at drug stores.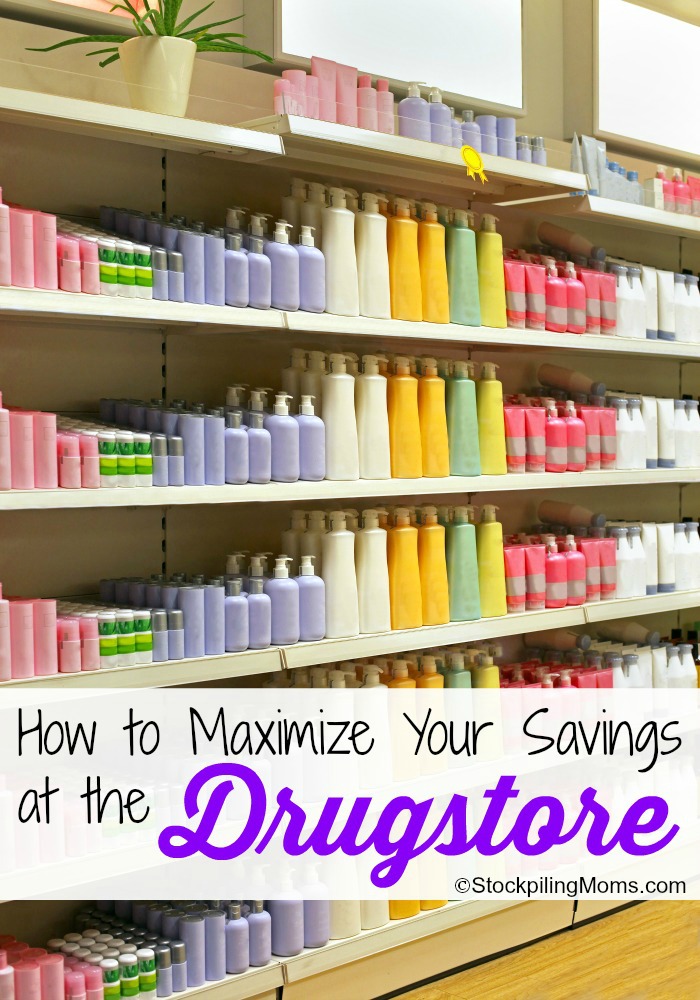 How to Maximize your Savings at the Drugstore
Join their rewards programs. The three main drugstore chains-Rite-AID, Walgreen's and CVS all have rewards programs that work similar to each other, based on a rewards points type system that give you money to spend in the store at a later date. If you rack up enough points, you could go shopping for free at some point and get items that were not on sale at the time.
Check out the weekly flyers. You will often find that the chain drug stores compete heavily with each other and often try to out-do each other in sales. If it isn't on sale this week, it will be if it was somewhere else next week.
Get involved in rebates. Drug stores offer heavy discounts when it comes to rebating. For some reason there seems to be a lot of rebates being offered especially at drug stores these days. Learning how to rebate can often mean you get items free!
Stack coupons at drug stores. Couponing can go far at drugstores, especially if you stack them with store coupons that are often available. Walgreens has their own coupon book, and they occasionally have coupons in their flyers and circulars as well.
Be willing to understand that time equals money. For many people, this may not be appealing, but you will spend a little more time going from drugstore to drugstore if you want the best deals. While there is some time involved, if you do it effectively, you could end up with free health products, makeup and household goods, so in my opinion, if you have the time, it is well worth it!
Be organized. Organizing your strategy, time and coupons will get you far when trying to maximize savings at drug stores. Sit down each week and look over the fliers and decide where to get the best deals. Also, do this as early as possible. Since these stores don't have as much stock as some of the big box stores, shelves can often get cleared quickly.
Follow frugal bloggers. They often know about the sales right away and can help you learn how to use coupons with sales and rebates to get items for free or nearly free. Not only should you check on their blogs occasionally, but follow them on Facebook, Twitter and subscribe to their newsletters! This way, you will hear about special sales as soon as they are known!
Know each individual store's coupon policies. They are all slightly different and some allow you to stack coupons while others do not or only allow it on certain items.
Make sure to ask about your points balance and check your receipts. Sometimes, points don't get applied because you didn't follow the requirements to a "T" or the system messed up. If the points you are expecting to get are not awarded on your receipt, make sure to alert someone right away so you don't miss out on them!
You can really save money and maximize your savings at the drugstore when you are shopping strategically! Do you have any tips to share?
Ways To Save:
How to Shop at Whole Foods without Spending your Whole Paycheck
How to Get the Most from your Sam's Club Membership
5 Ways to Increase Your Savings at Target
7 Ways to Save Money Without Couponing
Stockpiling Posts:
How to use the freezer to stockpile
Melissa is a football and soccer mom who has been married to her best friend for 24 years. She loves sharing recipes, travel reviews and tips that focus on helping busy families make memories.