How to survive job loss by living off your stockpile
How to survive job loss by living off your stockpile. I am sharing a very personal topic today but one that I feel may help others who are suffering from job loss in this tight economy.
My husband's job was eliminated in September 2013. He had worked hard for the company that he was eliminated from for 19 years. Never a more loyal employee than he was but times are tough, and our economy is not what it used to be and without notice the job that he devoted the last 19 years to was eliminated in the blink of an eye.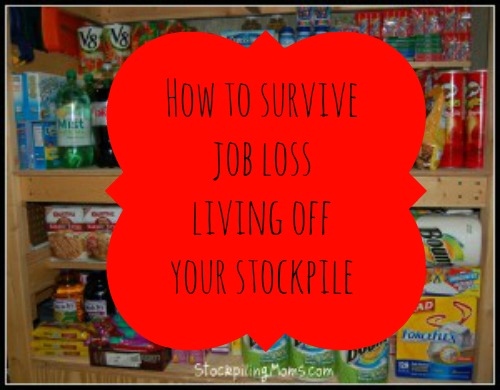 I survived my 2nd open heart surgery (I had surgery on 10/30) in the midst of it. Luckily he has a severance package that runs through mid-May however it is less than what his salary was and of course there have been a lot of budget concerns at our home.
How to survive job loss by living off your stockpile
Luckily we had a large stockpile to lean on. In our book at at our classes we have always taught that a stockpile is a useful tool and that you can stockpile in all areas of your life. One that can save your families thousands of dollars and that you can rely on in terms of preparing for a natural disaster or emergency. I am so thankful for the stockpile because it has enabled our family to live off of what we had accumulated instead of purchasing it at the store full price during this difficult time.
Unfortunately my husband has yet to find a job but he diligently continues his search. In the meantime we have been living off of our stockpile and in the end it has saved us. By using coupons to match to sales I had stockpiled items like canned goods, frozen vegetables and health and beauty products. We have eliminated cleaning supplies, razors, shaving cream, dental floss, tooth brushes, body wash, aluminum foil and zip loc bags from our budgets. We haven't purchased those items in years. Though the stockpile is much less now in size versus where it was 6 months ago I am still thankful for what we have left.
Stockpiling has changed for us since the end of double coupons but it is still possible to save money with coupons and by watching the sales cycle. I don't stockpile in as large of quantities as I used too but I can still save money with coupons which allows for us to spend on other necessities in our life.
By using coupons and shopping online strategically we were able to have Christmas without my son even noticing. Actually as a result of the entire experience our family is closer than ever and my son appreciates "gifts" and when we do spend money for special occasions or dining out as it makes it more special to him.
It is an interesting turn of events how you can turn to coupons and your stockpile in a time of need such as job loss. I always taught this to our readers and now it has come full circle for me. As always when I take my son shopping if there is an item that he wants that is not on sale or has a coupon we add it to our "wish list" instead of saying "no". It works well for us.
I am sharing this with you because I have heard people say that using coupons or stockpiling is too time consuming. Looking back on that I am thankful that I took the time. I started stockpiling in 2008 to save my family money so I could continue to stay home and now I stockpile so that may family can continue to survive on a limited income during my husbands job loss. I hope that this helps others who may be in a similar situation. Planning is the key. Start today so that you are preparing for your future.
Be sure to check out this post on how to Utilize Your Freezer in our 7 Days of Stockpiling Series. How to freeze eggs, milk, cheese and more!
Stockpiling 101
Melissa is a football and soccer mom who has been married to her best friend for 24 years. She loves sharing recipes, travel reviews and tips that focus on helping busy families make memories.