Extreme Couponing – 200 Bottles of Mentos Gum = $28
This is a prime example of Extreme Couponing! I decided to stockpile Mentos gum when it was on sale for 10/$10 at Kroger this past week. There was a coupon for $.55/1 that matched so I made the decision to order 200 coupons. At our store this coupon doubles to $1.00/1.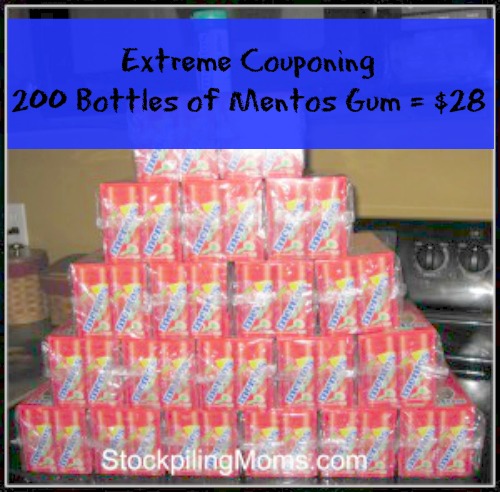 Why? I have 2 reasons. #1 why would I not? It was FREE! #2 my hubby loves this gum and chews it daily. It was stockpile time for me!
After I placed an order for 200 coupons, I called my local Kroger and placed an order with the store manager for 200 bottles of Mentos Gum. They were very nice and asked what flavors I wanted. I did not have to pay in advance I just placed the order and gave them my phone number to call me when it came in. I did tell them when I ordered that I was using coupons and they said that was no problem.
When they called, I went in and of course had 200 coupons to redeem. My total OOP expense at the store was $12.00 sales tax.
Extreme Couponing – 200 Bottles of Mentos Gum = $28
My final total was 200 coupons x $.08 = $16.00
Sales Tax = $12.00
Final OOP Expense = $28.00 for 200 bottles of gum or $.14 per bottle! The gum normally retails for $1.50 a bottle so this was a great deal.
If you are going to order in bulk or try to redeem "large quantities" of coupons I highly suggest ordering. It was so easy, and the manager and customer service department were so nice about it. They were actually happy that I ordered in advance as to not "clear the shelves" and they were fine that I used coupons!
The manager actually hugged me before I left! 🙂
Learn How To Stockpile:
Living in the "Land" of Doubles
Ways To Save:
How to Shop at Whole Foods without Spending your Whole Paycheck
5 Ways to Increase Your Savings at Target
7 Ways to Save Money Without Couponing
How to Get the Most out of your Sam's Club Membership
Popular Posts:
Crockpot Bacon Cheese Potatoes
Weight Watchers Peanut Butter Cool Whip Treat
Downy Unstoppables in my Wax Burner? Who Knew?
Melissa is a football and soccer mom who has been married to her best friend for 24 years. She loves sharing recipes, travel reviews and tips that focus on helping busy families make memories.