How to make your own Febreze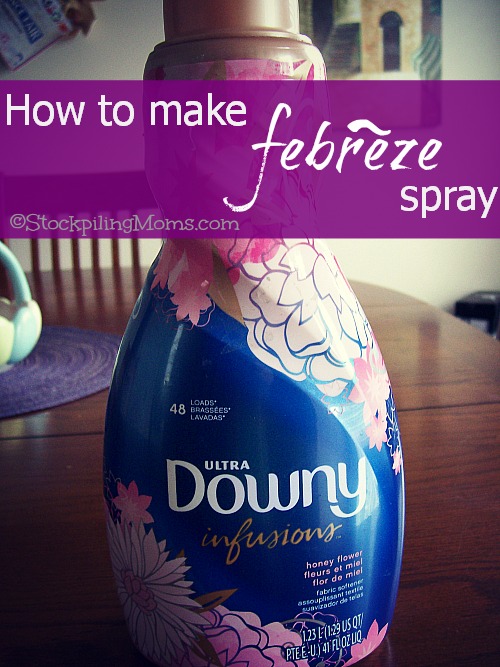 If you love Febreze you are going to love this post on how to make your own Febreze. It is a huge MONEY SAVER! I dislike paying for febreze and now I never have too. It just costs too much for me to justify but I love the benefit of it. There is no better quick trick to deodorize your home. If you are trying to sell your home, have pets or children then this tip is for you!
How to make your own Febreze:
Supplies:
Large Spray Bottle 32 oz
3 TBSP Baking Soda
1/4 Cup Fabric Softener (any brand with your favorite scent)
Hot water to fill the rest of the bottle.
Directions:
Add Fabric Softener to the empty spray bottle. (A funnel may come in handy)
Add Baking Soda to the spray bottle.
Add enough hot water to fill.
Shake all ingredients together.
You can use a smaller bottle if you want too, just reduce your amount of ingredients accordingly. I like to make (2) smaller sizes and keep one of each level of our home. If you don't want to use a fabric softener with a color you could choose one that is colorless or you can also use essential oils. I have not had any issues with staining but always check before using if you are concerned.
You can use use this homemade febreze just like you would the store bought version. Always be careful when spraying. Never spray with children or pets in the room. You can use it on your sofa, carpet, curtains, bedding and even in your car! The house smells so good and it lasts a long time. Be sure to spray the kids rooms when they are not there. I like to spray in the morning after they go to school. For me I love a lavender scent. I hope you like this homemade febreze recipe too!
10 Laundry Tips:
How to make your own dryer sheets
How to make your own laundry detergent
How to remove laundry stains with lemon essential oil
How to remove sour smell from towels
How to remove sour smell from wet clothes
How to remove stinky smell from HE washing machines
How to remove mud from clothing
Melissa is a football and soccer mom who has been married to her best friend for 24 years. She loves sharing recipes, travel reviews and tips that focus on helping busy families make memories.