Turtle Canyon at Newport Aquarium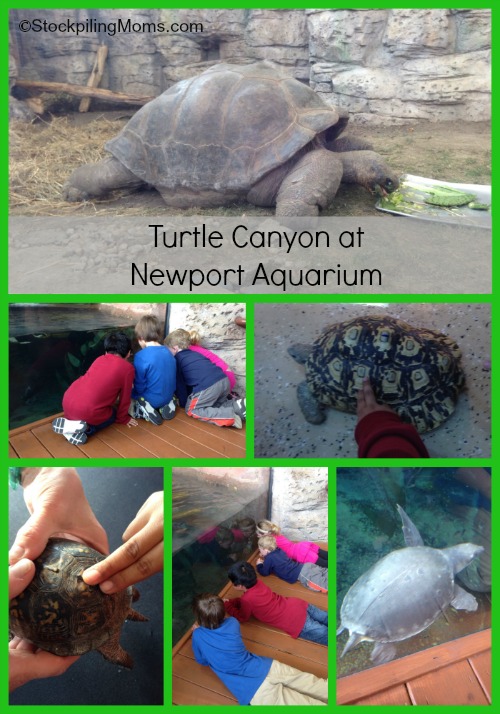 We are so excited to share with you our visit to the new Turtle Canyon at the Newport Aquarium. The new exhibit features Bravo, the Midwest's largest turtle. We are long time Aquarium members and I have to say that we have really never been a fan of the Otter's and Birds and often skipped that section (sad but true). I am not a fan of birds personally and it was damp in that area so when we visited the aquarium and learned that they had replaced that area with Turtle Canyon we were even more excited!
Turtle Canyon at Newport Aquarium:
Turtle Canyon features a diverse collection of more than 14 species spanning three continents, as well as a turtle corral that offers guests the unique opportunity to touch a variety of shelled reptiles. This was one of the kids' favorite parts of turtle canyon. They could have stayed in turtle canyon all day! That makes me happy because instead of skipping this area we easily spent an hour in this area instead!
You can view turtles up close from multiple angles. The kids found the floor a great spot! From the largest tortoise species in the world, the Galapagos tortoise, to the smallest tortoise species in the Northern Hemisphere, the Egyptian tortoise, Turtle Canyon showcases turtles of all shapes and sizes. I loved all of the different and easy to view areas and so did the kids.
Turtle Canyon features Bravo, a 650-pound, 84-year-old Galapagos tortoise and the largest turtle in the Midwest. Hatched on the Ecuadorian island of Santa Cruz, Bravo arrived at the United States as part of the last group of tortoises exported from the Galapagos Islands. He arrived at Newport Aquarium on March 6th from Riverbanks Zoo and Garden in Columbia, S.C. He was enjoying a snack while we were there and was so much fun to watch. The kids exclaimed "he is HUGE".
Thunder, a 118-pound alligator snapping turtle, has relocated to Turtle Canyon. Believed to be more than 100 years of age, Thunder is the oldest resident at Newport Aquarium. He is one of Peyton's favorites at the Newport Aquarium, so we were excited to see him featured in Turtle Canyon.
The newest member of the aquarium's turtle family is Tilly, a seven-month-old, 2-pound loggerhead who was put on display at the Shore Gallery exhibit in February. After hatching in August at Emerald Isle, N.C., Tilly has been fostered by the Newport Aquarium husbandry staff since late October as part of the North Carolina Sea Turtle Project, which gives loggerheads a head starts as only one in 1,000 survive to adulthood. So amazing to see Tilly and a great educational lesson for the kids.
In addition to turtle canyon there are so many other great exhibits. We love the Jelly Fish, Sharks, Penguins and the Frog Bog. The kids really love the play area in the Frog Bog. There are tons of interactive and touch stations too!
Here is our review of Penguin Palooza
For more information on Turtle Canyon and the Newport Aquarium Annual Passes, visit NewportAquarium.com. The Newport Aquarium is open 365 days a year. I personally think the best deal is to get a season pass, with just 2 visits you have earned your money back. We have been season pass holders since my son was 18 months old! Also, for discounted tickets you can purchase in advance at your local Kroger.
Thanks to the Newport Aquarium for this opportunity for our kids! This in no way affects our post. It is 100% our own.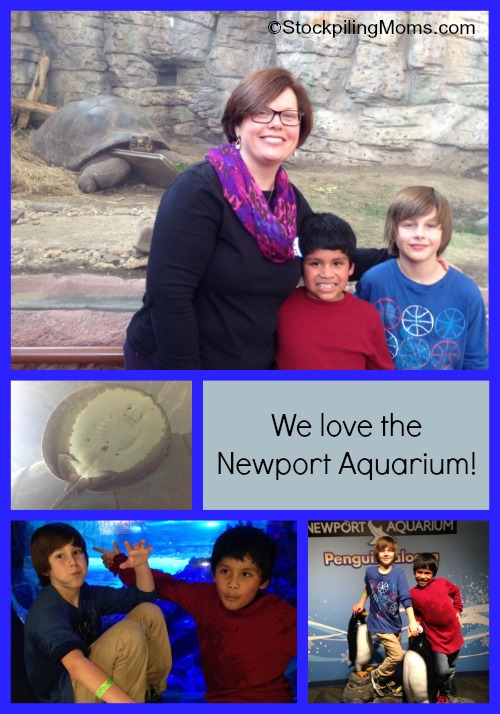 Travel Articles:
Disclosure: We were provided tickets for our review however all opinions are 100% our own.
Melissa is a football and soccer mom who has been married to her best friend for 24 years. She loves sharing recipes, travel reviews and tips that focus on helping busy families make memories.