Ways To Save On Healthy Foods
If you are like most of us, you may get discouraged on occasion by the deals and coupons out for all the junk food, but the lack of deals you find on healthy foods. Don't let appearances get you down. You will be surprised at how many Ways to Save On Healthy Foods that are out there!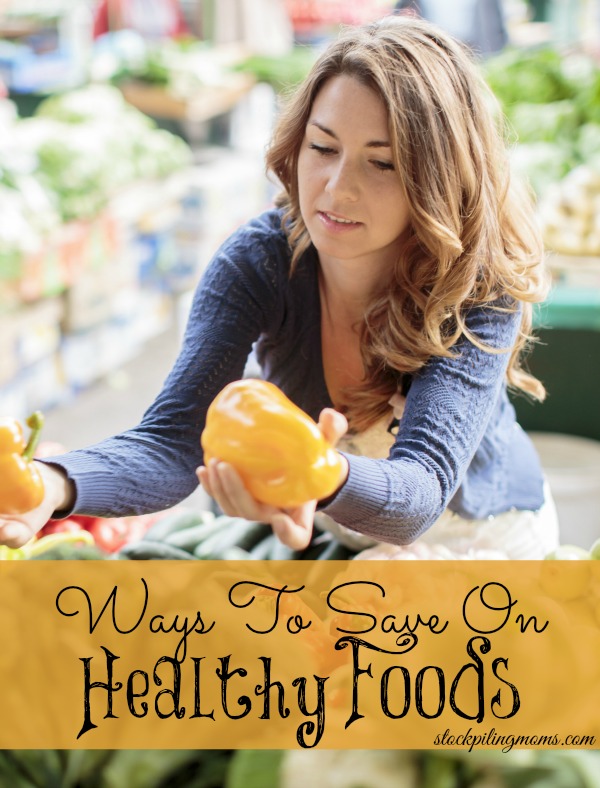 It's not just about coupons and deals, but about planning ahead and thinking things through on your list. If you truly want to get healthy and eat healthier this year, we have some great tips for you!
WAYS TO SAVE ON HEALTHY FOODS
Cook from Scratch: One of the biggest traps we all fall into is the lure of convenience foods. Buying organic, low fat and gluten free processed foods can be very pricey. Things like macaroni and cheese, canned beans and soups are all twice to three times as expensive in a healthier version. Instead of buying the easy convenience stuff, start using some of our great Clean Eating or Weight Watchers recipes and cook from scratch. Dry beans are simple to toss into a Crockpot with water, broth and some seasonings. They can be the base for chili, soup, refried beans and more!
Follow Our Tips for Shopping at Whole Foods: We actually have a great post on How To Shop Whole Foods Without Spending Your Whole Paycheck that has tons of store specific ideas on savings.
Shop For Seasonal Foods & Buy Bulk For Later: Even though you may want a ripe watermelon in the middle of December, the cost will be twice as much. Watch for great deals on organic produce during it's season. If you find squash, corn, tomatoes or most fruits on sale at great prices remember you can always buy bulk in season and can or freezer for use later in the year.
Make More Vegetarian Meals: Let's face it, one of the biggest expenses in your grocery budget is meat. If you are trying to eat healthier, then you are seeking out lean meats, grass fed beef or free range chicken. All of the healthier options are more expensive typically. Instead of increasing the money you spend, why not create more healthy vegetarian meals for your family. Beans, Lentils, Mushrooms and simple hearty soups are great options that satisfy without a meat portion at the center.
Buy Local: Fresh fruits, vegetables and even meats are almost always less expensive when purchased from local vendors. Check out your local farmer's markets for great deals on items that are more costly when shipped in to your grocery store chain.
Sign Up For Grocery Rewards Cards: Nearly every grocery store chain offers either a reward card or email program that alerts you to deals, gives you special offer prices or even sends out monthly coupons on your regularly purchased items. For stores like Whole Foods, Sprouts or Fresh Market check out their email subscription or local to you Facebook pages for up to date sales and events.
Stick To Your Menu Plan: Seriously – we can't say how much this really helps cut back on your spending. If you create a monthly or weekly menu plan, stick with it. Taking the hour or two a month to write down what you are cooking will help you tremendously. Not only does it limit your last minute spending, but it allows you to work through overstock in your pantry.
No matter what your health goals are, we hope that our ways to save on healthy foods will help you stay on track. Eating healthy does cost a bit more than the bad for you stuff will, but if you plan and shop smart you can change your budget.
Ways To Save:
How to Shop at Whole Foods without Spending your Whole Paycheck
5 Ways to Increase Your Savings at Target
7 Ways to Save Money Without Couponing
Stockpiling Posts:
How to use the freezer to stockpile
Melissa is a football and soccer mom who has been married to her best friend for 24 years. She loves sharing recipes, travel reviews and tips that focus on helping busy families make memories.