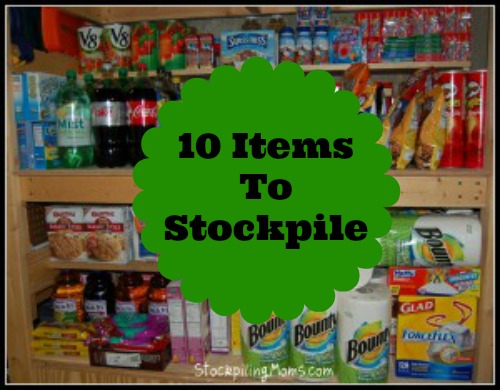 I am always asked what are the top 10 items to stockpile. So I thought this would share that with you today! We hope this helps you save money at the store and gives you an idea of what you should be stockpiling.
10 Items To Stockpile
1. Toilet Paper – Great post on "How can you get free toilet paper?"
2. Bottled Beverages – Sports Drinks/Water (a must for sports and the summer)
3. Diapers
4. Pet Food
5. Gum/Candy
6. Laundry Detergent
7. Meat – Great post on manager's specials
8. Storage products like foil, freezer bags
9. Personal Care – Shop the Drug Stores
10. Paper Plates, Cups and Plastic Wear
I do really well shopping at Kroger and strategically matching coupons. When there is a Mega Sale that is a great time to stockpile on paper goods and storage products. I also stockpile at Sam's Club.
If you are using coupons it is all about watching the sales cycle and matching your coupons. You strategically match your coupons to the smallest size allowable based on the wording on your coupon. If you are not using coupons I find that buying in bulk at Sam's Club is a great way to save.
What items would you add to the list?
Ways To Save:
Stockpiling 101
Melissa is a football and soccer mom who has been married to her best friend for 24 years. She loves sharing recipes, travel reviews and tips that focus on helping busy families make memories.