Tips for saving money from your family budget
Tips for saving money from your family budget. It is a New Year and with that brings resolutions. If one of your resolutions is to save money you are not in the minority. The new year is a great time to commit to changes in your family budget.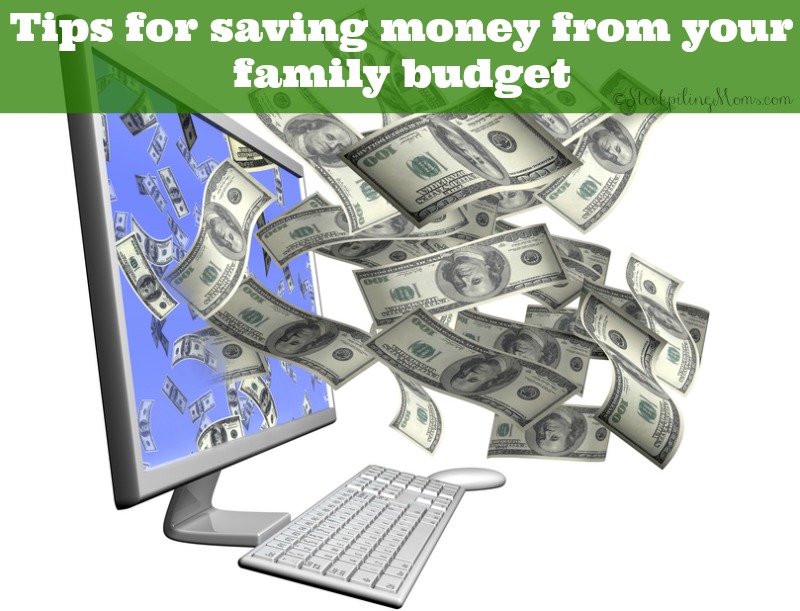 You may not even have a budget. If that is the case, then it is a great time to create one. We have Tips for saving money from your family budget that we hope will help you save this year.
Tips for saving money from your family budget
On Dining Out – When going out to eat – Stretch you're dining out budget by signing up for restaurant eclubs. You can also share an appetizer and entrée and drink water. You can often eat during happy hour for half price. Also check to see if the restaurant offers early bird dining specials or kids eat free nights. Carry restaurant coupons with you at all times to save when you are on the go.
At the gas pump – You can save money at the gas pump by utilizing your grocery fuel rewards. Take advantage if they offer double rewards by purchasing gift cards for places you shop and dine out regularly.
On commuting – You can save money by carpooling with co-workers. Consider planning all errands based on your schedule to avoid making multiple trips. For instance, when taking your child to school and you have errands to run in that area, maximize your time and save yourself money.
At the drug store – You can save additional money by playing the drug store games. Each week all of the drug stores offer items for free after incentive and coupons. Always check out at the beauty counter when shopping at Walgreen's. They often offer additional money saving discounts. Stack store coupons with manufacturer coupons to save even more.
At amusement parks, movie theaters, or other places we go for fun – Look for specials with combined ticket and dining prices. Before you purchase a ticket look online for discount codes, the local grocery stores and Chamber of Commerce. In the summer many theaters offer free movies in the mornings which are a great way to save money. Bowling Lanes often offer discounted prices and special offers in the summer too. Use an AAA discount if you are a member.
On books & other entertainment – Utilize your local library. You can check out books, magazines, audio books, kindles and nook for FREE. They also offer special programs for all ages. If you want to purchase a book check online for eclubs and coupons. We like to shop at ½ price books for more savings.
On laundry or dry-cleaning – Consider making your own detergent. Not only are they better for the environment they will save your budget.
How to make homemade laundry detergent and fabric sheets
How to make your own laundry detergent
Consider using taking your dry cleaning in bulk. My husband gets a "bulk discount" for taking in 20 more items at time. Many dry cleaners have punch cards where you can earn free dry cleaning too!
On housewares – We love to save by shopping daily deals sites. One of our favorites is Houseware's Deals. You can also save at Bed, Bath and Beyond by using a coupon. They can be used even after expiration too!
On summertime energy use – In the summer we suggest combining trips when running errands, keeping your shades pulled and closing vents in rooms when not in use. Also, we suggest installing a programmable thermostat.
On making meals (dinner, breakfast, even snacks, actually) – Consider using a weekly or monthly menu plan. By planning your meals monthly based on your stockpile you will save more money and know what to stockpile at the store. You can also try a freezer meals plan. We use these 20 freezer meals in 4 hours, and it is a great way to save money and time!
On buying or maintaining furniture – Always price compare and consider purchasing around holidays when stores run major discounts.
On toys – Purchase toys in July when they are on clearance. Every year manufacturers redesign packages clearance toys at up to 75% off. Stack with a coupon when possible and stockpile for holidays.
On clothes (both adult and kid) – Shop after season for clothes and combine with coupon when possible. If you are shopping online always go through a cash back site. You can stack with coupon and sale price.
On cleaners – Consider making own cleaning supplies not only are they better for the environment they will save your budget. If you want to purchase your cleaning supplies watch the sales cycle and purchase when they are on sale matched with a coupon. Several times a year cleaning product go on ½ price and when matched with a coupon you can purchase for a stockpile price.
On towels & linens – Shop during white sales and maximize by stacking with coupons when possible.
On home renovation – Do It Yourself when possible. Take free classes at Home Depot and Lowes and then do the project yourself instead of paying contractors. To make that deal sweeter you can sign up for coupons and save even more by combining a coupon on the materials.
On Gardening – The best frugal family activity is gardening. Not only will your family save money by planning a garden you will have family time when planting, maintaining and harvesting. You can control what chemicals you use (if any) or if you want to have an organic garden. It is a great way to open your children up to eating vegetables. When they see the vegetables grow, they are more likely to eat them.
On Composting – If you garden, we suggest that you compost. It is a great activity to teach your kids and so good for your garden. Be sure to check out our how to make your own compost bin article.
We hope these tips help you save from your family budget. Do you have any tips to share?
Melissa is a football and soccer mom who has been married to her best friend for 24 years. She loves sharing recipes, travel reviews and tips that focus on helping busy families make memories.