Tips for Your First RV Trip
Check out these Tips for Your First RV Trip. Are you about to go on your first RV trip? If so, you must be super excited for all the adventures you're about to take.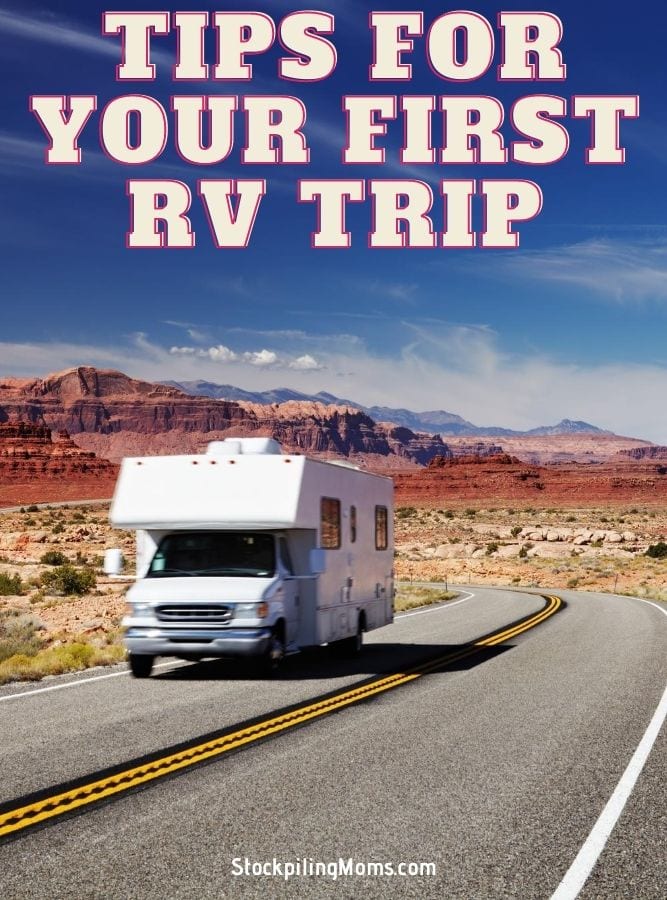 I wanted to share some tips for your first RV trip because it's always better when you have the most tips possible. Remember that driving or riding in an RV is a learning curve and you have to be prepared to offer yourself grace!
Tips for Your First RV Trip
You've picked the RV, packed your bags, and now you ready to travel! The tips below will help make the most of this new adventure and keep you safe and happy on the road!
Practice Backing Up an RV
Although driving an RV is exciting, there are some things that can be not so exciting, like backing up an RV for the first time. If you're going on your first RV trip, can I suggest that you practice backing up an RV? This tip will come in handy whenever you need to back into your first camping spot.
Split Tasks
If you are traveling with your family, don't be afraid to split tasks up. Mom and dad don't have to be the only ones setting up the RV. Don't be afraid to allow the kids to help with basic tasks too. They will love helping you and being a part of the RV set up process. You'll be amazed at what tasks kids can do!
Ask for Help From Others
What if you don't know what you're doing? It's always best to ask for help than to do something wrong. Asking for help is a way to save time and avoid expensive repairs or damage. Also, make sure you utilize YouTube and informational RV blogs. Learn as much as you can, but don't be afraid to ask for help!
Set Up in the Daylight Hours
It is very difficult to set up at night, which is why you should try and drive and set up at night. Being able to see everything in broad daylight. Setting up during daylight hours will help you so much. If you do happen to get there at night, make sure you bring plenty of lights for yourself, so you can see as much as possible.
Prepare for the Worst, Hope for the Best
When it comes to tips for your first RV trip, you need to prepare for the worst and hope for the best. You cannot leave on an RV trip unprepared. You have to take the time to get your emergency kits ready and make sure everything is good to go on the RV. You'd be surprised as to what can go wrong on an RV trip, but you'd also be surprised as to what can go right.
Don't Be Afraid to Cook
There is no doubt that it can be expensive to eat in a restaurant all of the time. Don't be afraid to cook or grill out. Utilize the kitchen that you have. It's amazing as to how hungry your family will get and they will want food fast. During your first RV trip, stock up on the foods your family loves, and don't be afraid to eat it! You'll save time and money.
Now that you know all of these awesome tips for your first RV trip, what tips would you add to it?
More Travel Tips
Melissa is a football and soccer mom who has been married to her best friend for 24 years. She loves sharing recipes, travel reviews and tips that focus on helping busy families make memories.