The Best Gluten Free Food at Walt Disney World
I have a list of The Best Gluten Free Food at Walt Disney World. We are home from an amazing Spring Break at Walt Disney World! When I asked my teens where they wanted to go for spring break, they both said "Disney". That was music to my ears. As a result, I decided that my goal was to enjoy as many delicious gluten free foods that I could find!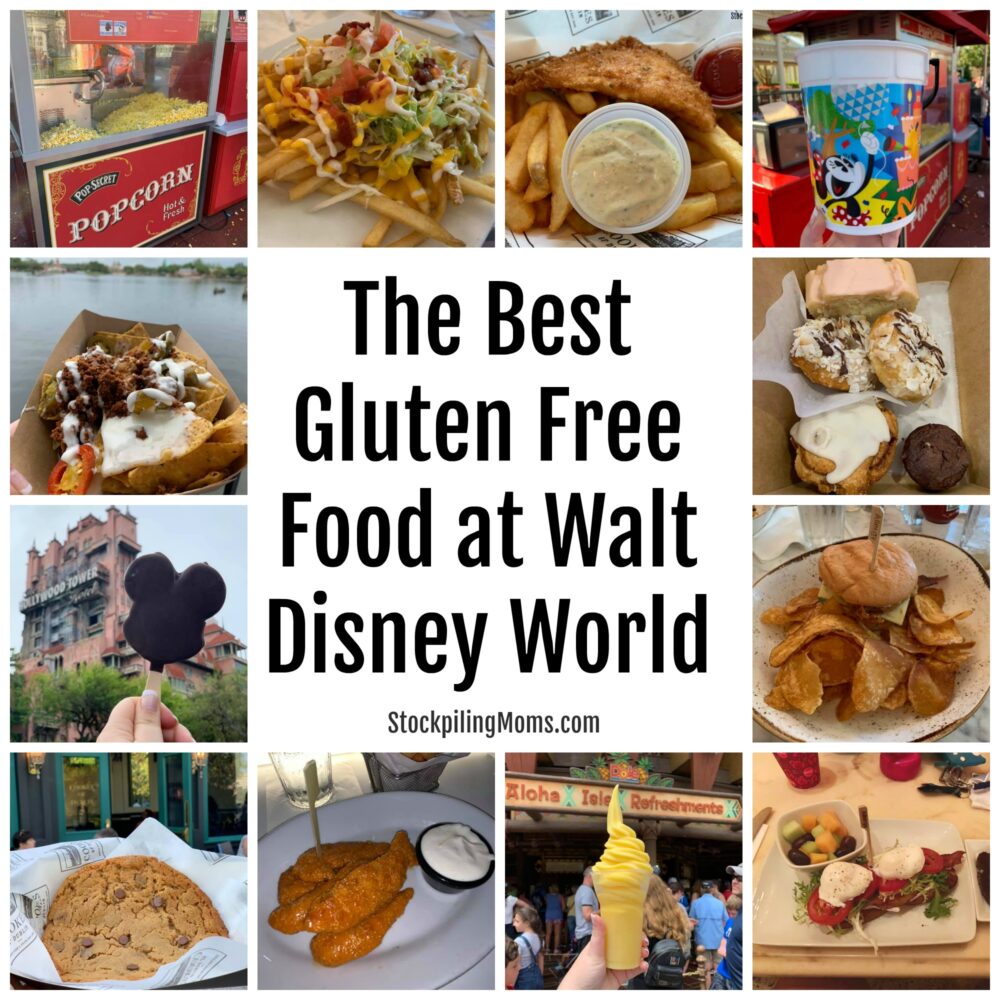 I am happy to report that I met my goal and didn't gain a pound in the process. Of course, walking 9+ miles a day allows you to enjoy a few more calories than what you would normally be able to enjoy so that worked out in my favor. So here you have it! I have created for you my favorite gluten free foods at Walt Disney World. I hope you enjoy them as much as I did.
The Best Gluten Free Food at Walt Disney World: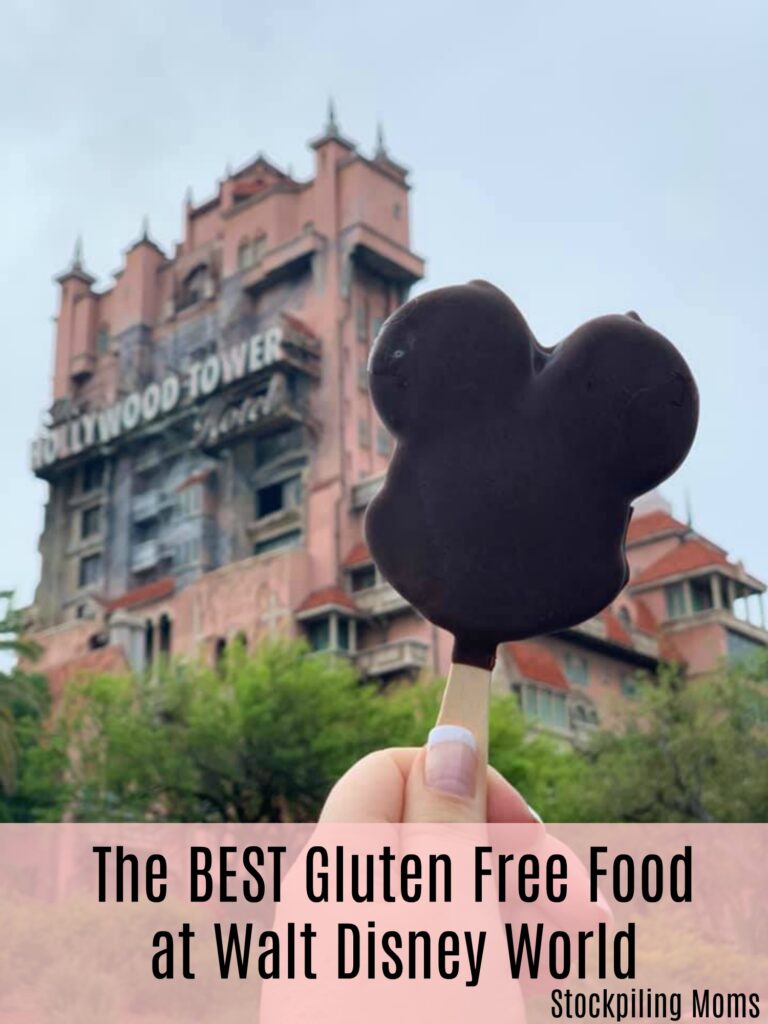 Mickey Ice-Cream Bar – It doesn't get any more iconic than this sweet treat AND it is so refreshing on a hot summer day! I can honestly say that when I found out Mickey Ice-Cream Bars are gluten free, I almost shed a tear! (Of joy). It has a delicious hard coating shell, and the ice cream is creamy and so yummy. The perfect bite! Best of all if you are on the Disney Dining Plan you can use this as a snack.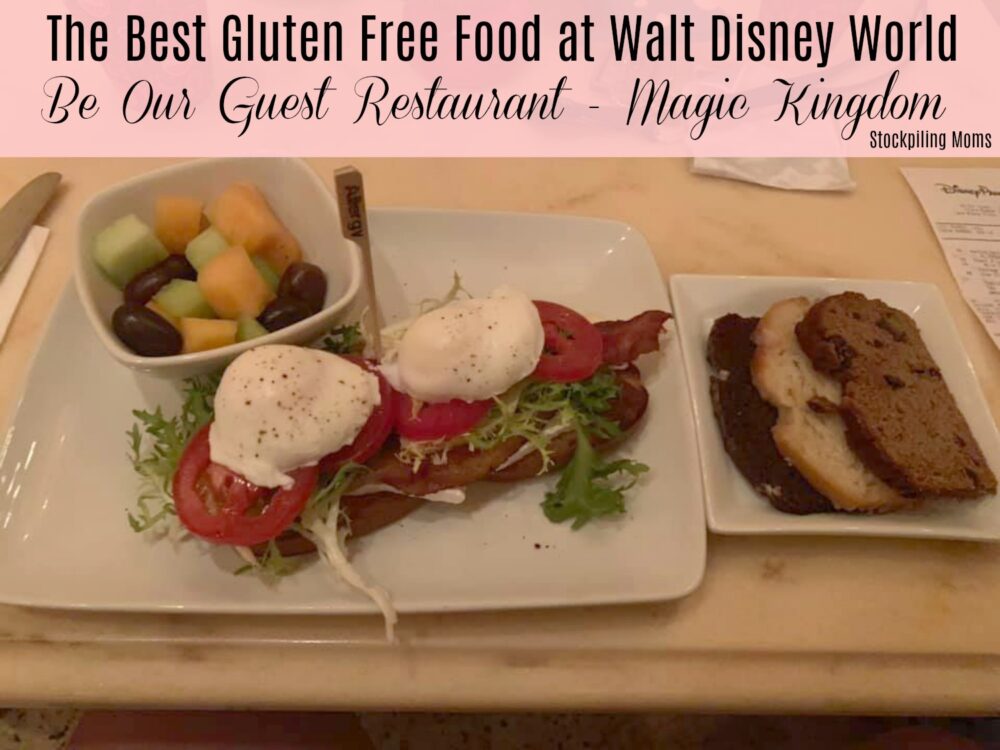 Breakfast at Be Our Guest – If you haven't been to Be Our Guest yet you HAVE to go! It is by far my FAVORITE place to dine for breakfast at Magic Kingdom. You can pre-order breakfast to eliminate waiting time and the food was AMAZING!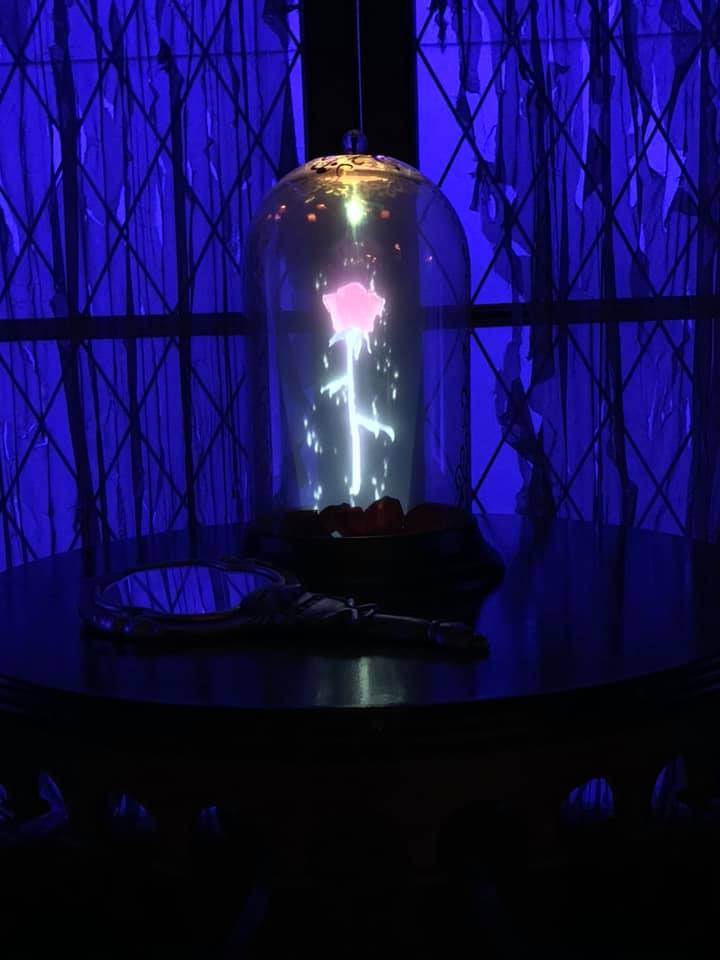 I ordered the Open-Faced Bacon and Egg Sandwich. It was Poached Eggs, Applewood-Smoked Bacon, and Brie on gluten free toast served with Fresh Fruit. It was also served with three slices of delicious breads from Erin McKenna's Bakery. Worth EVERY penny! I can't wait to go back! You can EASILY share this with someone as the portion was huge! You can read our full review and why this is a MUST when you visit Magic Kingdom.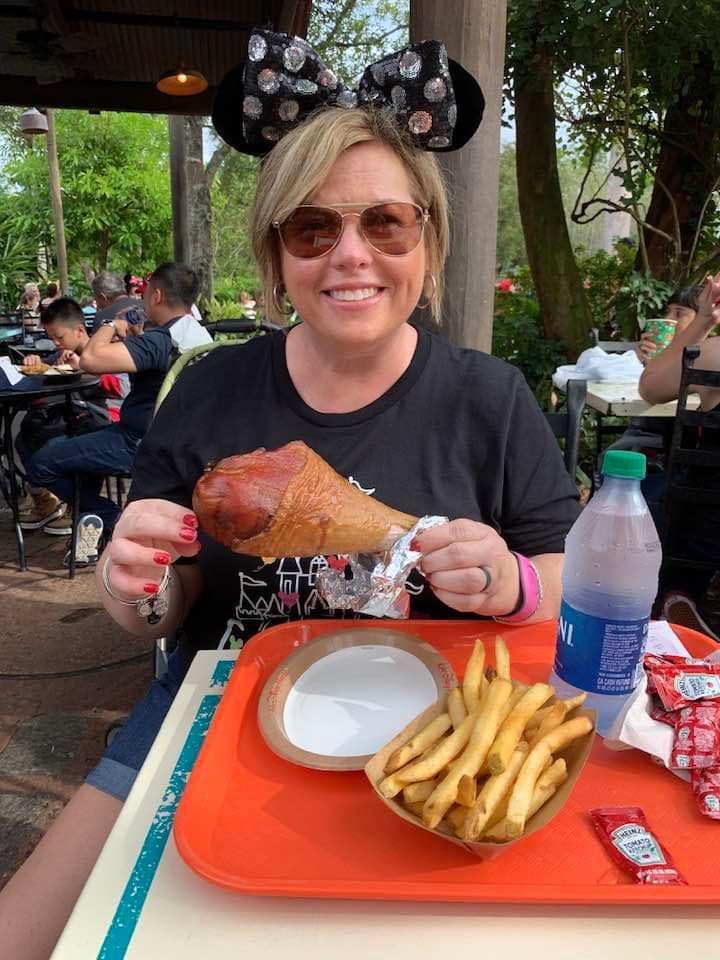 Turkey Legs – Really there isn't much better than a HUGE turkey leg! This is a must eat item for me when I visit Disney World. I found the best place to get one is at Magic Kingdom in Frontierland. There are a few other locations too. One in Animal Kingdom as well.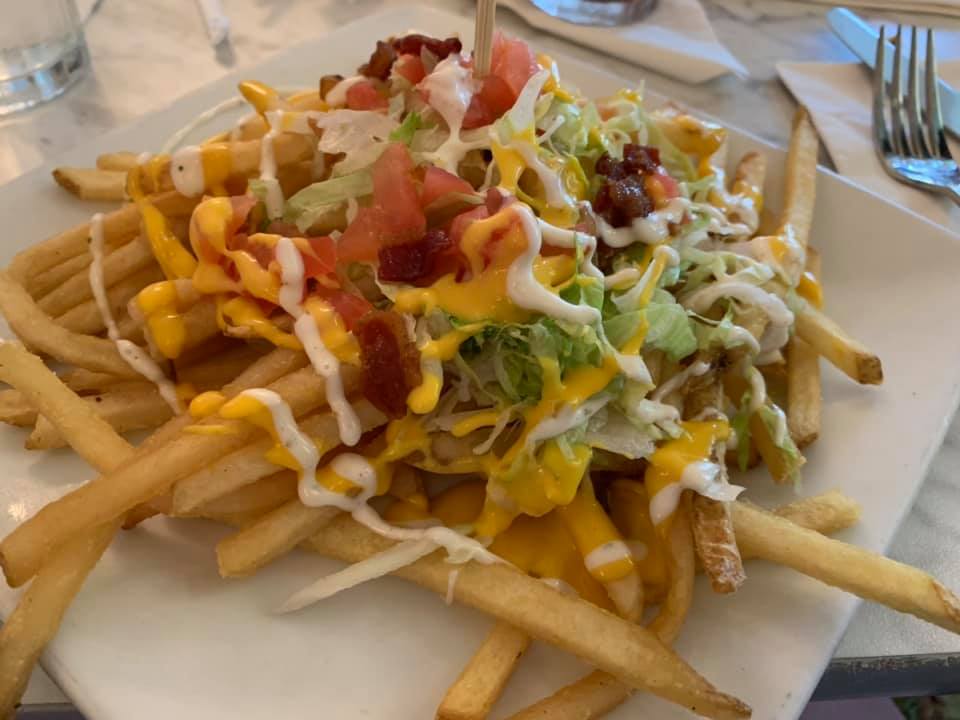 Lunch or Dinner at the Plaza Restaurant – Seriously my new favorite place to dine. It is a casual, family-friendly menu but the atmosphere is elegant, and this was a crowd pleaser for my entire family. This is a charming dining gem located at the end of Main Street, U.S.A in Magic Kingdom. We enjoyed the Plaza Loaded Fries that were topped with Melted Cheese, Bacon, Lettuce, Tomatoes, and Ranch Dressing and YES, they are gluten free!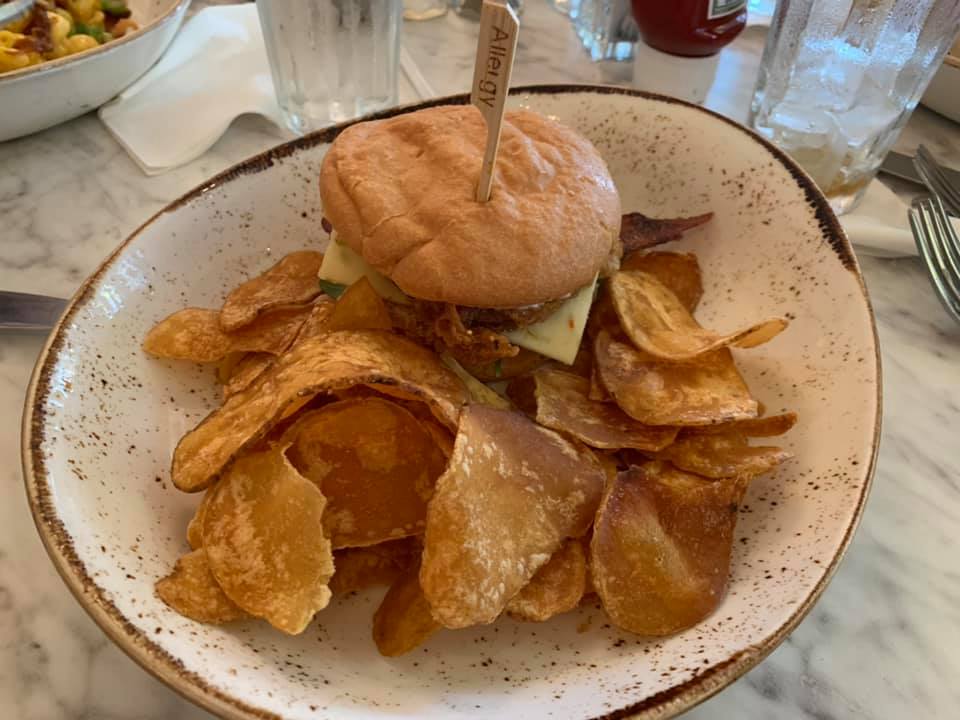 But for my meal I had the Fried Green Tomato Sandwich – Yes, you are reading this correctly and YES it was gluten free! A deep-fried Green Tomato served with Bacon, Arugula, Tomato, and Pepper Jack Cheese topped with Alabama White Barbecue Sauce on a toasted gluten free bun with Homemade Chips. It was AMAZING!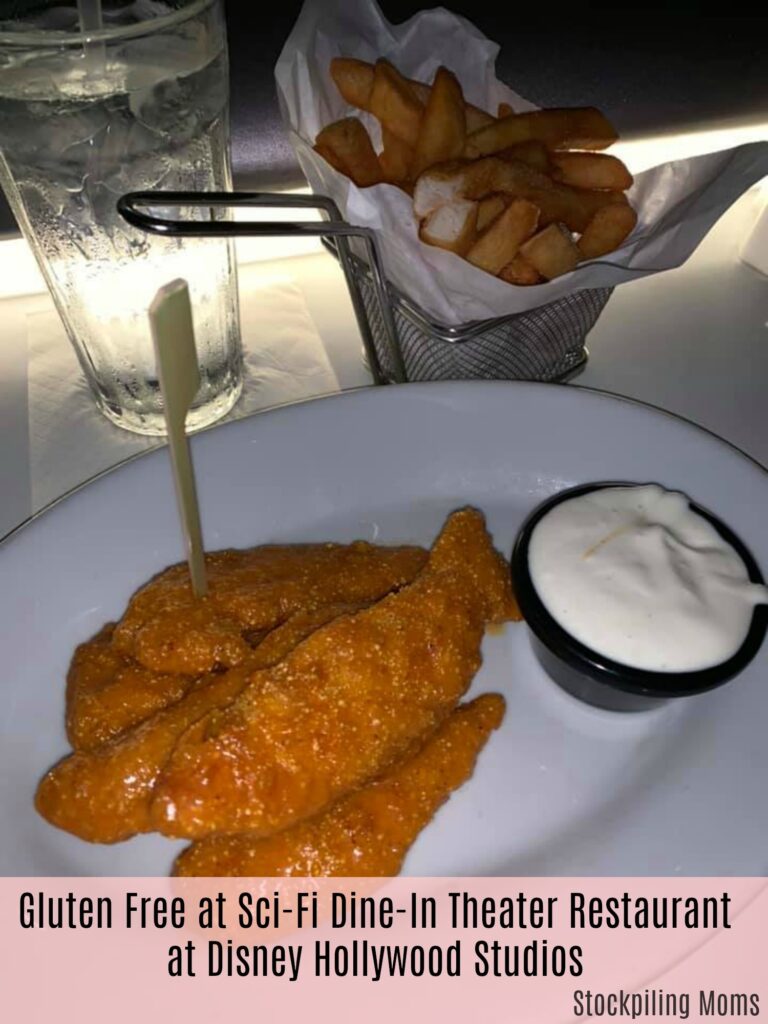 Lunch or Dinner at Sci – Fi Dine-In Theater Restaurant – Hands down no visit to Disney Hollywood Studios is complete without a visit to Sci-Fi. It is a tradition for us. These Buffalo Chicken Tenders are on the appetizer menu, and they are AMAZING! I added a side of gluten free French fries and had a meal that I thoroughly enjoyed. They also have delicious gluten free milkshakes and a gluten free brownie sundae that is out of this world!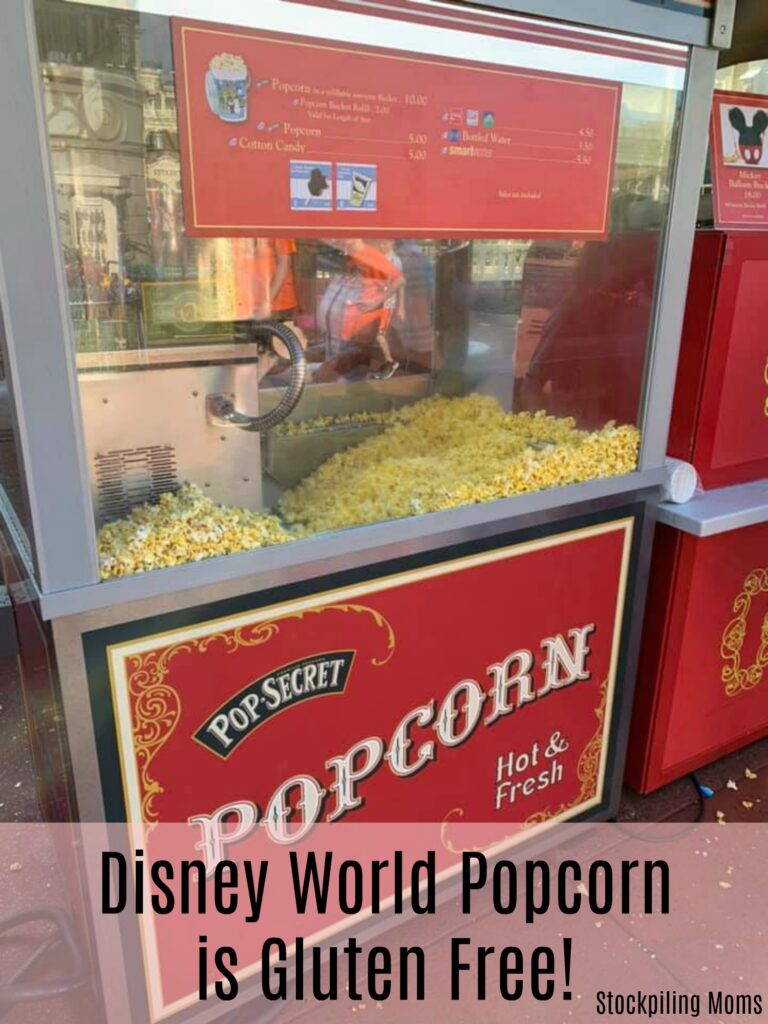 Popcorn – Seriously this is the best popcorn EVER and if you purchase the refillable bucket, it is a great way to save money on snacking. We purchased one and refilled it easily 10 times during our two days at the parks. If you are on the Disney Dining Plan, then this can count as one of your snacks.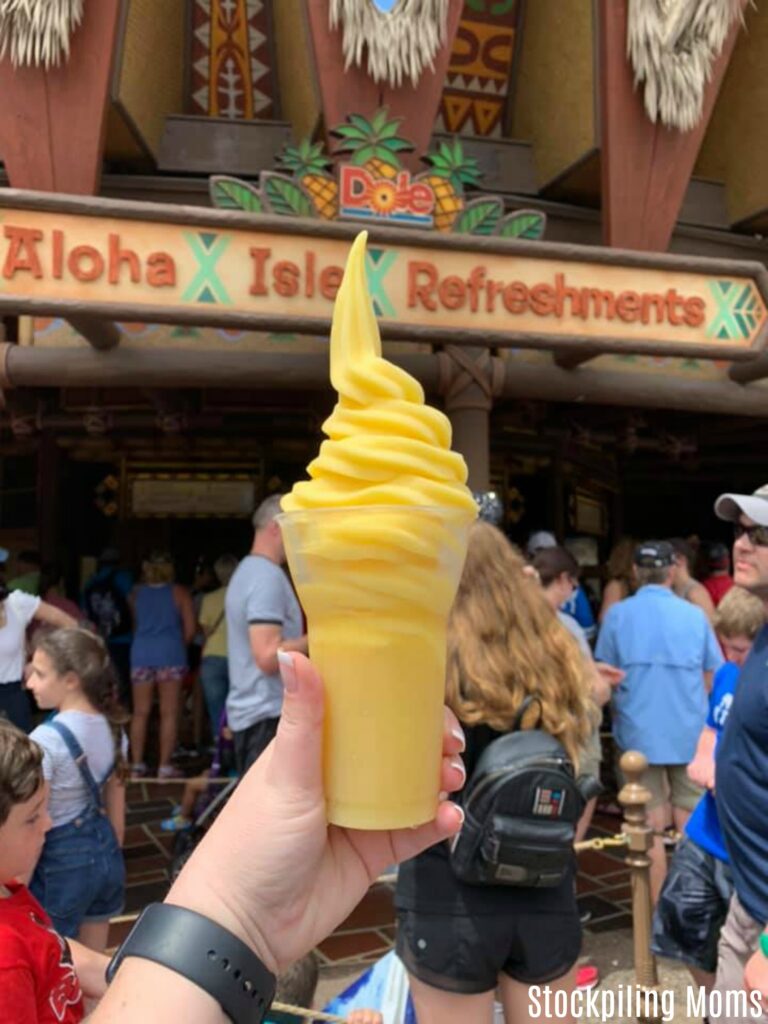 Dole Whip – Seriously THIS is the best and most refreshing snack you can enjoy! I got the pineapple float instead of the traditional dole whip and it was 87 degrees the day I enjoyed it. It was so refreshing and delicious. The most popular spot to get a Dole Whip is at Aloha Isle in Magic Kingdom. If you are on the Disney Dining Plan this can be purchased as a snack. They can also be purchased at Tamu Tamu – Animal Kingdom, Marketplace Snacks – Disney Springs, Pineapple Lanai – Disney's Polynesian Village Resort and at The Drop Off – Disney's Art of Animation Resort.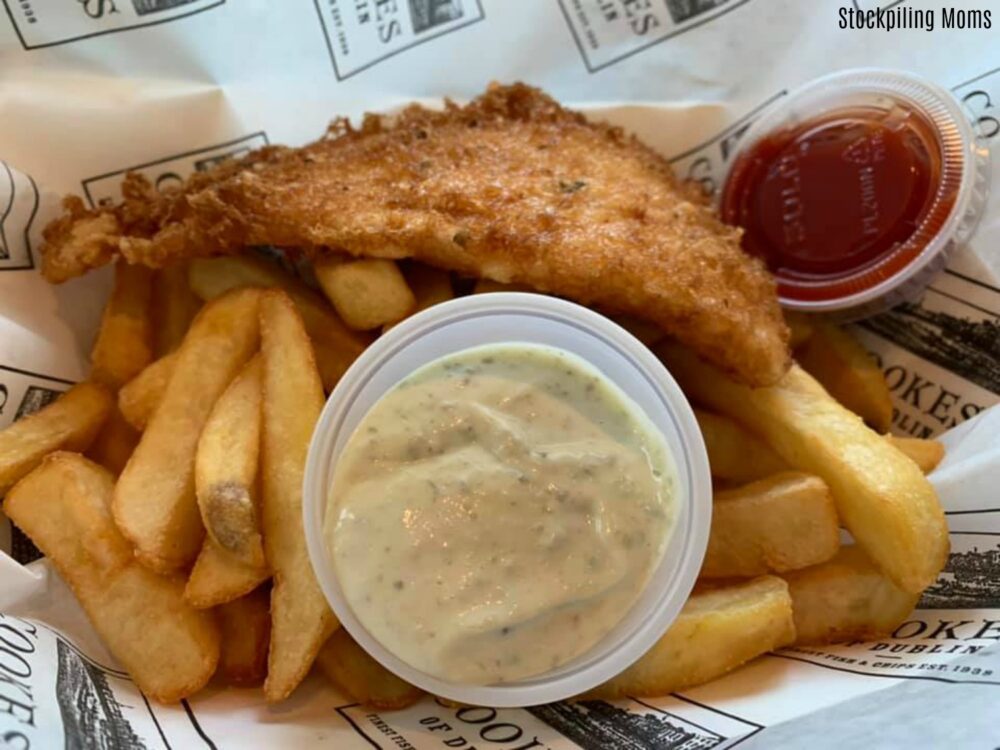 Fish and Chips and Peanut Butter Cookie at Cookes of Dublin – Seriously now. When I found out I could get this meal I seriously shed a tear or two. Fried Fish and French Fries? It doesn't really get any better. I haven't had this in 8 years! Well really never had I had authentic fish and chips, but it was AMAZING! Best of all this is located at Disney Springs so you don't even need a park ticket to enjoy.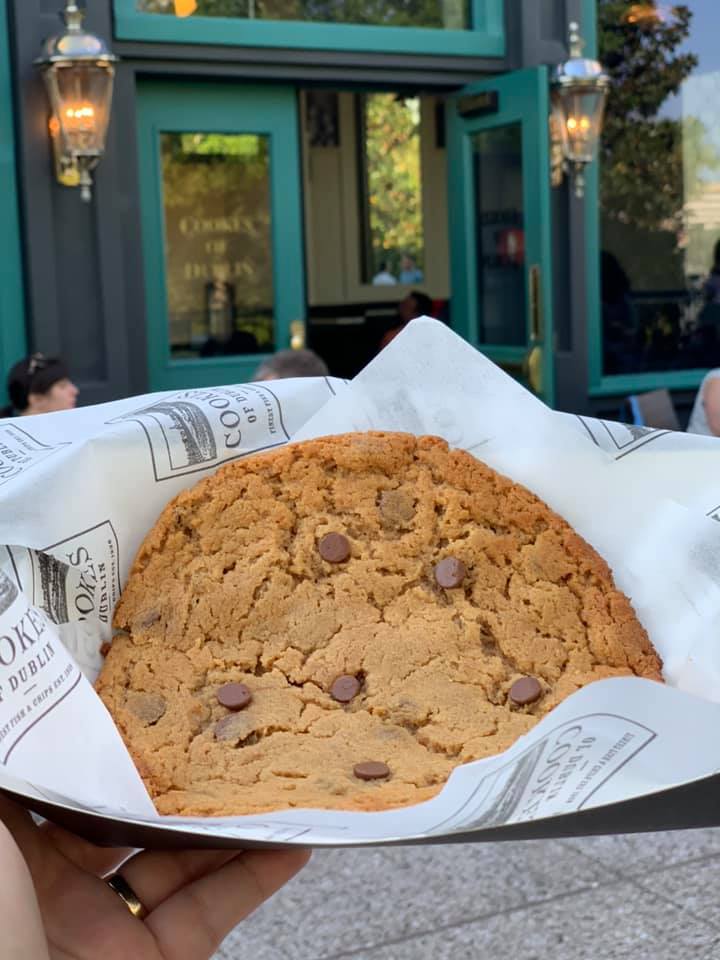 And then there was this Peanut Butter and Chocolate Chip Gluten Free Cookie the size of my head that we all enjoyed. My family could not even believe it was gluten free. It was AMAZING!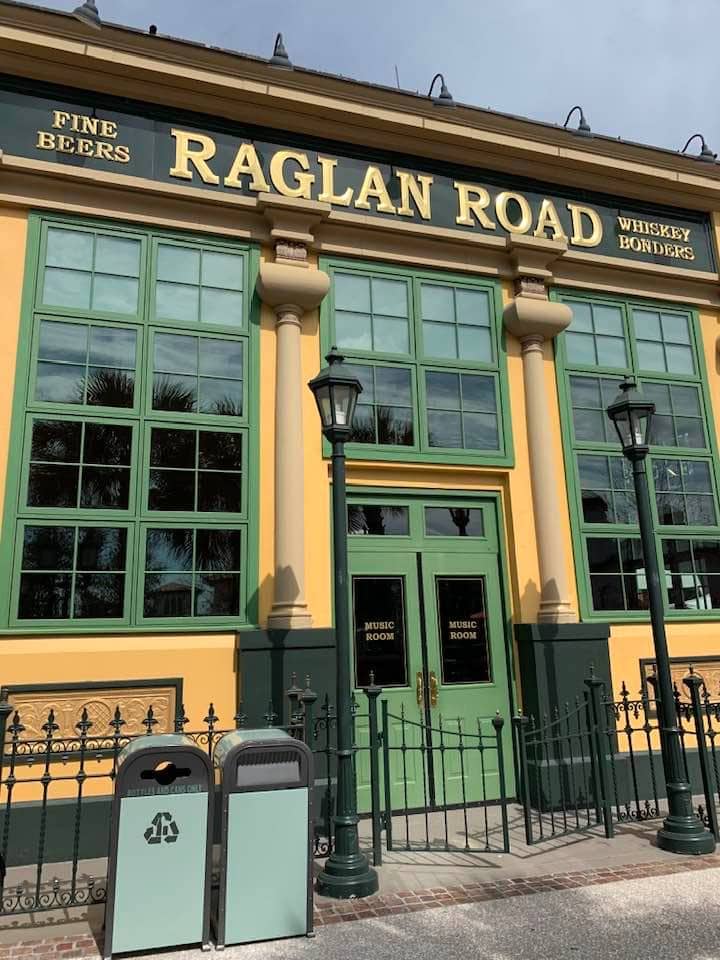 Raglan Road – Disney Springs – Also, if you have time for sit down meal then you must consider Raglan Road. They have the same gluten free fish and chips that available at their sister store, Cookes of Dublin. However, this is an Irish Pub. They serve both brunch and a full menu too. It is absolutely delicious but without the dining plan I always opt for the quick service option.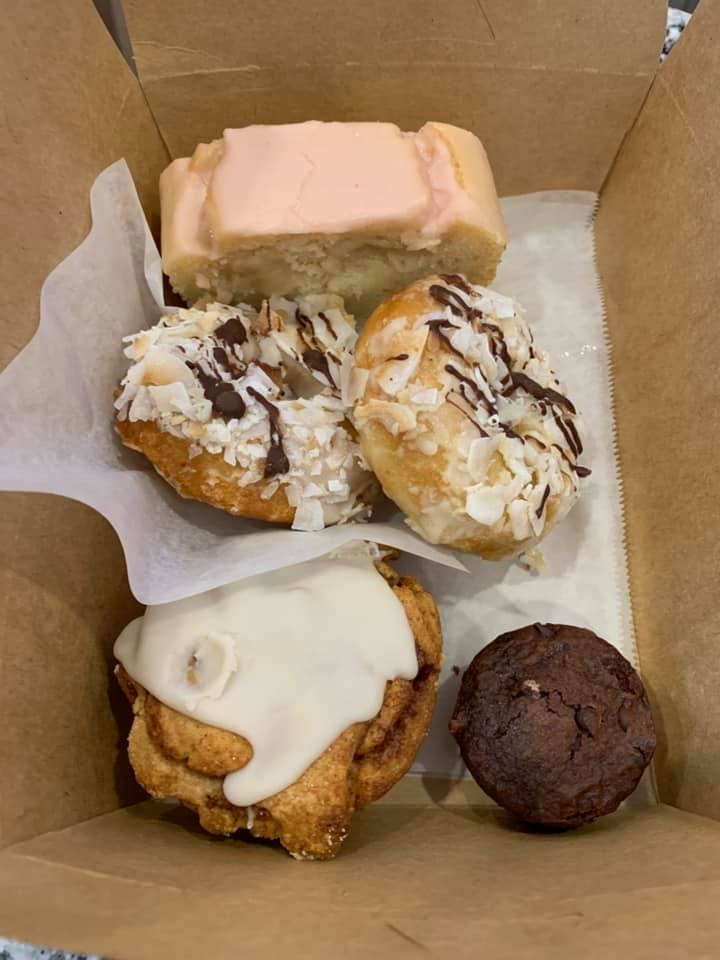 Anything from Erin McKennae's Bakery at Disney Springs – This bakery is every Celiacs Dream. Everything inside is FREE of gluten AND all of the top 8 allergens. I enjoyed a few items, and my favorite was the chocolate brownie, cinnamon roll and lemon bread. However, everything was delicious. If you are on the Disney Dining Plan you can use a snack credit here.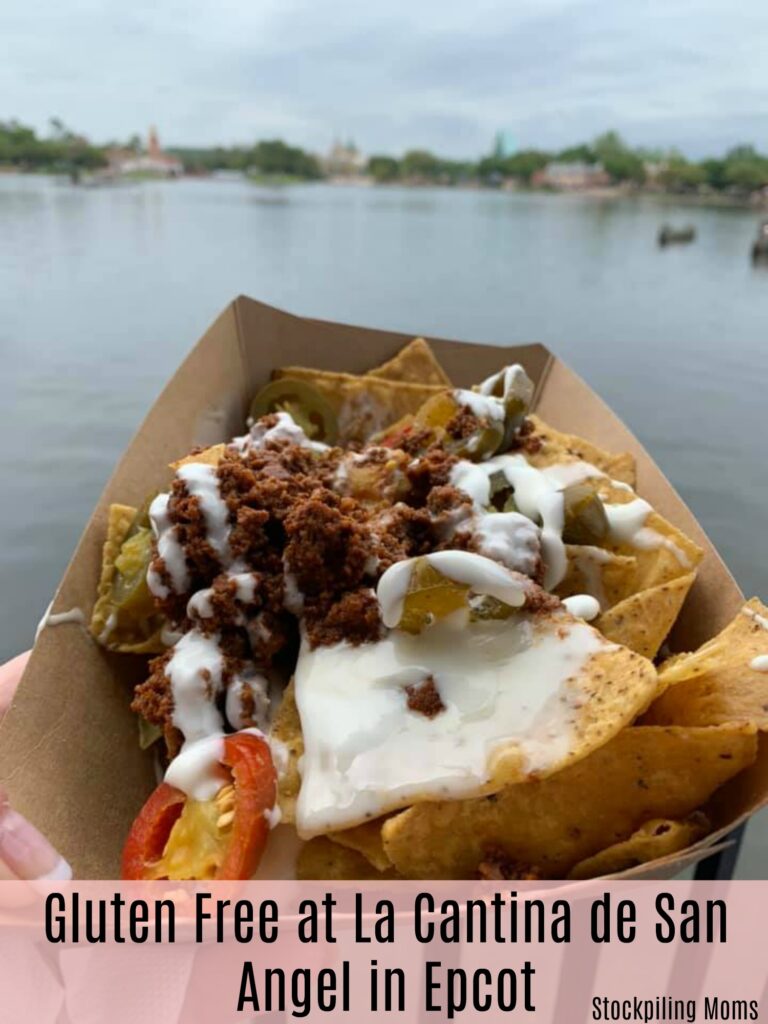 La Cantina de San Angel at Epcot – I love to eat here! When you place an order as to speak to the chef and they will accommodate you with no concerns. On this trip I enjoyed the Nachos as they are not always gluten free, but the chef informed me that now they are. Always double check for yourself. I have enjoyed a variety of the tacos in the past too! This is one of my favorite places to eat at Epcot.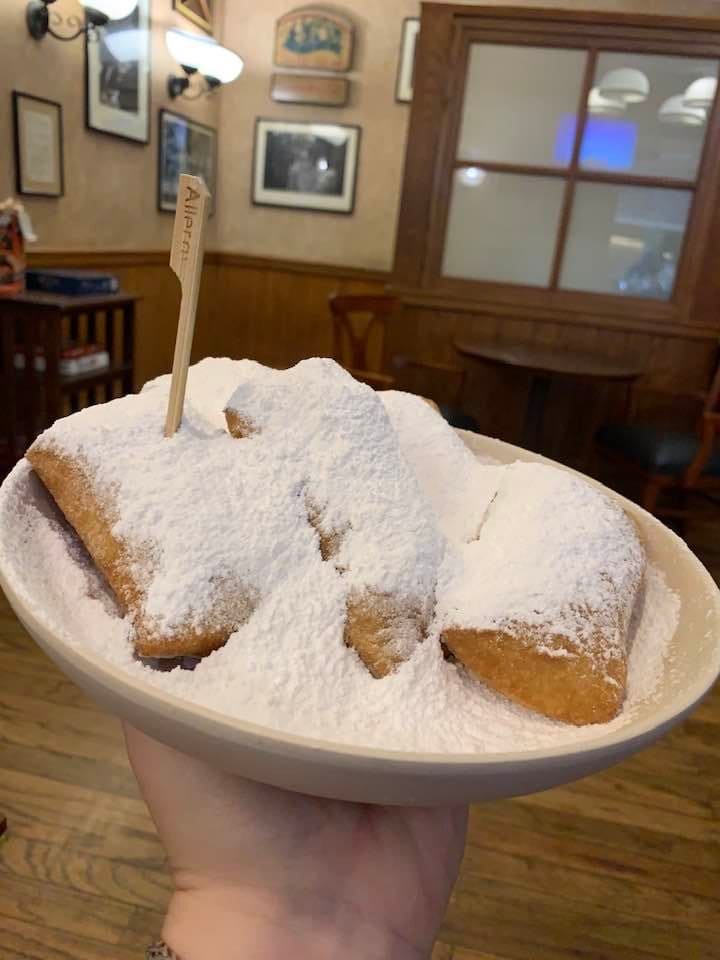 Scat Cats Club Cafe – Located at Port Orleans French Quarter Resort- Gluten Free Beignets. They are to die for! So worth the trek from Disney Springs via the ferry to enjoy! They taste AMAZING! I can't believe how light and fluffy and while they aren't Micky Shaped like the gluten filled version, they are simply delicious. Priced at $8.49 for six (just like the gluten filled option), this is an amazing treat!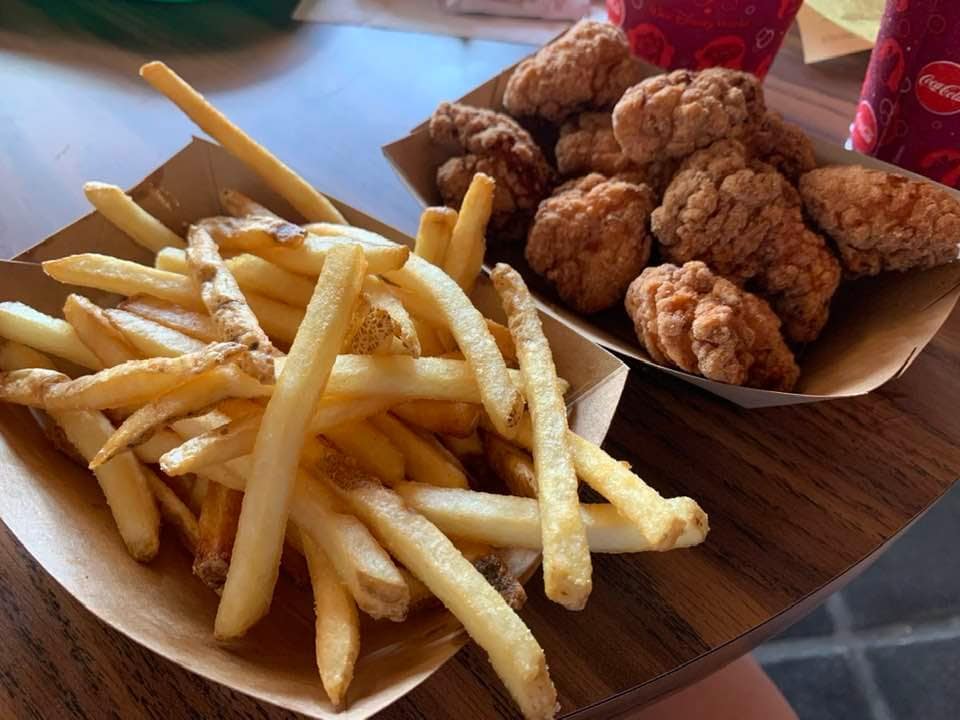 The Pinocchio Village Haus – Magic Kingdom. If you are looking for a yummy quick service lunch while at Magic Kingdom this, is it. If you have heard the hype over the chicken tenders at Walt Disney World the hype is real! You will really enjoy these! I would definitely enjoy them again.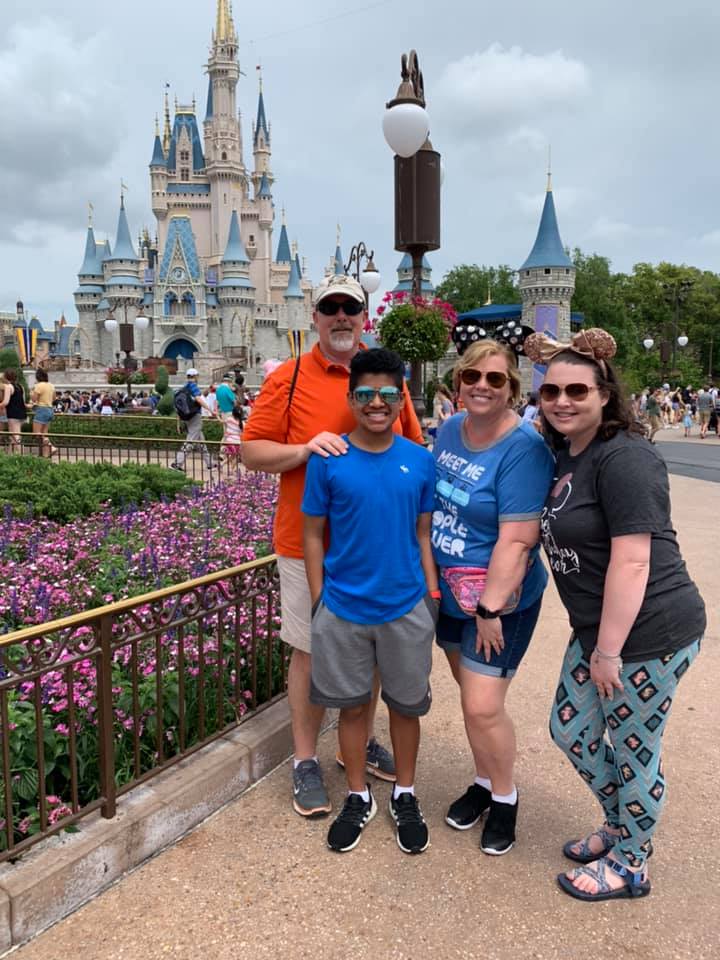 Some other options include:
Yak & Yeti – Animal Kingdom
Flame Tree Barbecue – Animal Kingdom (delicious)
Skipper Canteen – Magic Kingdom (delicious fried chicken)
Cosmic Ray's Starlight Cafe
French Cafe – Epcot (Sorbet)
Sunshine Seasons – Epcot
ABC Commissary – Disney Hollywood Studios
Rosie's All-American Cafe – Disney Hollywood Studios
50's Prime Time Cafe – Disney Hollywood Studios – Gluten Free S'mores
Most sit-down restaurants can accommodate you. Ask to speak to the check before placing an order.
Do you have a favorite gluten free menu item that isn't on my list? I would love to hear about it!
MORE DISNEY TIPS
Is Disney Animal Kingdom After Hours Worth It?
The Best Gluten Free Food at Walt Disney World
Ways to Stay Cool at Walt Disney World
Chef Mickey's at Disney World Dining Review
Disney World Hollywood Studios Jedi Training
Disney World The Crystal Palace Dining Review
Disney World Festival of Fantasy Parade
Disclosure: Disney provided our Park Hoppers for this review however we purchased all of our own food. All opinions are 100% mine.
Stockpiling Moms can be found in all your favorite places. Hop on over to Instagram and follow the fun. We love posting memes, family fun, travel, and whatever we are feeling that day. Pinterest is also an amazing place to visit Stockpiling Moms. This is where you can pin all your favorite articles from our Food, Travel & Lifestyle Blog.
Melissa is a football and soccer mom who has been married to her best friend for 24 years. She loves sharing recipes, travel reviews and tips that focus on helping busy families make memories.