Disney Cruise Tips For A Magical Vacation
Check out these Disney Cruise Tips For A Magical Vacation. Planning any type of Disney Vacation is stressful! You always want to make sure your family will get the most out of your trip and they have a magical experience. In my eyes, everything about Disney is magical! These Disney Cruise Tips can help make your Disney Cruise amazing and less stressful to plan.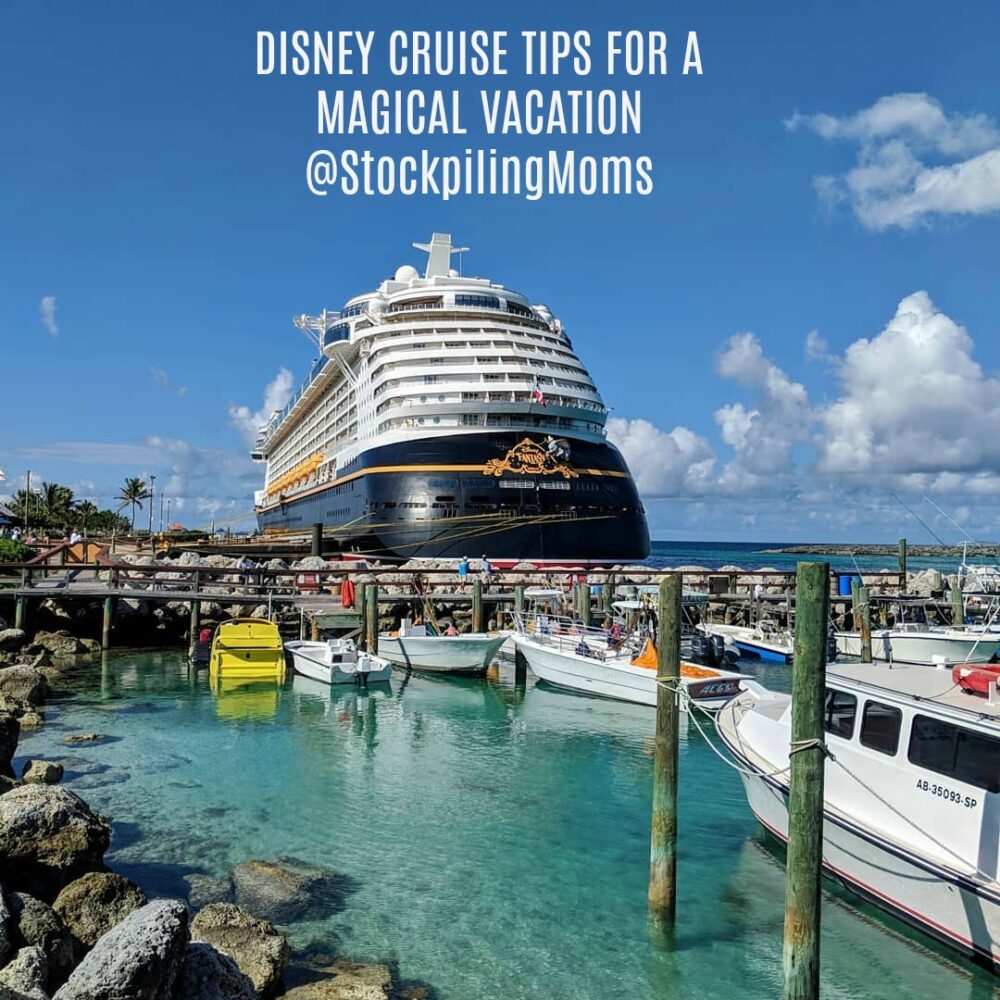 Disney Cruise tips will help you save time and money in ways you do not even think about. We got to experience a land and sea Disney Vacation on Spring Break and it was an amazing getaway. We enjoyed time as a family, a couple, and individuals. Disney cruises bring so many opportunities for everyone to enjoy. It truly is a city on a ship! The first time I made a few mistakes, the second time I made some different ones, and this time I was prepared.
Disney Cruise Tips For A Magical Vacation:
First thing you may ask yourself is How long do I want to go? We have been on short cruises and long cruises. This particular trip we took the 7-night cruise. We loved it because we had time to relax and enjoy the ship. We have been on the shorter cruises and we really were pushed for time.
The Fantasy and the Dream ships have the Aqua Duck which is a huge hit with our kids. How often do you get to slide in a see-through tube over the ocean? There are so many activities we missed because we took the shorter cruise.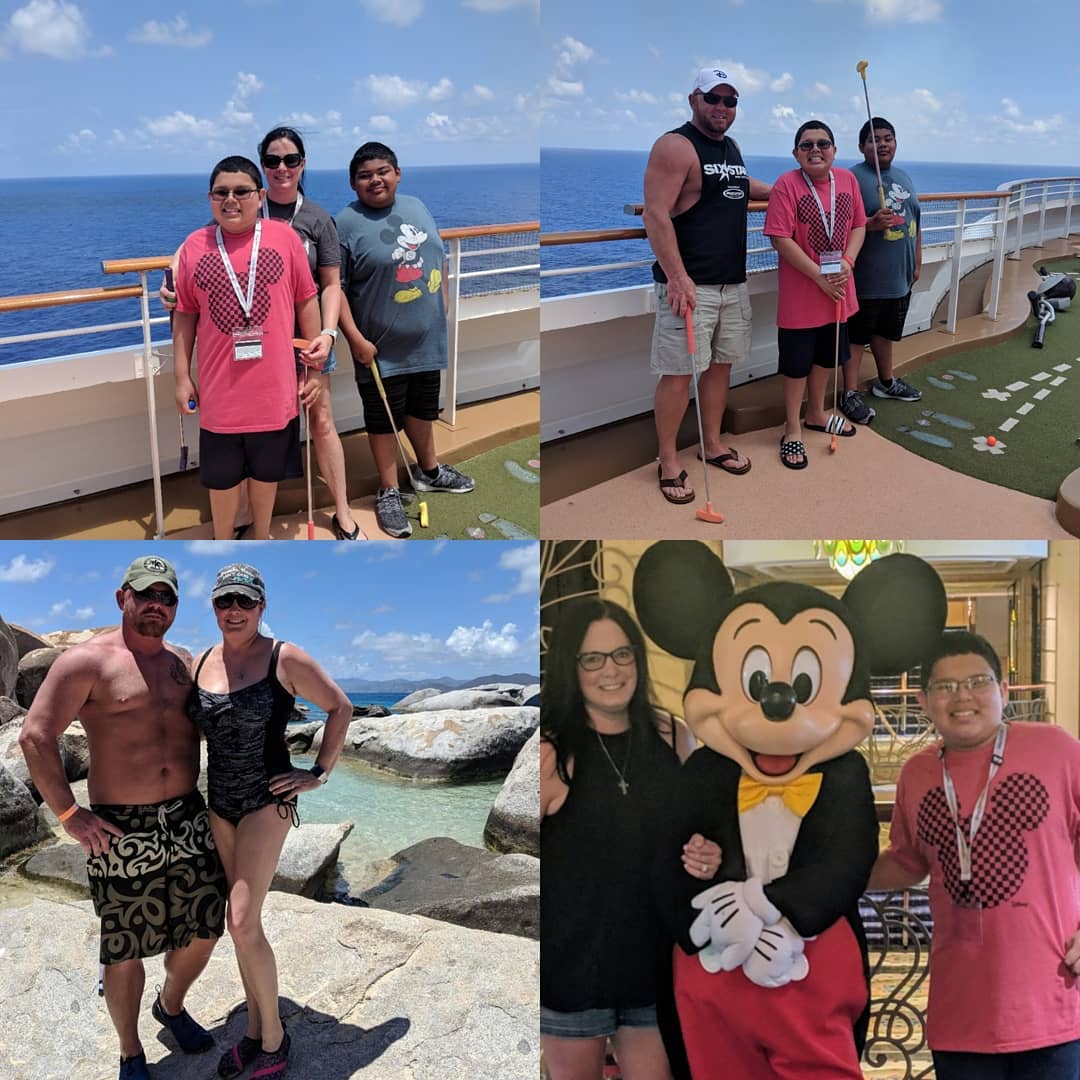 I have created this Disney Cruise Tip List because I did the Disney Cruise so wrong the first couple of times. I have learned by trial and error, so you can learn at my expense! While I was on the cruise, I would write things down because I found myself saying "Next time we are doing this!" or "Next time I am buying this before."
Before You Book Your Disney Cruise:
BOOK DISNEY BUS TRANSFERS – I cannot say this loud enough. First cruise, I did not book Disney transfers. I was like oh, I can do this much cheaper on my own. I may have done it a little cheaper but NOT smarter. I had a horrible transportation experience with my first cruise. I was not picked up at the airport when I was supposed to be and had to find my own way there. We got to the hotel, they had stopped serving food in the restaurant, and I had to feed my kids at the hotel bar. This is something I did not want to do! Disney Transfers are so easy and make your vacation go so much smoother. You meet the bus, they take you to port, and you are done! They handle your luggage and the hassle is gone! If you are leaving after 11:30 on disembarkment day, they will collect your bags the night before and have them checked on the plane for you! You will receive a packet with your airline tickets and additional information the day before you leave. They will check you in so you can head straight through security at the airport. MAKE SURE you pay attention and do the check in paperwork for your flight and luggage before the cut off time. They will leave this information in your cabin.
Land and Sea – If you can take an extra night or two, stay at Disney resorts. It is so easy to get from the airport to the resort, catch a park or two, and catch Disney Transportation to the port. The kids and I got so excited about the cruise while visiting the Magic Kingdom! We love all things Disney.
Buy tumblers or water bottles before you go. The soft drinks and fountain water are free if you get them in the dining room or the self-serve fountains. The biggest problem is all the self-serve fountains are on the pool deck. The first cruise we found ourselves walking up and down the stairs just to get a soft drink or refill on water. Bottled Water and soft drinks from the bar or room service cost money.
Pack extra hangers – We all had nicer clothes for dinner that needed to be hung. I also like to hang everything! Whenever we travel there are never enough hangers for us.
If you want to decorate your door buy everything before you go. It is very pricey on the ship. You may think you wouldn't do that but when your kids see everyone's doors, they want at least one. I almost felt guilty! HA, almost!
Don't waste your time bringing shampoo, conditioner, and soap unless you have an allergy. Disney uses a fabulous product called H2O+ Beauty. I loved it so much I came home and purchased it. When I was reading the reviews online, I am not the only one. Their products are free from parabens, mineral oils, and phthalates. It is great stuff!
Take a pop-up laundry basket. We always keep a pop-up laundry basket in the closet and it helps keep the room tidy. You can find these baskets for a couple dollars at most Big Box stores.
Disney Cruises have great shows and movies. Biggest Problem is they charge for drinks, popcorn, and candy. I buy theater candy before I leave and give it to the kids for the shows. We fill our tumblers and buy a popcorn bucket that is refillable for $1.50. (prices may change) I know you are thinking why would I watch a movie on my vacation? Well, add up how much you spend at the movies for new releases. This is included! Get your money's worth for that movie your kids want to see anyway. Our kids even went to the movies by themselves and they loved it.
Pack a carry on for the ship! You will need your bathing suits and a change of clothes. You may or may not have your luggage before dinner. They usually do a great job, but you just never know. Be sure to also pack all medications you need and keep them with you while boarding. You can unpack them in the room when it is available.
Buy Disney gift cards throughout the year and pay your cruise tab. We knew we were going on a cruise way before I booked it and we still had a year before we went after booking. When I grocery shopped at Kroger, I bought Disney gift cards. $20 here and there add up! Additional tip: If you have a Disney Chase Visa you can get 2% back at the grocery toward anything Disney. Depending on what card you have you can also use the Disney Dollars for Flights on any airline. I shop at Kroger, so I also get Gas rewards. I save for our trip, 2% back, and money off my gas! It is a win win win!
Play Bingo. It's expensive to play a lot but it is fun! We played a couple of times and we won a total of $523! The kids loved it! On the last Bingo day a nine-year-old girl won $10,000! Yes, you read that right! My kids were really upset. 😊 All you must do is have an adult there with you to play and the adult must claim the winnings.
Leave your kids. Well not on the ship but while on the ship! The kid's clubs are amazing! My 13-year-old son made friends with a ton of kids. They swam, played basketball, mini golf, had dances, and games. He loved every single minute of it. It was hard to get him to come to dinner! Take some time and relax in the adult areas. This is DISNEY people! I felt so comfortable and don't think for one moment Disney isn't watching. Chase made so many friends all over the world. Just ask Verizon! HINT: Make sure you tell your kids they can't call the UK without permission.
NEVER go hungry. If you love something you had in the dining room request to see if you can have it again the next night! My husband loved a tuna appetizer they had, and our server brought it to him 3 nights in a row! You can always order 2 entrees. I couldn't decide between lobster or seabass one night, so I had both. The portions are not huge so it is easy to do. Plus, you are on vacation!
Excursions are a fun thing but are also pricey. Read reviews and decide what is right for your family. BOOK early! If you are looking for cabanas on Castaway Cay you must book the day booking opens! They go fast!
Jack Jack's Diaper Dash is so much fun! I bet you don't know what that is do you? Well, they race babies. Yes, they race real babies and it is so much fun to watch!
If you are cruising tropical, check for mosquito warnings. We bought a bottle of sunscreen with insect repellent in it for the islands.
Make sure you download the Disney Cruise line app before you get on the boat. You will use it a lot! It also gives you the ability to communicate by text with people on the ship. It is a great way to keep up with your kiddos. You can locate the program schedules and your personal plan on the Disney Cruiseline app. It will even alert you when the show you want to see starts! It really is a great app and will work for free on Disney Cruise Wi-Fi!
Wi-Fi is very expensive, and it is not easy to work. I can't find anything wrong with the Disney Cruise EXCEPT the Wi-fi. They offer a very small package for free when you first come aboard. It is barely enough to do anything. BUT, if you do buy Wi-Fi you have to pay attention. YOU MUST LOG OUT EVERY SINGLE TIME YOU USE IT!! I can't stress this enough. If you don't log out, you will lose all your data very quickly! Ask me how I know.
Don't be afraid to use room service. The kids loved to do it! Some days they liked to stay in the room and rest at lunch time. They had a ball ordering their own food.
We love ice-cream and there is a whole ice cream station on the pool deck. Best part it's included! Get creative! You can grab some cookies at lunch and make yourself a cookie Sunday. You can also use your tumbler to make a coke float. There are so many things you can do!
MORE DISNEY TIPS
Is Disney Animal Kingdom After Hours Worth It?
The Best Gluten Free Food at Walt Disney World
Ways to Stay Cool at Walt Disney World
Chef Mickey's at Disney World Dining Review
Disney World Hollywood Studios Jedi Training
Disney World The Crystal Palace Dining Review
Disney World Festival of Fantasy Parade
Disclosure: This trip was booked on a Disney Social Mom's Media event as a bounce back. 100% of all the opinions are my own!
Shelley is a boy mom, marine wife, and is blessed with an amazing family. She loves sharing recipes, travel reviews and tips that focus on helping busy families make memories.