I wanted to share with you some of my Disney World Travel Tips and suggestions in case you are considering a Walt Disney World trip! We traveled Memorial Day weekend and were there for 8 days.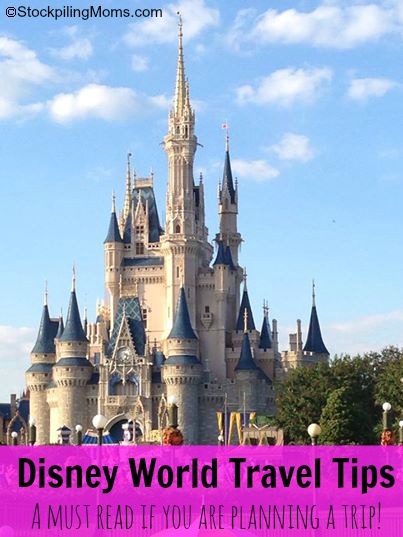 We went to Walt Disney World in May on a special offer last summer and enjoyed every single moment of our trip. We stayed at Animal Kingdom Lodge, Savannah level and included the Disney dining plan. I spent HOURS planning and researching before we went and in the end it made a much more enjoyable trip for our family!
Disney World Travel Tips:
Buy a GOOD stroller if you are taking a little one. We bought the Maclaren Volvo and LOVED it! Also buy a stroller organizer and a stroller rain cover. The Maclaren weighs less than 7 pounds and folds easily, we love this stroller!
Pack cheap ponchos in individual ziploc bags so they are easy to hand out if necessary (we are lucky that we only had one poncho moment but used the rain cover twice (worth every penny).
Pack an umbrella or two. Great for shade while walking around the park or standing to wait for a parade. Yes, someone will make a comment to you but really they are just wishing they had an umbrella to use on a hot day at the park.
Wear a wide brimmed hat. I bought mine at Coldwater Creek for $24.50 (had a 40% off coupon too) and it is the best! You can roll it up and put it in your backpack when not in use. I now find that the same hat is only $7.99 at the outlet!!!
Bring a couple of spray bottles/fans as they are $20.00 at the park. I do like the ones in the park because they come with a neck strap however not so fond of the price… Also, one of our spray bottles/fans was stolen from our stroller while we ate lunch and parked our stroller outside. It was in the seat of the stroller and my suggestion is to hide your fans as they are obviously "hot" items…
Buy some small Disney souvenirs when they go on clearance at the Disney store or at the Dollar Tree and take them with you. I purchased small stuffed Mickey's for $3.99 at the Disney store and "Tinkerbell" left these for the kids on our first night…along with a little "pixie dust" aka glitter. I also purchased a few other items that I gave the kids instead of purchasing expensive items at the park. I also gave each of them a budgeted amount of spending money and when it was gone it was gone. Another affordable souvenir is the pressed pennies. They are available everywhere. Bring a roll of pennies and quarters for lots of inexpensive fun!
Bring wash clothes or bandannas to wet and put on your neck when you are hot (this really helps). There were several days that I would have had heat stroke without! Thanks Kristy for this tip!
Wear comfortable shoes. I also brought Crocs for the kids to wear after they did the play/splash areas. I wore Croc flip flops every single day and had NO blisters!
Bring in a small first aid kit with you to the park. They do not give out anything free including band aids.
Pack wet wipes and hand sanitizer, you will need them! Adults too!
Be sure to take advantage of Disney extra magic hours if you are staying at one of the WDW resorts. The morning and evening EMH's are worth it! Be at rope drop! You will get more done in that one hour than any other hour at the park. We planned what we were going to ride at EMH so we didn't waste any of hour time.
If you want to see Tinkerbell the fairies are ONLY at Toon Town. Be there at 9:15 at the rope and at 9:45 the rope drops and you will be first to see her. There is a 1 hour or more wait ALL day long even until park closes.
Buy the Disney dining plan. It will take away ALL the stress about the cost of the meals. If you are on the dining plan and have a child on the dining plan they do not keep track of children versus adult meals for the Quick Service. So you can get adult meals for all of your Quick Service meals! You can share a meal as well and then "bank" your meals to be used later. If you have leftover "snacks" they can be used at the candy shops for souvenirs to take home!
Make advanced reservations for character meals. It is the BEST way to see the characters. If your child has a favorite or two schedule them quickly because they book up. You will not have to wait in line to see the character's and can enjoy more attractions. We scheduled 5 character meals and they were our favorite meals! We got to see so many characters and never had to spend time at the parks waiting to see them!
Schedule early breakfasts at the parks and then you get INTO the park before the general public. This is especially nice at Animal Kingdom and Epcot. We did both and it was awesome. Also, go to rope drop at the parks. It is worth it! We were selected as the first family to enter Animal Kingdom…we got to ride the Kilimanjaro Safari first before the park even opened and got 1 set of four fast passes for our family to be used on any ride! This was because we were at rope drop and randomly selected…awesome Disney magic!
Visit Disney Springs. We really enjoyed it and there is a nice spray area for the kids to play in. I suggest going in the afternoon or for a late lunch or early dinner to avoid the crowds. We went once at night and there was a long wait to get a bus home…we enjoyed the afternoon much more.
Have your children wear their bathing suits under their clothes or bring a change of clothing. There are so many nice spray play areas that you WILL want to take advantage of. There is one at every park and it makes for a great place to cool down.
If you want to see Ariel as a Mermaid the ONLY place to do so is at Ariel's Grotto in Magic Kingdom. This is a fun spray play area and while the kids played, hubby held their place in line! This was one of our favorite moments…
When you get to Disney Hollywood Studios send one member of your party straight to get fast passes at Toy Story Mania. This attraction had a huge line instantly and the fast passes always run out!
Enjoy your pool! Spend time there every day. We took a break around 2:00 most every day. Most pools are open 24/7 which is nice after a long day at the parks.
Be sure to give yourself at least 1 hour each way for bus transportation.
Take the ferry and the monorail. I suggest taking every single mode of transportation that you can! We enjoyed seeing how many modes of transportation we could take in one week!
Our favorite character meals: O'hana's at the Polynesian, 1900 Park Fare Happily Ever After dinner, and Princess breakfast at Epcot (Norway). Did not like…Play and Dine at DHS and Chef Mickey's was ok for dinner but would have much preferred breakfast because the kids were too tired to enjoy it. We are breakfast people and highly recommend the breakfasts for the character meals. The food is great and it is a nice way to start your day with a full belly. Also, we would take fruit with us from the breakfasts to enjoy as a snack later in the day. I would also take a glad container for cookies or candies for snacks later in the day.
We also did Tuskerhouse at Animal Kingdom to get the reserved seating for Finding Nemo the Musical and that was WORTH IT! This is new! Finding Nemo the Musical (Animal Kingdom) was our favorite show!
We did Tony's (Magic Kingdom) and it was ok…nothing I would do again. Animal Kingdom Flame Tree BBQ for Quick Service was GREAT!
Take your own snacks. I packed granola bars, cookies, suckers, peanuts and more. I also bought from staples.com and had shipped to the resort: water, apple juice, snacks and soft drinks. This was waiting on me when we checked in. I have heard that now they resorts are charging a delivery fee. I would call your specific resort to confirm this before you order. You can also purchase from the garden grocer however they have a $50.00 minimum. There is more information on this on disboards.com
Pack a soft side cooler to take into the park bottled water/juice. Pack snacks too. You will need them waiting in lines. You are allowed to take a soft sided cooler into the park but not a rolling cooler or hard side cooler. They do check your bags every time you enter the park however it was not a major inconvenience and worth the savings. Another tip is to pack crystal light, kool-aid, propel packets with you so that you can add them to water. Water is FREE and if you add one of these you and your kids will enjoy a FREE drink over having to use a snack credit!
Use the fast passes. They are great! See shows and parades and the 3-D movies. Map and plan out what you are going to do each day or you will waste your time once you get to the park.
Take advantage of Ride Switch if you have a little one. This is an awesome use of your fast pass because after your other family members ride you can ride and take someone with you! My niece got to ride Everest four times in a row as a result of us using Fast passes/rider switch!
Use sunscreen and reapply throughout the day.
If you have a little boy or little girl I suggest doing the Bibbidi-Bobbidi-Boutique. It is the best money I spent on the trip. $50.00 for the princess makeover (pack your own gown) and the cool dude makeover was only $7.00. They both LOVED it! We did it at Cinderella's castle. They also do them at Downtown Disney. Also available is to get a cut or style at the Barber shop in Magic Kingdom.
Autograph books: We opted to buy a spiral bound index card book for each of the kids. They used this to collect signatures and then I put them into a photo album with pictures of the kids with the characters once we got home. I also bought a 8×10 size photo mat from Michael's (using a 40% off coupon) and we had the princesses sign that. I put it into a ziploc bag and slipped it into my back pack. The characters really liked signing it and made them feel special. As a result they normally spent a little more one on one time talking to the kids 🙂 Bring sharpie markers for the characters as they need a wide pen to write with.
Bring your own glow sticks! They are very expensive at WDW and you can pick them up at the Dollar Tree and save money and time purchasing them there! They even have swords, necklaces, bracelets and more!
Order your free Disney Park maps.
My favorite sites for research: www.disboards.com , www.mousesavers.com , www.allears.net and www.wdwinsiders.com
Have fun and enjoy it because it flies by and then you are going to be planning your next trip! In fact if you are lucky enough to get a special promotion while you are there to book your next stay at a discount I suggest considering it!
Special thanks to my friends Michele, Kristy and Lisa for sharing their Disney tips with me.
Now, I want to go back to Disney and enjoy the MAGIC!
Travel Articles:
How to save money at Kings Island
How to Save Money at Disney & Tips for Planning
Tips for Saving Money on Air Travel
Stockpiling Moms can be found in all your favorite places. Hop on over to Instagram and follow the fun. We love posting memes, family fun, travel, and whatever we are feeling that day. Pinterest is also an amazing place to visit Stockpiling Moms. This is where you can pin all your favorite articles from our Food, Travel & Lifestyle Blog.
Melissa is a football and soccer mom who has been married to her best friend for 24 years. She loves sharing recipes, travel reviews and tips that focus on helping busy families make memories.