Stockpiling Moms Top 10 Frugal Travel Checklist
I am sharing with you Stockpiling Moms Top 10 Frugal Travel Checklist to help provide your family a fun, distraction free family vacation.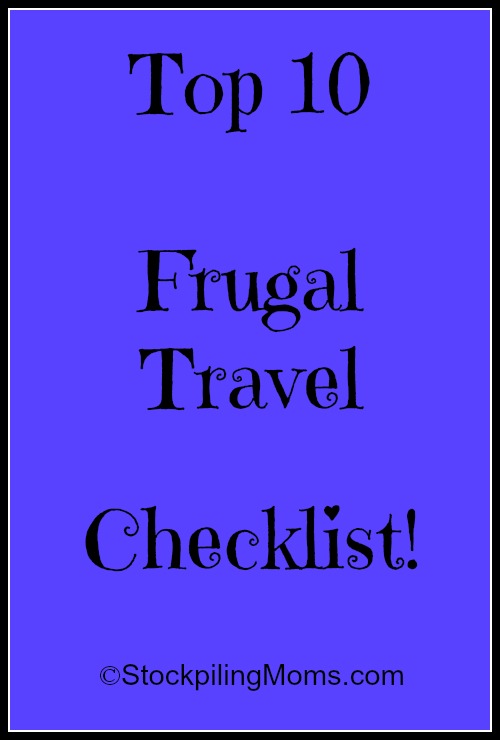 We love to drive on vacation, our motto is avoiding the airport and paying for our luggage. We normally drive 12 or more hours to the beach and have been since our son was born (he is 5). In order to keep those long trips fun and distraction free I want to share my Top 10 Tips with you. Of course, they are frugal tips as I am a frugal blogger!
Stockpiling Moms Top 10 Frugal Travel Checklist:
10. Pack plenty of snacks and drinks from your stockpile when you travel so that you don't have to stop and make expensive pit stops. I like to pack a cooler with lunch too!
9. Pack a tote for each child. Include 20 items (one new item for every hour of your drive). These could include books, coloring books and crayons, etch a sketch, small toys, new video game or a new DVD just to name a few. A frugal tip is to buy these items throughout the year when you find them on sale/clearance.
8. Though I am not an advocate of watching DVDs for the entire trip I do suggest packing a portable DVD player and several of your child's favorite and new DVD's. A frugal tip is to check out DVDs from the library, buy them a local consignment store or borrow from a friend.
7. Load your iPod with your child's favorite music. We love to sing together while we drive. It passes the time, and your child will enjoy dancing in their seat to the music. If you don't have an iPod, check out CDs from your local library.
6. Take time to educate your children on where they are going and what they are going to do while they are there. I often bring a travel guide and show my son pictures of where we are headed.
5. Talk about subjects that you normally don't have time to talk about. I always ask my son what his most memorable moment was at the end of every day. Journal these memories in a notebook. You could keep one notebook as your travel journal and add these memories from year to year.
4. Use flashcards with your children. This is a great time to work on colors, shapes, addition, subtraction, Spanish…you can pick these up at your local Dollar Tree or create your own on index cards.
3. Play Are We There Yet? Travel Activity Ring by Simply Fun. It is only $9.00 and will pass hours of time while you get to know the members of your family better. It is the best investment I have ever made!
2. Play games while you drive. We love to play "I spy", Slug a Bug and Bruiser Cruiser (PT Cruiser), Finding something that starts from A-Z as we drive.
1. Enjoy your time together! Create memories of your family time together! There is no better time and enjoy every minute of it!
Travel Articles:
Stockpiling Moms can be found in all your favorite places. Hop on over to Instagram and follow the fun. We love posting memes, family fun, travel, and whatever we are feeling that day. Pinterest is also an amazing place to visit Stockpiling Moms. This is where you can pin all your favorite articles from our Food, Travel & Lifestyle Blog.
Melissa is a football and soccer mom who has been married to her best friend for 24 years. She loves sharing recipes, travel reviews and tips that focus on helping busy families make memories.