Summer Gardening Tips to Grow More Veggies
These Summer Gardening Tips to Grow More Veggies are a must for making sure you have enough produce to can or freeze for future use. One of our favorite summer projects is growing a garden. The goal of our garden is not just to have healthier foods, but to have food that will save our family money at the grocery store both now and year round.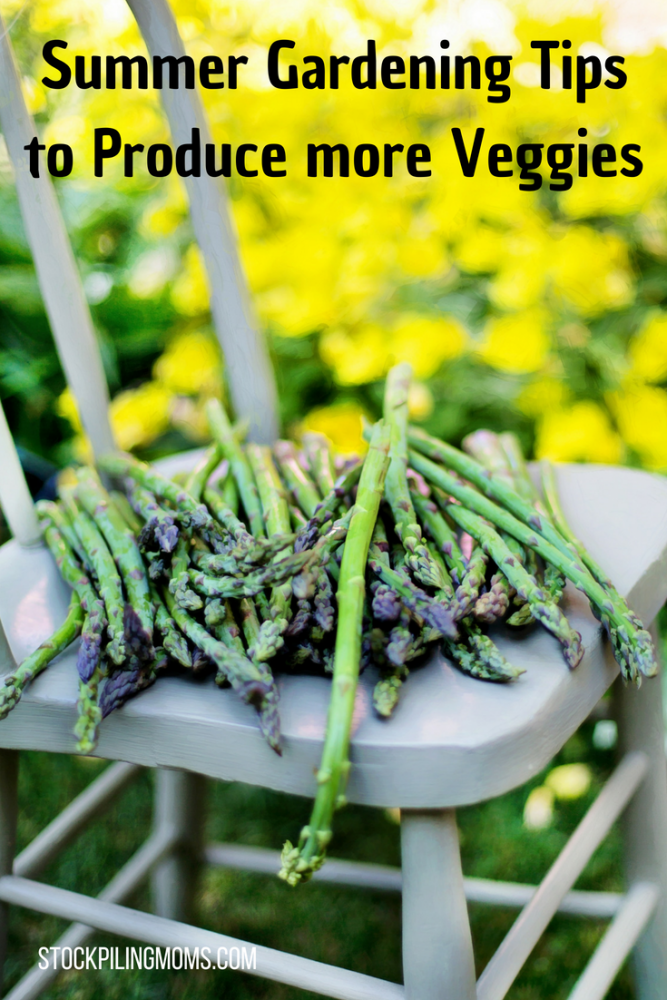 Summer Gardening Tips to Grow More Veggies
If you are looking for tips to maximize your harvest in your garden, below are some of the things I have tried in the past with good success. Being able to have a large crop of things like tomatoes, bell peppers, onions, cucumbers, and even things like broccoli or cabbage is a must. These vegetables are great for freezing, canning, or storing for use later down the road. That means less money you spend this winter in the grocery store!
Plant vegetables that produce large quantities naturally
Instead of planting a ton of individual plants, focus on plants that will bear a lot of fruit throughout the season. Items like tomato plants, cucumber plants, bell peppers, green beans, black-eyed peas, and similar will produce more than a simple head of broccoli or onions. This takes up less space in your garden and costs less up front.
Don't overcrowd your garden
One of the biggest mistakes people make is trying to cram too much into a small space. This results in plants that don't produce the way you want them to produce. Spread things out appropriately and follow guidelines from the Farmers Almanac on how to plant appropriate distances apart.
Provide proper support
There are many plants that require support to truly thrive. That includes tomatoes, beans, and even some squash varieties. Use cages, trellis, or wires to keep plants growing upward instead of spreading out and choking other plants in your garden. This will allow for larger harvests of your favorite produce.
Make your own fertilizer
Natural fertilizers are some of the best for really providing your soil with the richness it needs. You can make your own compost area in your yard to rotate and add to year round. This will then be ideal for packing into the soil around your plants to help them grow properly throughout the season. Rich fertilizer can also be picked up from area farms for a fraction of the cost you pay in stores.
Don't let the weeds take over
It is the hardest part of gardening but is a must. By regularly weeding your garden, you will keep plants growing well and producing often. Weeds creep in and steal nutrients, water, and stall growth. This is far more important for good harvests than most realize.
More Gardening Tips:
Recycled Milk Jug Watering Can
Melissa is a football and soccer mom who has been married to her best friend for 24 years. She loves sharing recipes, travel reviews and tips that focus on helping busy families make memories.