Frugal Summer Camp Ideas for Your Kids
Everyone loves sending kids off to summer camp, but it just isn't always feasible for you financially. These Frugal Summer Camp Ideas for Your Kids are going to be just what you need to give them a fun camp experience without costing a ton of money for you and your family this summer.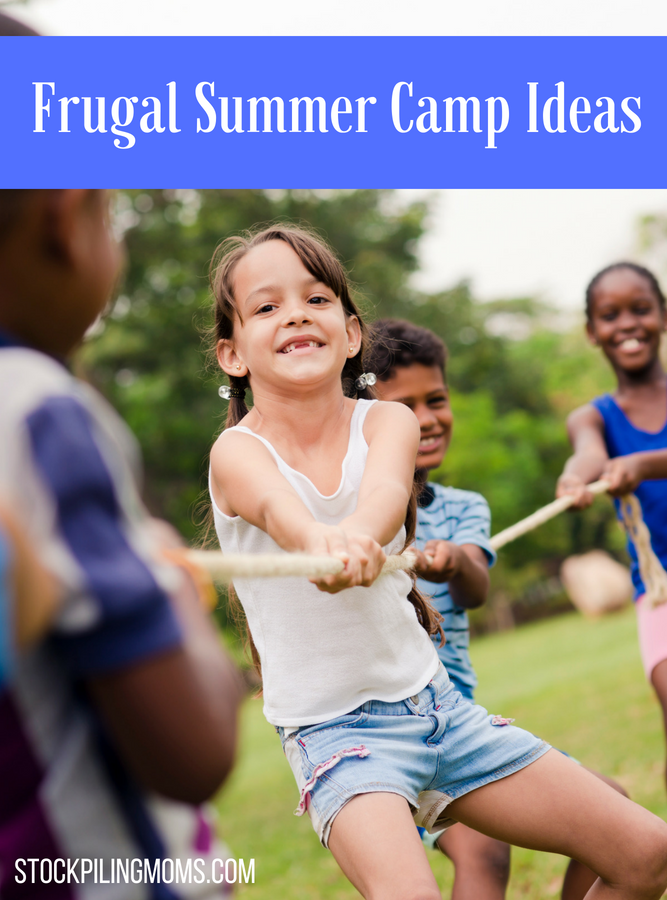 Frugal Summer Camp Ideas for Your Kids
First of all, there are many local and national summer camps that offer scholarship opportunities. If you are on a lower income and have a child that would benefit from a specialty camp, ask about scholarships. They are definitely out there and many companies, individuals, and churches are willing to help sponsor trips to camp for children who are in need in some way.
Attend your church VBS
If you are a church attender, summer is ideal for VBS (Vacation Bible School). This is typically a week-long event that runs 2-3 hours a day and includes crafts, games, music, and a Bible lesson. This is an ideal way to keep kids busy and give you a little short break throughout the summer. Many families make an effort to attend VBS at as many churches as they can. Why? Because the kids love it and many adults find they enjoy participating and volunteering as well!
Attend a local church camp
As a teen, going to church camp was the highlight of my summer. A week-long camp that focused around Bible study, games, church services, hiking, swimming, and camping out in bunks that were rustic but fun was a must. If you are okay with your child attending a church event, these are often half the price of traditional summer camps and can be a life-changing experience for your kids.
Create your own neighborhood summer camp
If you are up for a challenge, you can create your own neighborhood summer day camp. Prepare with games, an area outside for the kids to hang out, and invite over a few of your neighborhood friends. You can easily limit this to just a few kids, or if you have enough parent volunteers, you could make it an event for a dozen or more. Make S'Mores, eat popsicles, play games, learn to skip rocks, or go swimming at the community pool. Just make it fun, and keep it safe.
Visit the YMCA summer camp
Our local YMCA offers day camps for all ages. During the week, you can pay for your kids to attend this summer camp as a fun way for them to experience camp without going away for all week. Drop them off in the morning, and pick up in the evening. These camps can be just a generic childcare camp, or some offer basketball camp, swim camp, and various other specialty camp programs that will keep kids busy and have fun. The best part is that YMCA will choose your rate based upon income in many of these cases. That means you may not have to pay much if you are low income.
These are some great frugal summer camp options that may work wonderfully for you and your family. Take advantage of the many opportunities in your community to give your children a fun summer camp experience without spending a ton of money.
More Summer Ideas:
Tips for Saving on Summer Grocery Expenses
Ways to Keep Kids Busy This Summer Without Spending a Ton
Thrifty Traveler Tips for Summer Vacations
Tips for Saving on Summer Entertainment
Melissa is a football and soccer mom who has been married to her best friend for 24 years. She loves sharing recipes, travel reviews and tips that focus on helping busy families make memories.