How Spring Cleaning Can Make You Money
How Spring Cleaning Can Make You Money. Spring is in the air and for many people that means a lot of clean-ups. This daunting project of going through everything can really be overwhelming, but if you know that doing so can help you make a little cash on the side, you might feel more motivation.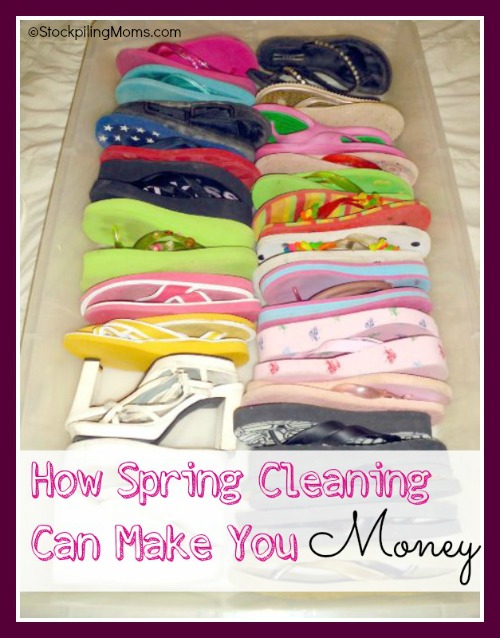 How Spring Cleaning Can Make You Money
Sell Your Clothing. You can take clothing that is in good shape and still in fashion to consignment shops to make a little cash or you could try selling your clothes online. Many people sell "lots" of their baby or children's clothing on websites like Craigslist and make some room in closets and drawers as well as some cash on the side.
Trim down your collections and sell them. Do you have an overgrown collection of valuables? Perhaps you have some duplicates to sell on sites like eBay. Even if you don't have duplicates, you could get rid of some of your least favorite in the collection and sell them.
Clean off your bookshelves and rake in some cash. The e-reader is certainly popular, but many people still find a good old-fashioned book their preferred way of reading. Find a bookstore in your area that does buy backs and make a little cash on books that are still in good condition. If you have any college textbooks, those can really bring in the money.
Sell off that old sports equipment. When going through your garage, you probably will come across some sports equipment for that sport you were going to take up, but never did. Sell your gently used gear to a sports store that does re-selling, and you could get some money for something you actually do.
Electronics can get you cash back. There are several websites out now that help people make money on their old electronics such as tablets and cell phones (Gazelle.com is our favorite). You might not get a lot, but some of those electronics that are a couple years old can bring in some money as long as you still have the chargers, and they are in decent shape. If you upgraded, consider selling your old ones.
Sell your wedding attire or your dress. If your dress is not something you will be passing down or you know you will never wear it again, consider selling it. You can make a couple hundred dollars on a used dress. That's cash sitting in your closet or attic right now collecting dust. If you want a keepsake from that day, keep your veil. If you have bride's maid dresses, they are great to sell this time of year for proms.
If you have a little bit of time and lots of odds and ends, get together with a friend or family member and do a yard sale. The trick to making a decent amount in making sure your location is in a high traffic area just off main streets (or on them) and having good exposure by doing newspaper ads and free ads on places like craigslist. Also, make sure to place plenty of signs around the area and on main street corners. Be ready to haggle prices with people and price things low enough so they get sold. At the end of the day, you may even want to slash prices more to make sure they go. Check out these tips on hosting a successful yard sale.
Cleaning Strategies:
Melissa is a football and soccer mom who has been married to her best friend for 24 years. She loves sharing recipes, travel reviews and tips that focus on helping busy families make memories.