How to keep steel wool pads from rusting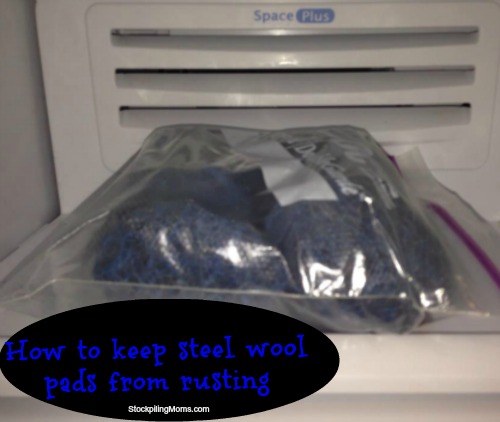 I wanted to share with you how to keep steel wool pads from rusting. I can't tell you how many times when I was teaching Foods class (Home Economics) that we would throw away a rusted steel wool pad. I quickly decided to do a little research as we had a tight budget and found that the best way to stretch the life of your steel wool pad is to soak it in cold water. This is a great kitchen tip that will save you time and money!
How to keep steel wool pads from rusting
Step one: Find a small clear jar with a lid (we used baby food jars).
Step two: Remove the label and clean thoroughly.
Step three: Fill with cool water and 1 TBSP baking soda.
Step four: Place lid on and shake until dissolved.
Step five: Place steel wool pad completely immersed in the water mixture.
Replace with fresh water mixture approximately every 2 weeks.
Another alternative is that you can FREEZE the steel wool pads between use and they will not rust. Just drop them into a plastic bag and place in your freezer and you are good to go when you are ready to use them. This is my personal favorite method when you are not using the steel wool pads often.
Household Tips:
How to clean your drain naturally
How to make a Mini Greenhouse with an Egglands Best Carton
How to make your own dryer sheets
How to make homemade detergent and dryer sheets
How to build an outdoor compost bin
Melissa is a football and soccer mom who has been married to her best friend for 24 years. She loves sharing recipes, travel reviews and tips that focus on helping busy families make memories.