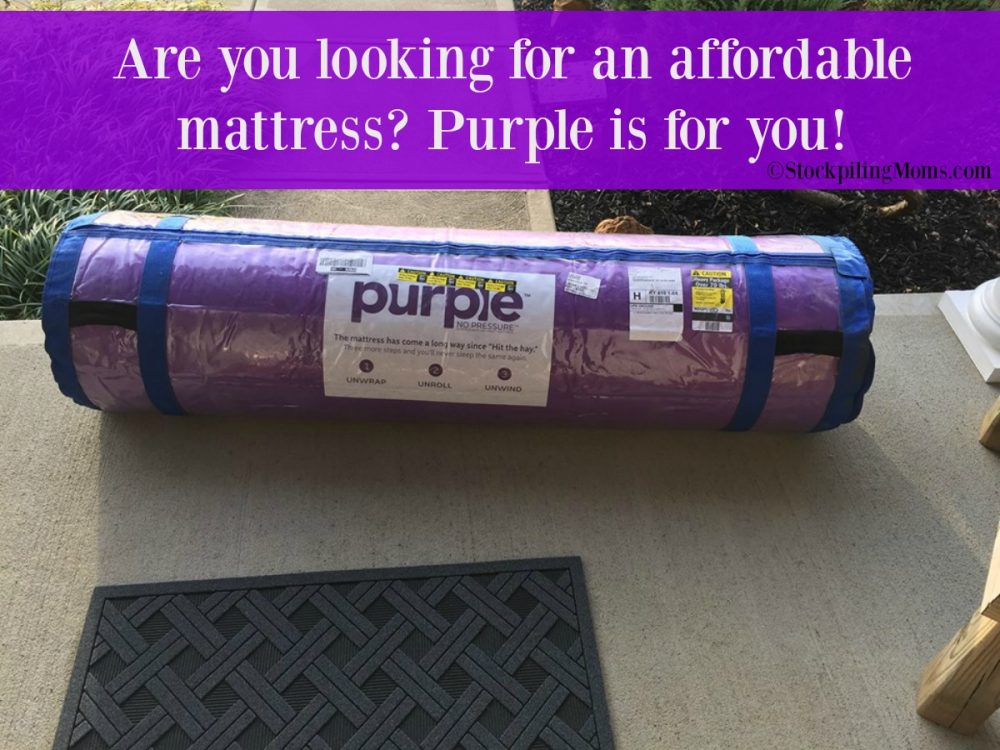 Check out our Purple Mattress Review. Several months ago, we were contacted by Purple Mattress and asked to promote their affordable new mattress on Facebook via kick starter. After doing some research we decided to share it with you. If you are in the market for a new mattress but can't decide between spring or foam this is for you. It is made from hyper-elastic polymer, the newest innovative material on the market brought to you by the brand-new purple mattress!
This is the World's First No Pressure Mattress. It supports your back like a firm mattress. It cradles your hips and shoulders like a soft mattress and offers no compromises like a "medium- firmness" mattress. So, you get the best of both worlds: firm + soft. In the past my husband likes to sleep on a hard mattress, and I like to sleep on a soft mattress, so this is truly the best of both worlds for us. He thought there was no way he would enjoy the Purple Mattress and I have really enjoyed watching him "eat his own words". 🙂
As you saw on Facebook I took the egg test challenge with the Purple Seat Cushion (still ranks up there with one of the strangest things I have ever been asked to do as a blogger) but as a result I was offered the chance to "test" a Purple Mattress. I really wasn't sure if this mattress would work for my family but I was excited to find out. Regardless if you are a back or a side sleep the Purple Mattress is designed for you. It offers perfect spinal alignment on both your back & side.
Most high end mattresses normally cost $5000+ (trust me I went out and compared prices) but luckily the Purple Mattress costs only $1,000+ DELIVERED to your door! What? I know – this sounds too good to be true. We actually took the test ourselves. My husband suffers with a bad back and was complaining about his hips hurting and tossed and turned all night long. Purple Mattress sent us a mattress to "test drive" and we thought – there is no way this mattress is going to make a difference in the quality of our sleep.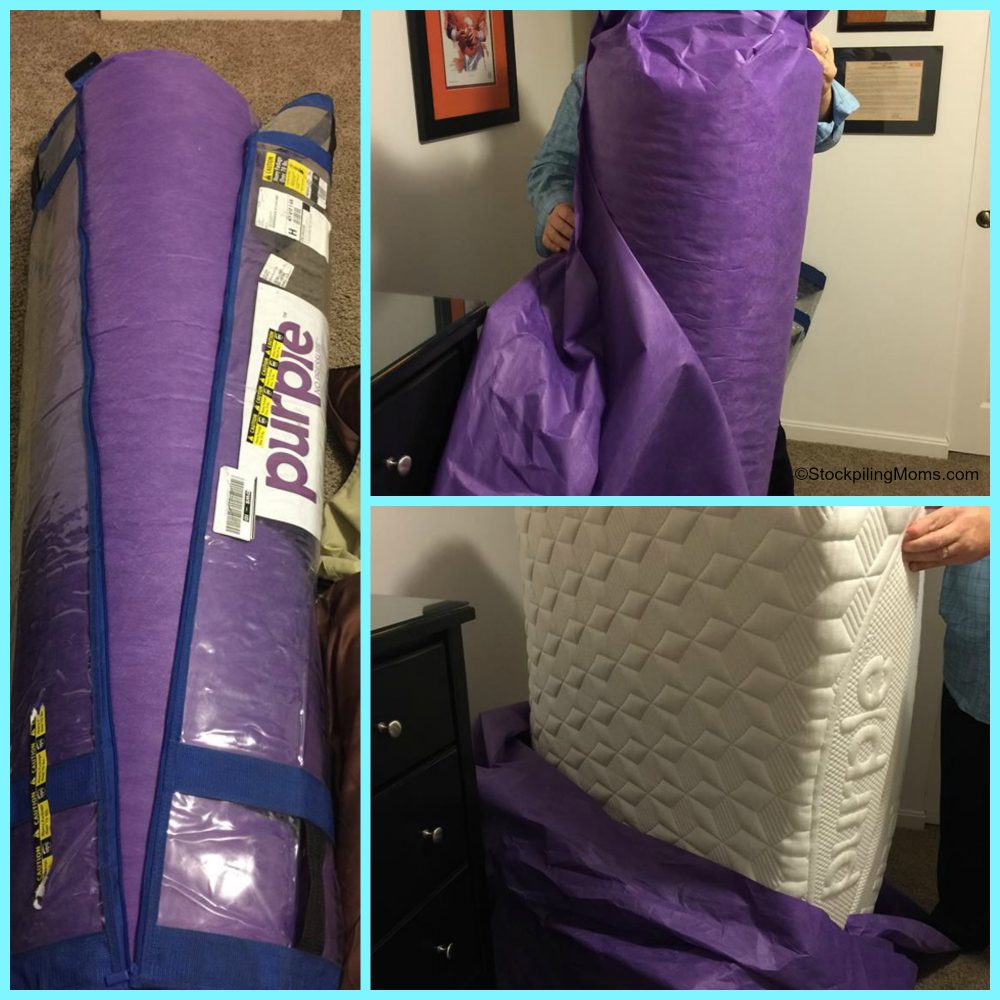 First of all when the Purple Mattress arrived on our front door it was HEAVY (which we took as a good sign). It took 2 adults and 2 children to move it inside the house. Using only a pair of scissors we opened up the package and then simply placed the mattress on our existing box springs. We were told to give the mattress a chance because if you were sleeping on a poor quality mattress it might take as much as a month to get your spine adjusted to the new Purple Mattress.
From Purple: You may have an adjusting period once you receive your mattress. Those who are coming from a firm mattress need to learn that the hard bed was a compromise for the good of their back alignment. Purple will take care of their alignment even better AND support it AND comfort their hips; but it may take a little time for their body to UNLEARN how to sleep with compromises. Same story, different tune for those coming to Purple from a soft mattress. They need to adjust to proper alignment AND support AND pressure relief. Their body has gotten used to some bad posture compromises while attaining some amount of sleep. Now they are compromise-free and experiencing NO PRESSURE. Their body might unlearn it all right away. But it may take a couple weeks. Still, they have time to really learn and return it if needed; no pressure.
I am so glad they told us that because it did take several weeks for my husband to feel relief. Once that adjustment period ended for him he was sleeping like a baby! No more tossing and turning and no more back pain. It has been truly unbelievable! He is in love with the new mattress and so am I. It is really life changing for us.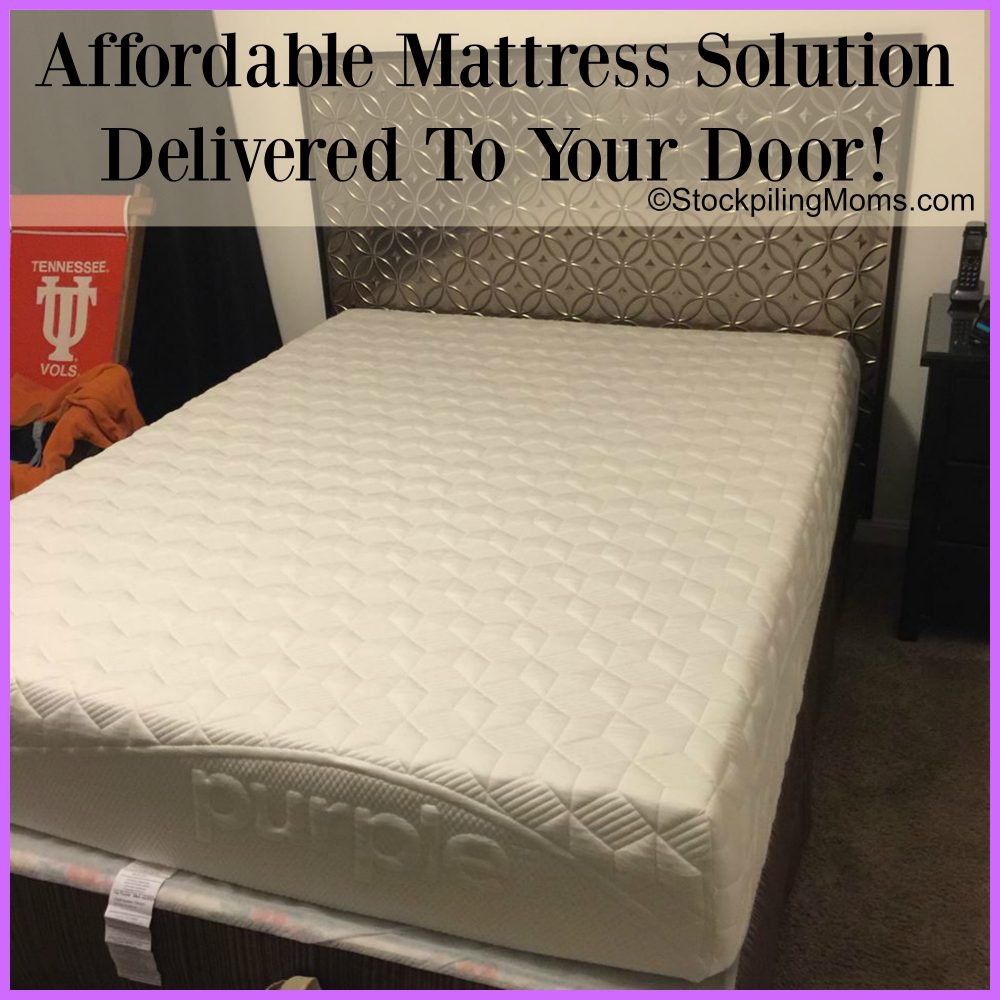 What we love is that Purple Mattress offers a 100 day guarantee. Sleep on your Purple Mattress for 100 nights. If you don't love your mattress, they will pick it up and refund your money. It is easy to purchase too! You don't have to go into a store and deal with sales guys. Simply order online and shipping is 100% free. Plus it has a great 10 year warranty too!

If you are trying to decide between a Memory Foam or Purple Mattress there is really no comparison. Here are some pros and cons though to help you decide.
Purple:
Purple is Temperature-neutral
Purple never develops a body indent
Purple is made from non-toxic, food grade material
Purple has no chemical odor
Memory Foam:
Memory foam holds heat
Memory foam will indent
Memory foam contains VOCs and other chemicals
If you are in the market for a new mattress, now is a great time! You can score the Purple Mattress for $100 off! The King is on sale for $1,299, The Queen is $999.00, and the Twin XL is only $699.00!
Disclosure: This is a sponsored post. Purple Mattress provided me with a queen sized mattress to test. I was under NO obligation to post this review if I choose not too. All opinions are 100% my own. This post contains affiliate links. Read our full disclosure policy for more information.
Melissa is a football and soccer mom who has been married to her best friend for 24 years. She loves sharing recipes, travel reviews and tips that focus on helping busy families make memories.