Sesame Chicken Stir Fry is so easy to prepare. As you know we are busy Moms. I love when I can find a product that can help me get dinner on the table in 15 minutes. Those recipes are generally harder to find but not impossible. McCormick has a new product called Skillet Sauces that are perfect for busy Moms.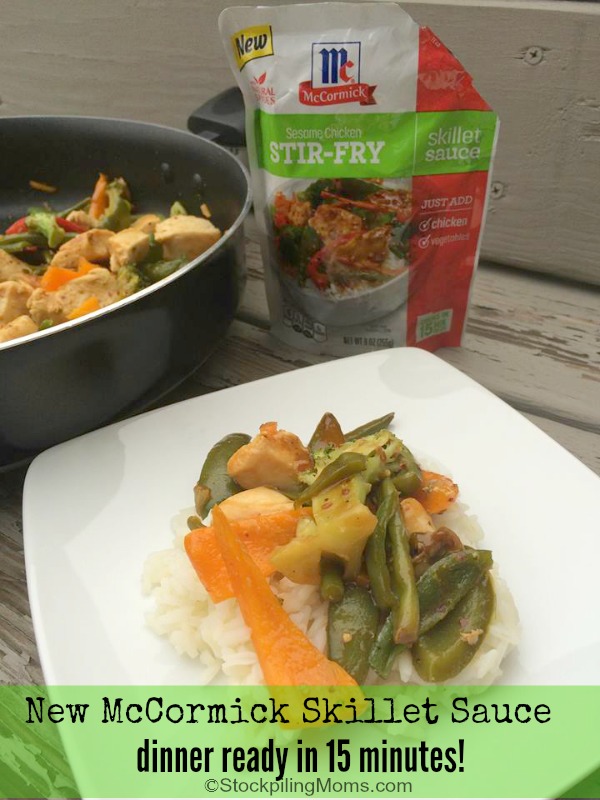 When they asked me to try the product, I thought there is no way I will get this meal on the table in 15 minutes, but I have to say I was wrong. What I really didn't expect is what happened while I was cooking. My son came up to me and said, "wow Mom those smells good". Now let me mention to you he is PICKY! He often says this to me (almost every night) and then looks at the food and says, um never-mind.
That is what I expected but as I plated the Sesame Chicken Stir Fry over rice he said, I want to try that. Now, I presented him with a plate expecting the worst and instead I got. "Mom this is delicious! As he was trying the veggies in the recipe he said, "Mom, I like broccoli now". Then he said, "Peppers are yummy". I nearly passed out! All I have to say is Dear McCormick, thank you for making a sauce that flavored the vegetables to where my son WANTED to eat them! He ate a whole plate full of Sesame Chicken in fact! This Mom was thrilled!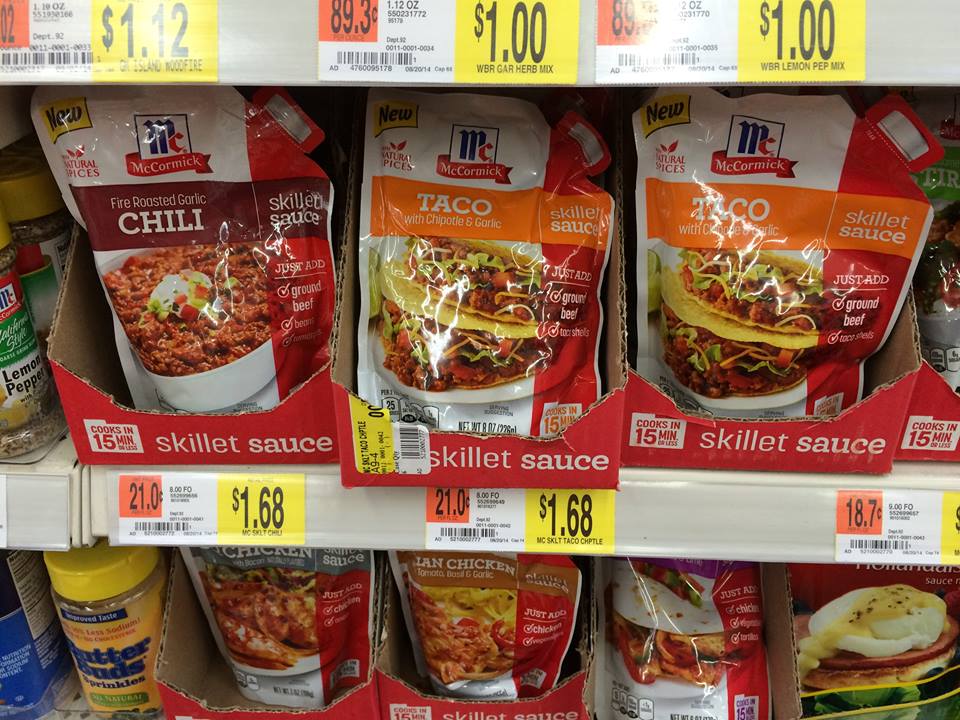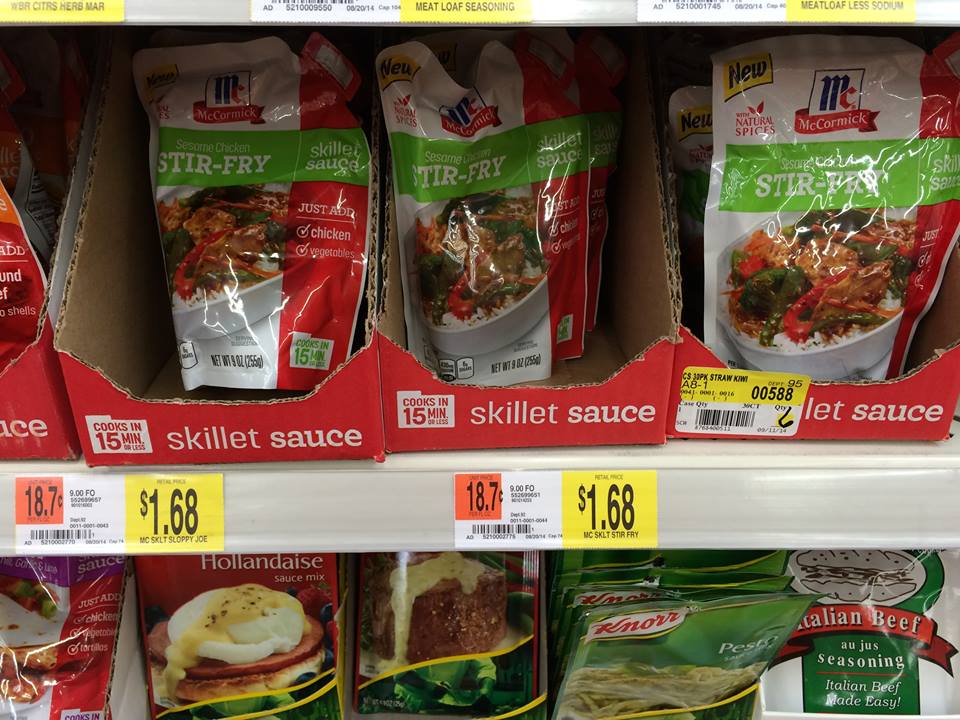 I went to Walmart to pick up my ingredients. I found the McCormick Skillet Sauce in the aisle with the dry sauces and seasonings not in the prepared sauce aisle. I was really impressed with the price point on the McCormick Skillet Sauce! There are seven different varieties of McCormick® Skillet Sauces and each one comes with a custom recipe, but you could adapt them to whatever your family would enjoy.
McCormick Skillet Sauce Varieties Include:
Sesame Chicken Stir Fry Skillet Sauce
Fajita with Roasted Chili, Garlic & Lime Skillet Sauce
Fire Roasted Garlic Chili Skillet Sauce
Sicilian Chicken with Tomato, Basil & Garlic Skillet Sauce
Smoky Applewood BBQ Chicken with Bacon Skillet Sauce
Sweet & Smoky Sloppy Joes Skillet Sauce
Taco with Chipotle & Garlic Skillet Sauce
I loved how easy this recipe was to prepare and that it was affordable too! I used chicken breast, oil, stir-fry veggies (I chose frozen) and served it over minute rice. My total cost was less than $5.00 to feed my family this easy 15-minute dinner. I chose frozen veggies because they were on sale but you can also use fresh. The new skillet sauce is going to be a new go-to dinnertime favorite for my family.
Sesame Chicken Stir Fry
New McCormick Skillet Sauce - dinner ready in 15 minutes!
Print Recipe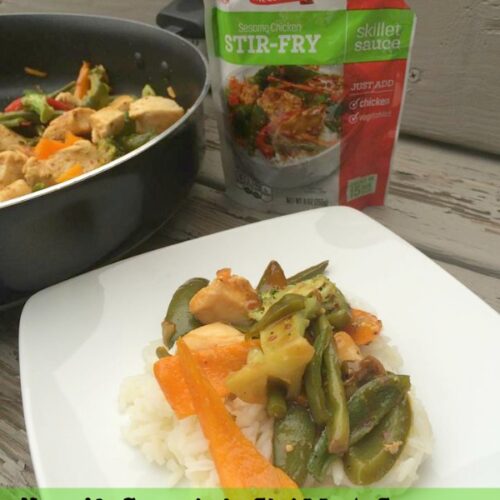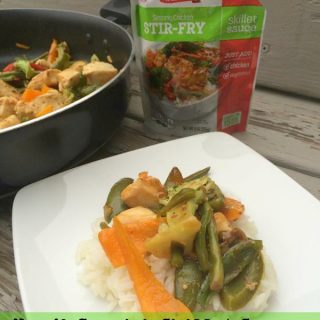 Ingredients
1

Package McCormick Sesame Chicken Stir Fry Skillet Sauce

1

TBSP

Oil

1

LB

Chicken Breast

cut into chunks

1

package frozen stir fry veggies

you can use fresh
Instructions
Heat oil on medium/high heat

Cook chicken tenders for 5-7 minutes

Add veggies and cook for 5-7 minutes

(Drain any liquid off of the skillet before adding sauce)

Add sauce and cook for 1 minute

As a side dish - While chicken is cooking prepared minute rice.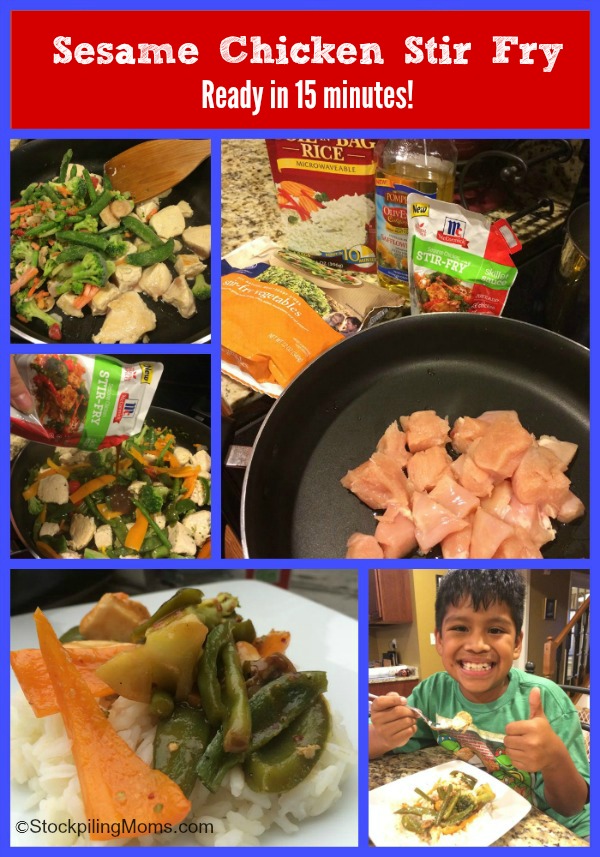 You can get more information or find more recipes at: Mccormick.com.
Disclosure: This is a sponsored post on behalf of McCormick however all opinions are 100% my own.
Melissa is a football and soccer mom who has been married to her best friend for 24 years. She loves sharing recipes, travel reviews and tips that focus on helping busy families make memories.