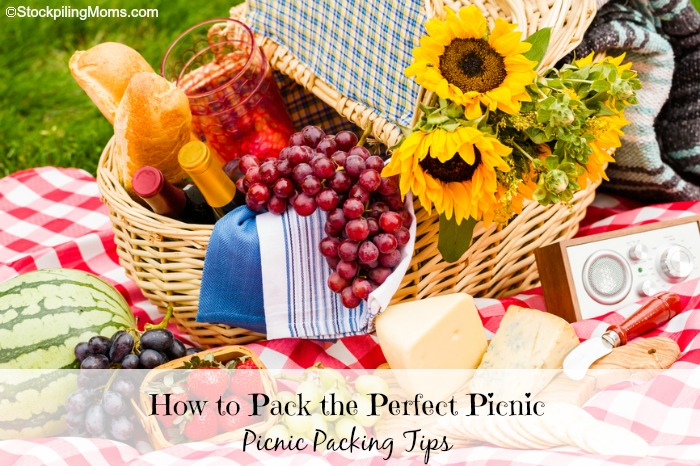 Picnic Packing Tips. Summer is here and I wanted to share with you some tips of my favorite Picnic Packing Tips. Right now, we are taking lots of picnics and not only is it fun, but it is an economical way to enjoy lunch while we are on the go. Here are a few Picnic Packing Tips that I hope you will enjoy!
Picnic Packing Tips:
1. Be sure to pack plenty of beverages. When are you out for a day in the summer heat is especially important to stay hydrated? I do not suggest freezing plastic bottles if you plan to drink them because of the breakdown of the plastic in the water. Instead, I freeze juice boxes/pouches and let them do double-duty as ice packs and a drink. I also freeze 2 bottles of water and we use that to wash our hands with or cool off (however we do not drink that water). A tip is to pack a washcloth in a Ziploc bag to use for your hands then place it back in the bag when you are done, and your bags stay dry.
2. Pack plenty of snacks. When we are on the go or planning a picnic, I pack lots of individual snacks. I pack fruit snacks and place them directly in the cooler by the frozen beverages. My son love to eat them when they are cool and if you don't they melt quickly from the heat. I also like to freeze grapes and then they remain cold for snack time. I avoid chocolate snacks and opt for nuts, bananas and crackers. I also find that if I freeze cheese cubes they do better than just from the refrigerator. If I want to pack a dessert I find brownies pack well.
3. Pack a protein. When it comes to packing a protein, I suggest the standard PB&J. It is best to be safe when it comes to refrigeration and with PB&J you don't have to worry! I also will often freeze our sandwiches. If you do this your food will stay cool and by the time you are ready to eat it has softened up. I don't find that it gets soggy either :-). Here is a great tip for keeping your sandwich from being soggy.
4. Pack your accessories. Don't forget to bring along cups, plates, plastic wear, napkins, hand sanitizers, baby wipes, paper towels, bug repellent, sunscreen and of course a big blanket to picnic on!
Picnic Recipes:
Travel Articles:
Melissa is a football and soccer mom who has been married to her best friend for 24 years. She loves sharing recipes, travel reviews and tips that focus on helping busy families make memories.