How To Save Money on Younique Makeup
How To Save Money on Younique Makeup. As you know we have shared with you that we love to wear makeup. In true Stockpiling Moms fashion, it is time to share with you how to save money purchasing Younique products.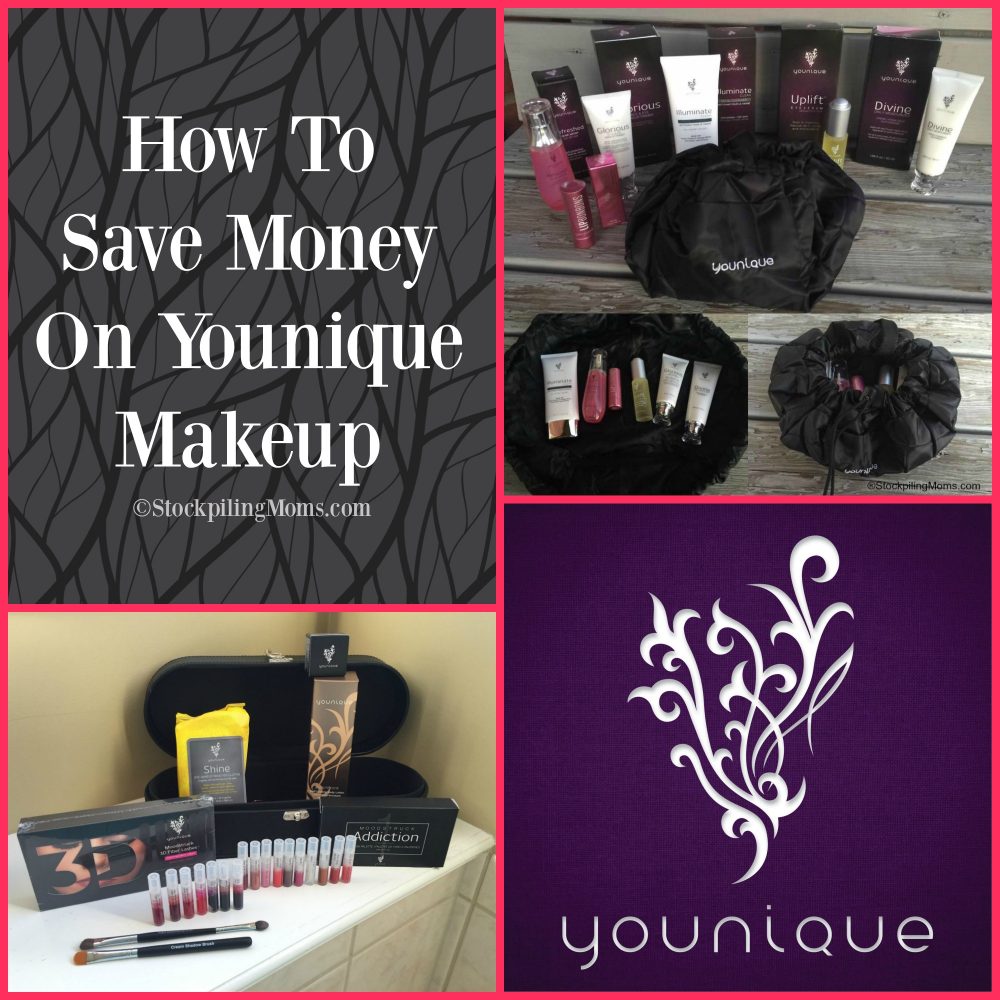 The best way to save on Younique make-up is to sign up as a presenter or host a party. For only $99 you can sign up and when you place an order you get a 20%+ discount! If you don't want to sign up, then the other way is to host your own party and enjoy the amazing party benefits.
How To Save Money on Younique Makeup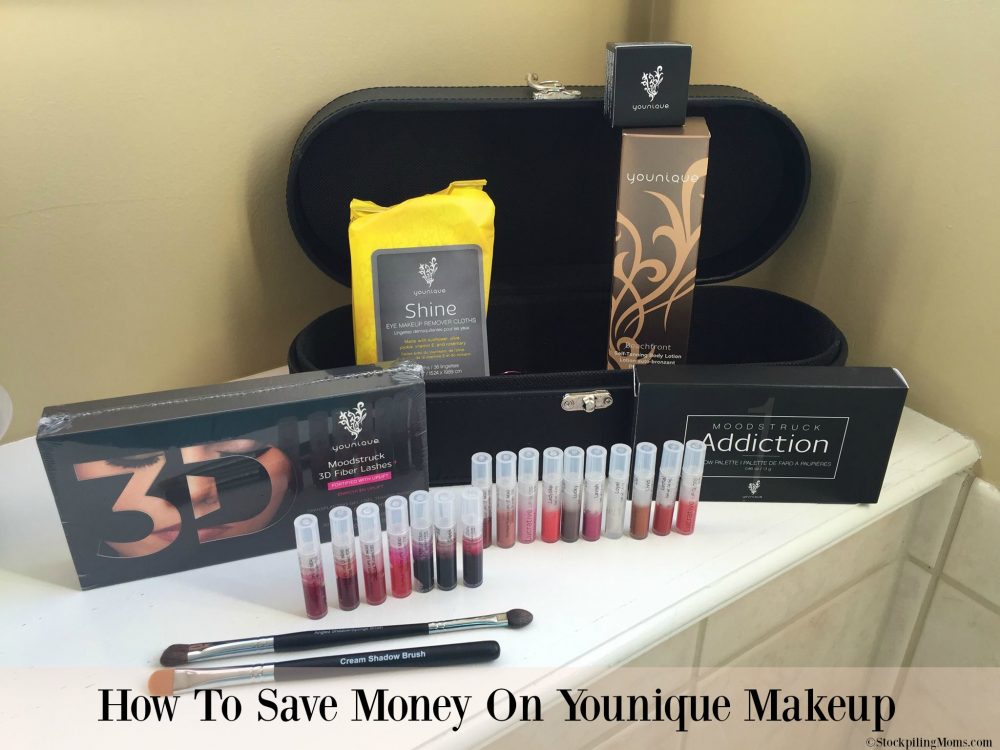 I will share with you the two best scenarios on how to maximize your savings with Younique plus some additional money saving tips.
1. Sign up as presenter. For only $99 you will get everything pictured above. This kit is valued at a $225 value and there is NO renewal fee. This is a no brainer! If you love this product, it is a huge savings. There is NO pressure to be a consultant (selling to others) but if you choose to you will earn 20% or more based on your sales. You can share this opportunity with others and build a team if you choose.
If you don't want to promote the product you don't have too! You can order from yourself to get the 20% off discount! If you are looking for a stay-at-home opportunity or additional income this is a great way for you to set your own hours and work for yourself. Best of all you get a paycheck 3 hours after anyone places an order from you (including yourself).
You only have to place an order of $125 every three months to remain active! That is easy to do! When you place your order, you will earn 20% back – which is your personal discount! Best of all you can also create your own party and earn hostess benefits when you are a consultant. So, this is the best way in my opinion in to save on the products. You also get $25 in Ycash each year on your birthday! So if you love this brand you should sign up.
Not interested in the 20% discount? There is another option!
2. Host your own party. It only takes an order of $200 to be a party! So, it is simple. Order in bulk (stockpile) and save big! You are the hostess so you keep ALL hostess benefits! Simply create a party online. It is easy to do! You will place your order through your party and earn the hostess benefits once the party closes. It is best to place a $200 order because that will qualify your order as a "party" and you will earn the Ycash (rewards) and a 1/2 price item. Depending on your total sales your Ycash (rewards) and 1/2 price items will increase.
For example this month I created a party for myself on March 2nd. I placed a customer order for the Au Natural Skin Care Collection which was $200 (a $233 value + free makeup bag). I earned 200 party points for this order ($20 Ycash) and (1) 1/2 price item. I got my order shipped FREE (because I ordered $100+) and I earned the March Kudos for FREE. On top of that three short hours after placing the order I earned $40 (my commission). I didn't have to spend my $20 Ycash or 1/2 item yet so I can use those when I place my next order! I got $278 worth of product (plus free shipping) for $160! If I wasn't a consultant I would have still only spent $180! Either way you go this is how to maximize your money.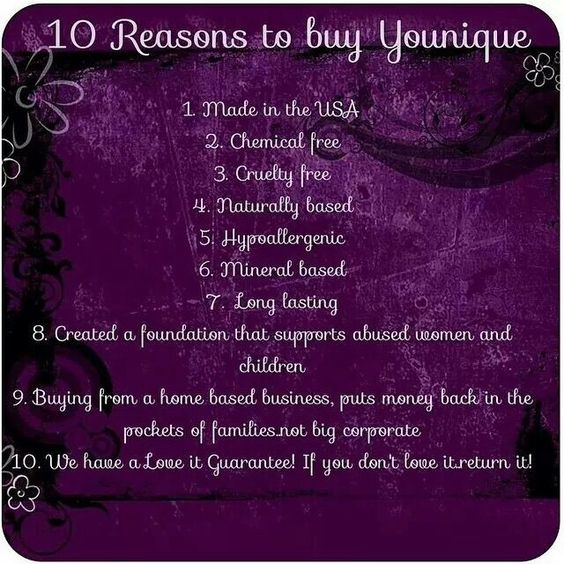 The reasons I choose this brand is because they offer natural, gluten free, paraben free, hypoallergenic and the results are AMAZING!
Other Tips:
Always order on the 1st day of the month. EVERY month Younique offers something called Kudos and that is a special offer. It changes on the first day of each month and there is no guarantee it will last for the entire month (it can be while supplies) so it is best to order early. For example this month it is a exclusive compact mirror ($45 value) with a $150 purchase and it is already sold out.
Always order at least $100 because when you do you get FREE shipping.
Host a Facebook party with friends to increase your show totals and earn additional benefits.
Consider purchasing collections and sets because they are a great value. You get the biggest bang for your buck on collections and every collection you purchase comes in a chic and convenient bag, which makes traveling with your lovely cosmetics all too easy. I LOVE mine!
Always create a party when you are a consultant in case someone orders through your link so you can can get the hostess benefits for yourself.
I hope this helps you How To Save Money on Younique Makeup. If you are interested in placing an order or signing up as a Younique consultant, please consider ordering or signing up today. Just find someone online that you feel comfortable with.
STOCKPILING 101
Stockpiling Moms can be found in all your favorite places! Hop on over to Instagram and follow the fun! We love posting memes, family fun, travel, and whatever we are feeling that day! Pinterest is also an amazing place to visit Stockpiling Moms. This is where you can pin all your favorite articles from our Food, Travel & Lifestyle Blog!
Melissa is a football and soccer mom who has been married to her best friend for 24 years. She loves sharing recipes, travel reviews and tips that focus on helping busy families make memories.