How to make homemade baby food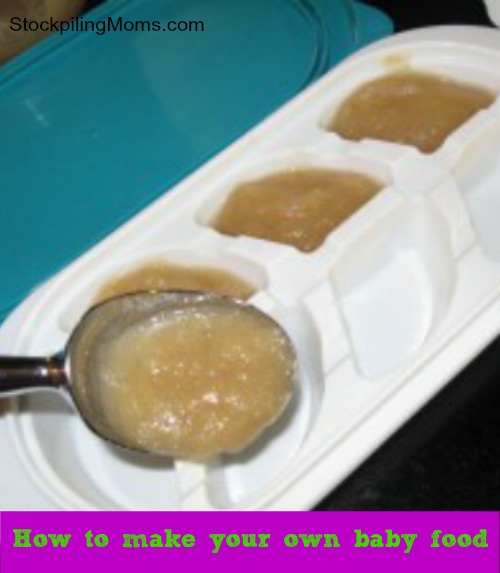 How to make homemade baby food. A great money saver is to make your own baby food. You will also be able to know what ingredients are used by making it yourself. I was a faithful purchaser of Earth's Best jarred baby food when my son was a baby. Frankly, it was the only organic food available in the stores in my area. Since then, Juliet has been reaping the benefits of more organic products on the shelves of my local grocery store.
How to make homemade baby food:
I definitely prefer Sprout when using packaged baby food. The gourmet touch of roasted veggies and fruits with added spices really makes my own mouth water when I am feeding it to her. In an ideal world, I would only use the packaged products when we are away from home, but I do rely on them when I am in a rush.
However, my main staple has been homemade baby food. Bennett never got that extra touch when he was younger as I didn't have as much downtime with a full-time job to do the research.
I wasn't sure where to begin on the homemade baby food journey. I had several baby foods books, but frankly, I found lots of conflicting information. Why should I trust one person's word over another? So, I took the best of the lot I could find and made it into my own. The biggest help I had were a few websites that basically said, "If I can do it, so can you." So, here's hoping you follow the same advice.
First, make sure you are buying only organically grown produce. When you purchase jarred and packaged baby food, they have gone through some testing by the FDA to limit pesticides. The testing is not as strict when buying fresh produce. This is extremely important because some produce is treated with an extra after-harvest pesticide spray to keep it looking fresh.
Next, you will want to wash and scrub, where appropriate, your produce. Then you will peel and de-seed your items and chop into cubes.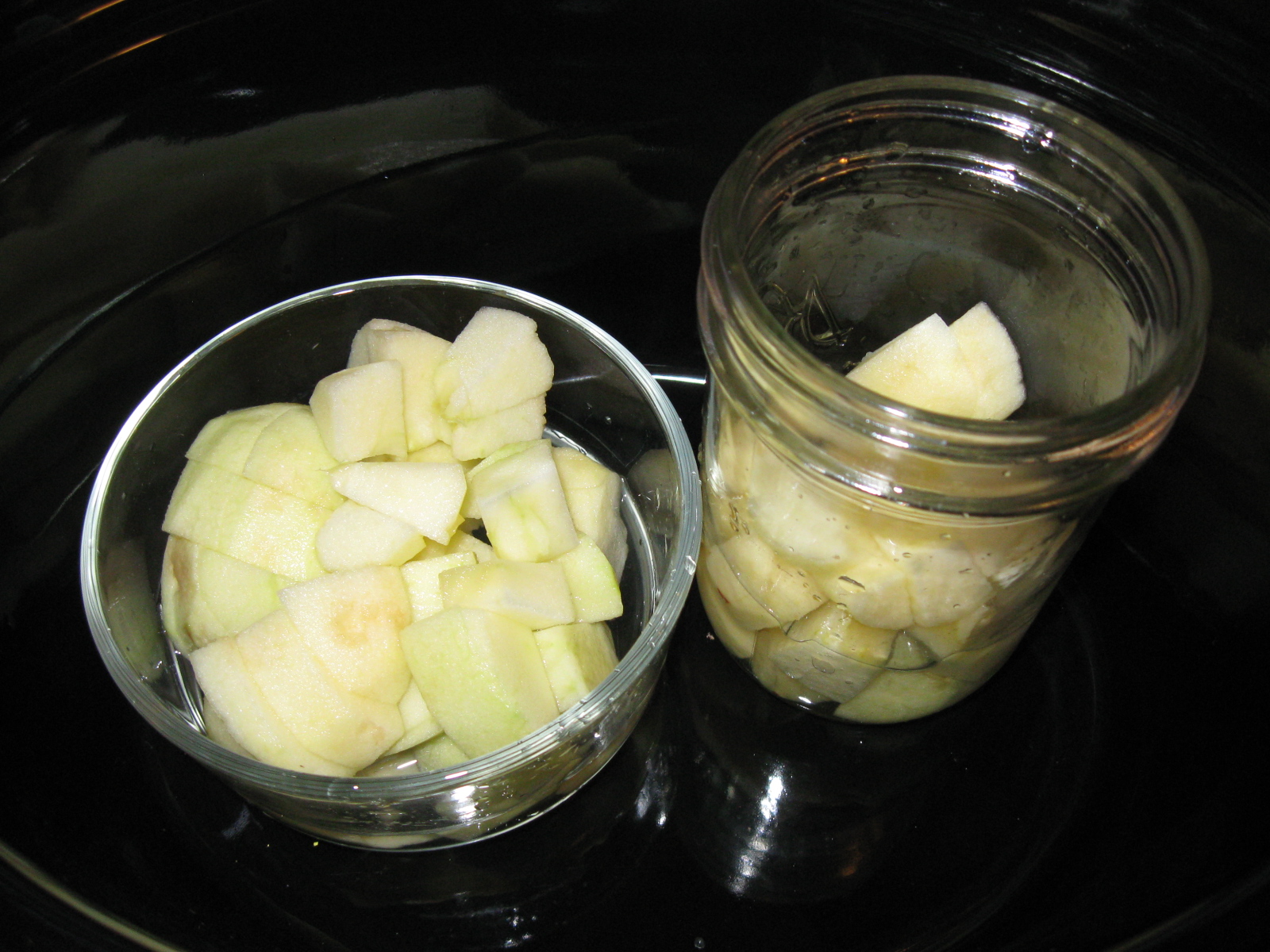 I then take my slow cooker (any size is fine) and put several smaller glass jars or containers inside it. This not only makes clean up easier, it allows me to cook more than one thing at a time.
I put the cubed produce in each container, ADD ½ inch to one inch of water to the small containers and set the slow cooker accordingly. Basically, I try to be home while this is working. (Especially if this is a new item for me to cook). Once I get an approximate cooking time, I record it so I can be more flexible in cooking it next time. I recommend using the HIGH-setting for-food safety reasons.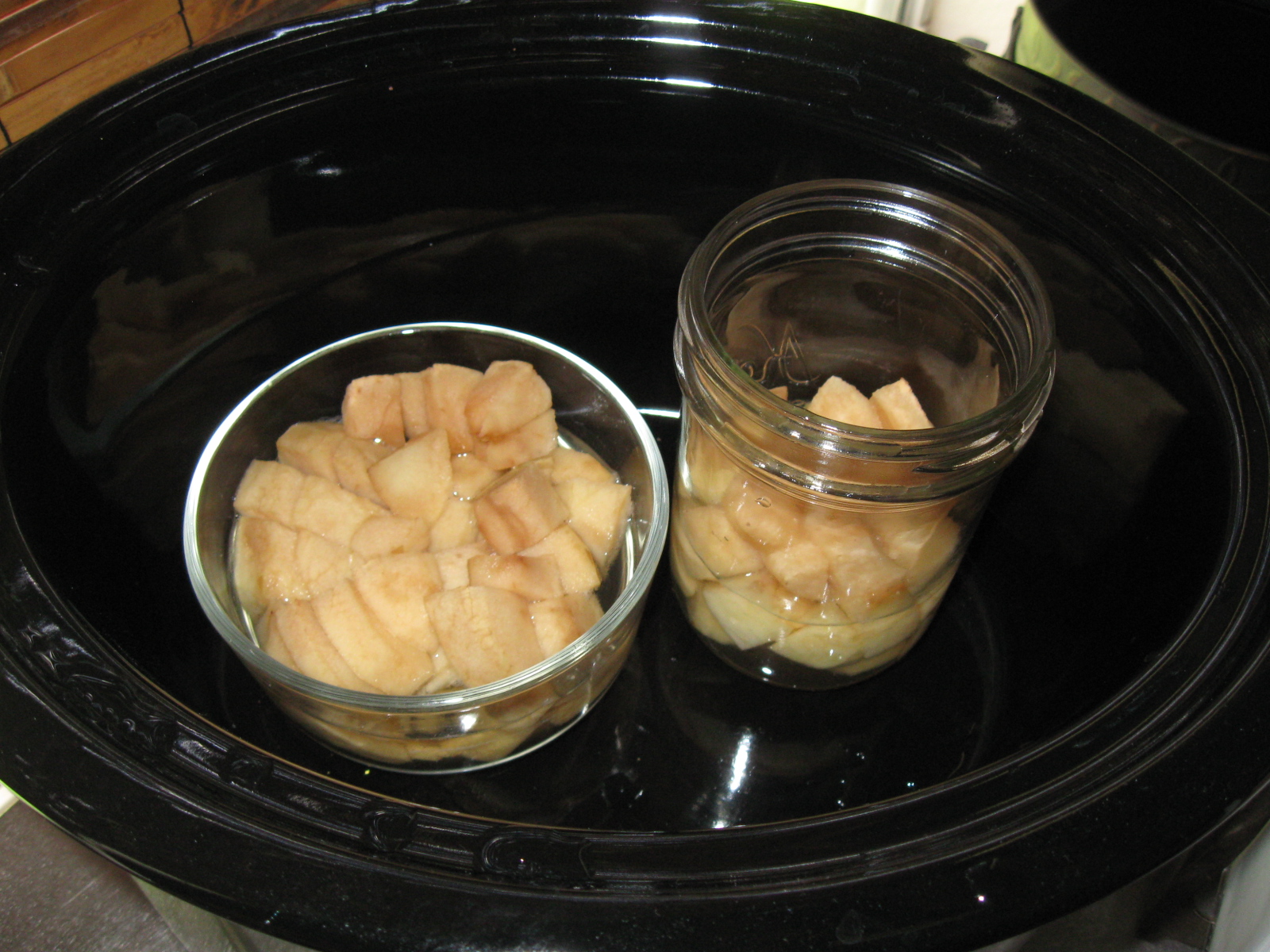 I don't think there is much you can do for it to turn out poorly. The goal is for it to be mushy anyway. Once I feel that the item is tender and mushy, I turn off the slow cooker and remove the smaller containers with a hot pad.
For the apples shown in the picture I cooked them on high for 3 hours. Then, I use an immersion blender and blend right in the container (do not drain the liquid).
Once it is the correct consistency, (based on your child's age or preference) I begin to get it ready for the freezer. I purchased some baby food freezer trays on clearance at Big Lots. I think they are pretty convenient. Once I pour in the food, it freezes overnight, and I repackage it in freezer plastic bags. I tried leaving them in the trays, but they are more subject to freezer burn. Plus, I don't have an unlimited number of trays to keep in the freezer. The bags make storage much easier.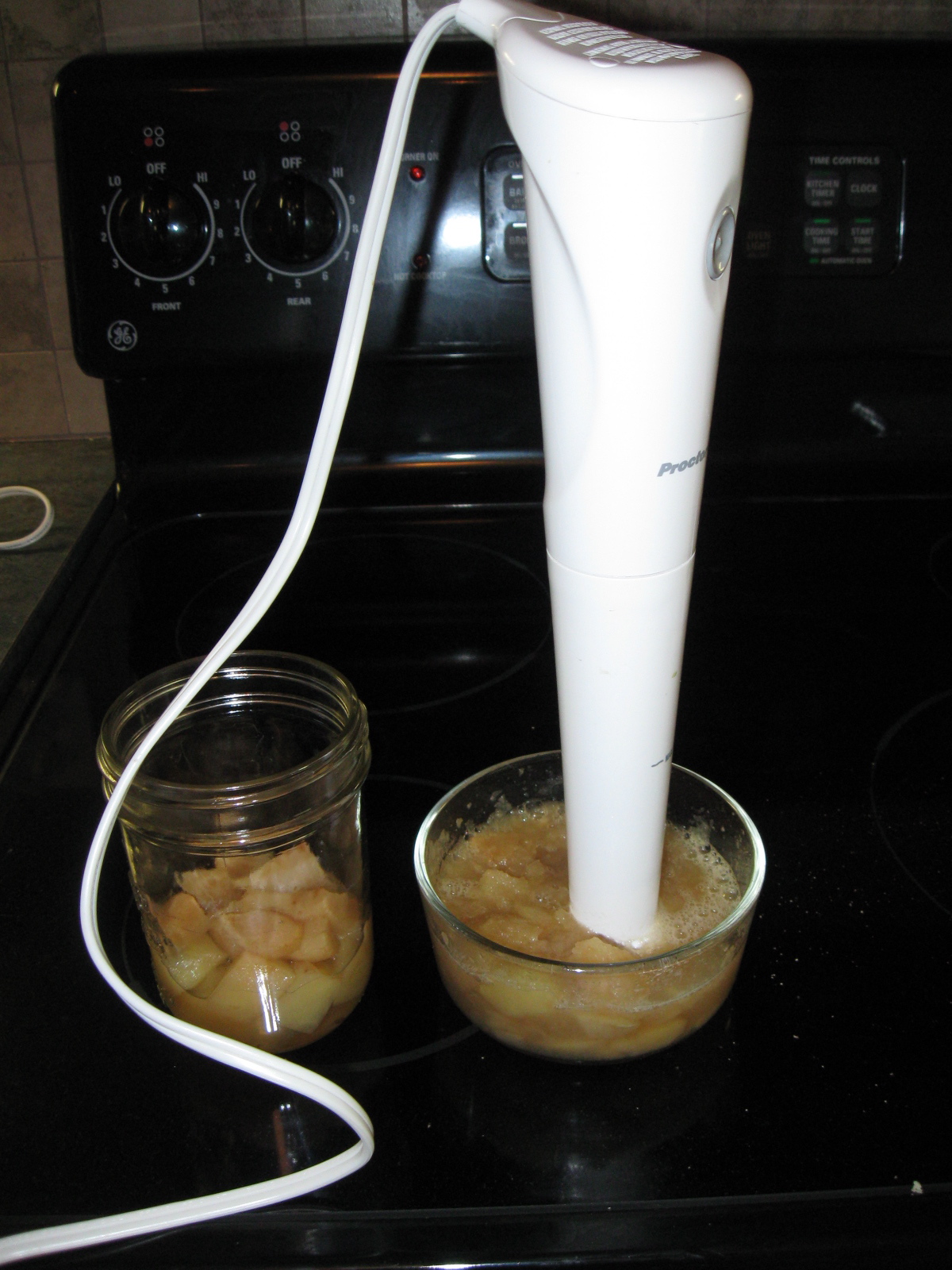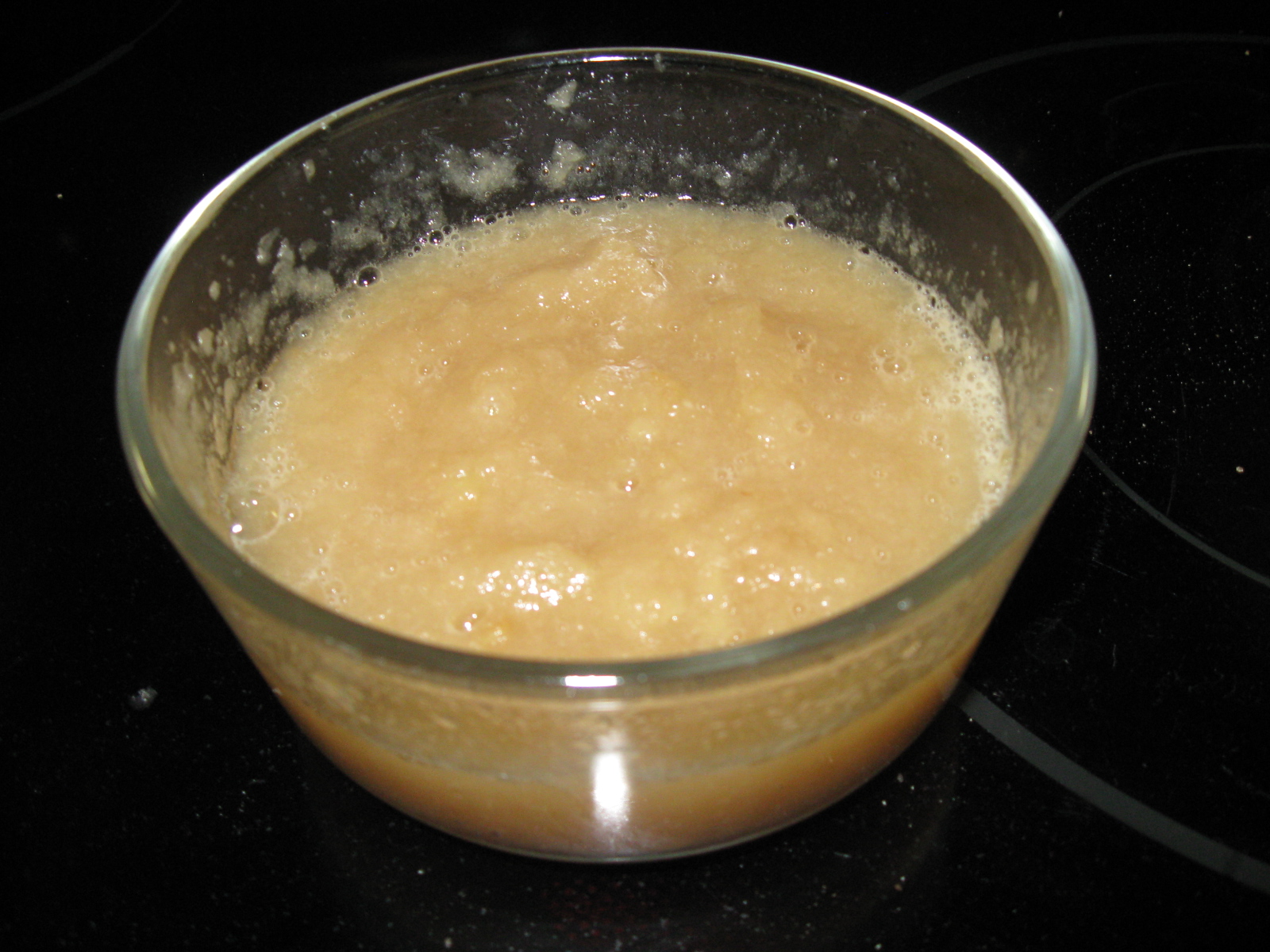 When it is time to eat, I remove a couple of cubes in whatever combination I like and microwave them. Generally two cubes for 30 seconds and four cubes for one minute. Just make sure to stir well, as you want to avoid hot spots that can occur in some of the thicker foods.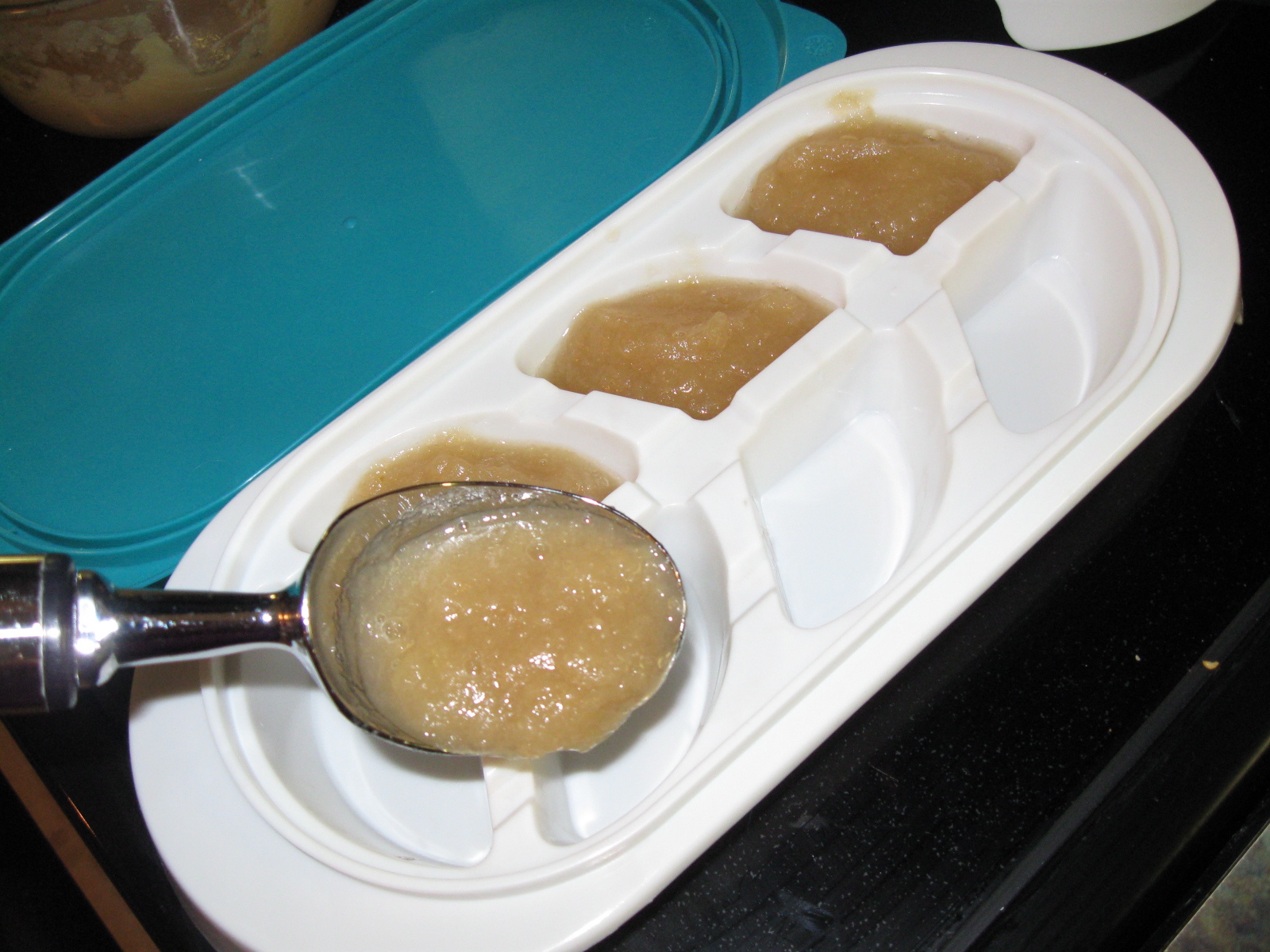 You can read part 2 HERE.
If you are new (or even experienced) to freezer cooking:
How to Freezer Cook Series – Part 1 – Sample Menu and Getting Started
How to Freezer Cook Series – Part 2 – Why Does Freezer Cooking Work
How to Freezer Cook Series – Part 3 – Planning Your Meals
How to Freezer Cook Series – Part 4 – Tips and Tricks for Freezer Efficiency
How to Freezer Cook Series – Part 5 – What Can You Freeze?
How to Freezer Cook Series – Part 6 – Freezer Storage
How to Freezer Cook Series – Part 7 – Tips for Thawing Your Meals
How to Freezer Cook Series – Part 8 – Make Your Own Freezer Pancakes
Melissa is a football and soccer mom who has been married to her best friend for 24 years. She loves sharing recipes, travel reviews and tips that focus on helping busy families make memories.