Can you eat gluten free on a Disney Cruise?
Can you eat gluten free on a Disney Cruise? I am home my first Disney Cruise experience and I am so excited to share my gluten free dining experience with you. When I was invited to attend Disney Social Media Moms Celebration and go on a three night Disney Cruise on the Disney Dream my first question was will I eat? I was told by guest relations that it would be no concern.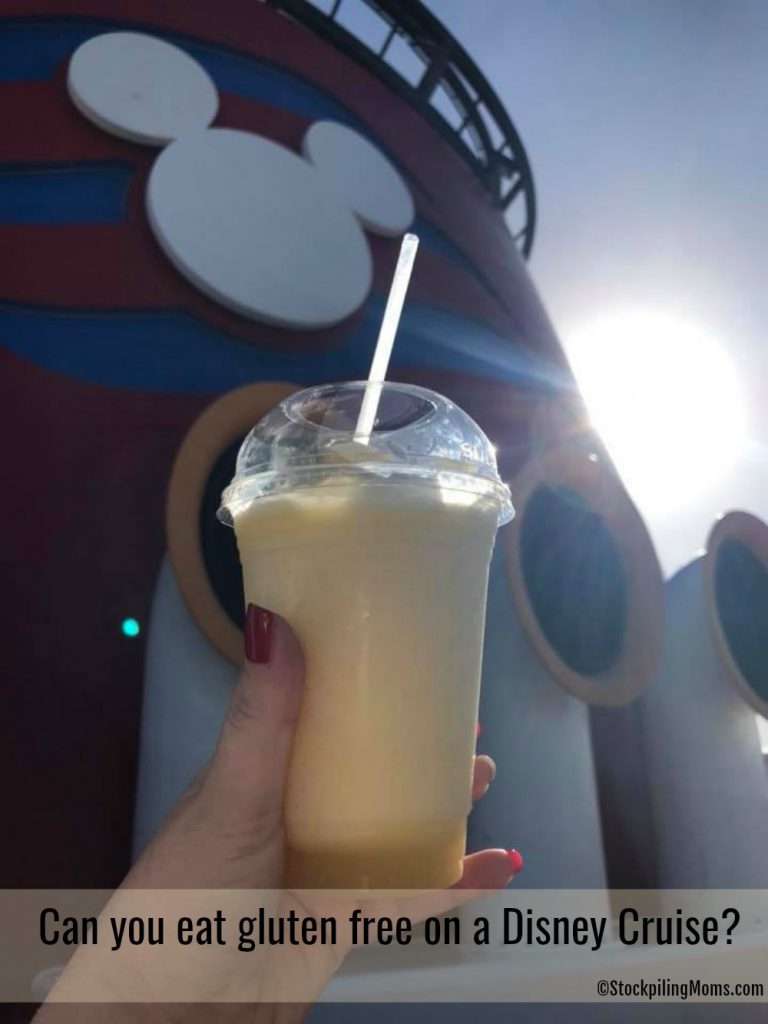 As you know I have Celiac Disease. Traveling is not always easy when searching for gluten free food. However, I am excited to share that if you are gluten free or if you have ANY allergy there is no better place to visit than Walt Disney World or the Disney Cruise Line. One of my favorite treats on board was this delicious Dole Whip pictured above! I mean really, all you need is a Dole Whip and a whole lotta sunshine to make me happy!
I had a WONDERFUL experience on the Disney Cruise and didn't feel slighted at all! In fact I felt that I was provided with excellent options at every meal! Once you board the Disney Cruise Line (we were on-board the Disney Dream), my suggestion to you is to go to the dining room that is open for lunch. SKIP the buffet restaurant. Trust me, you will be glad you did.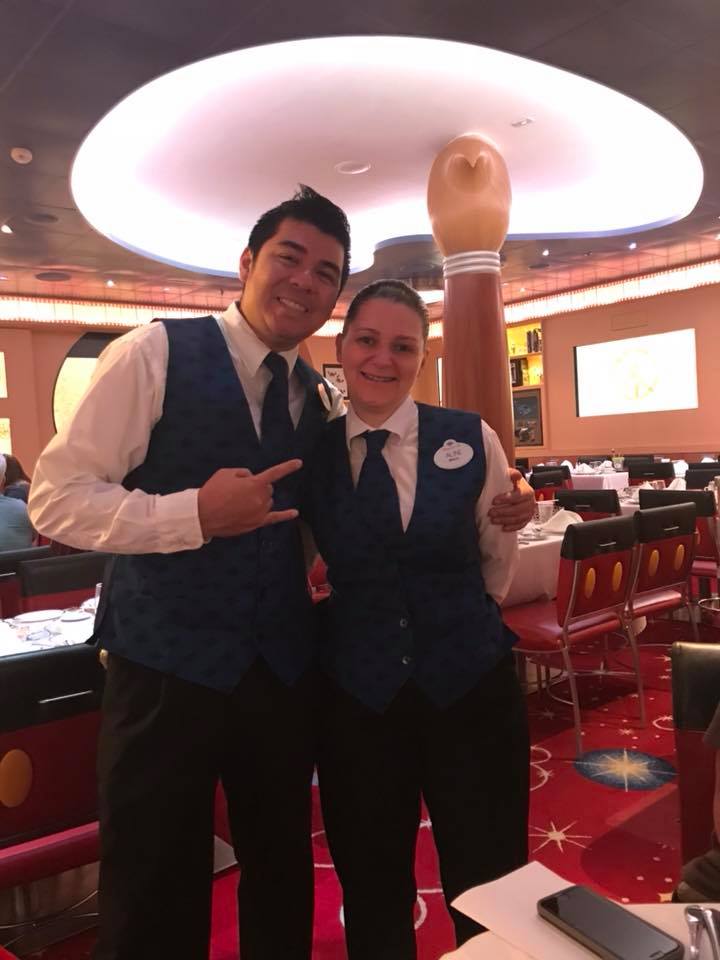 Can you eat gluten free on a Disney Cruise?
If you choose to eat at the buffet restaurant (Cabanas on the Disney Dream) ask to speak to a manager and they will be sure that your food is prepared safely and served to you so there is no risk of cross contamination. What I found by eating in the main dining room whenever possible is you get the best quality food and reduced risk of Cross Contamination. Plus the wait time was far less. I did eat at the buffet restaurant once and they prepared for me salmon, a baked potato and steamed veggies. They also brought me delicious peel and eat shrimp and cocktail sauce that were sure to not be cross contaminated.
While on board the Disney Dream you rotate to all three of the dining rooms so that we could experience each one. The good news is that our wait staff traveled with us so they were familiar with our dietary needs and made sure that we were safe and happy. Pictured above was our amazing server and his assistant. They did a phenomenal job!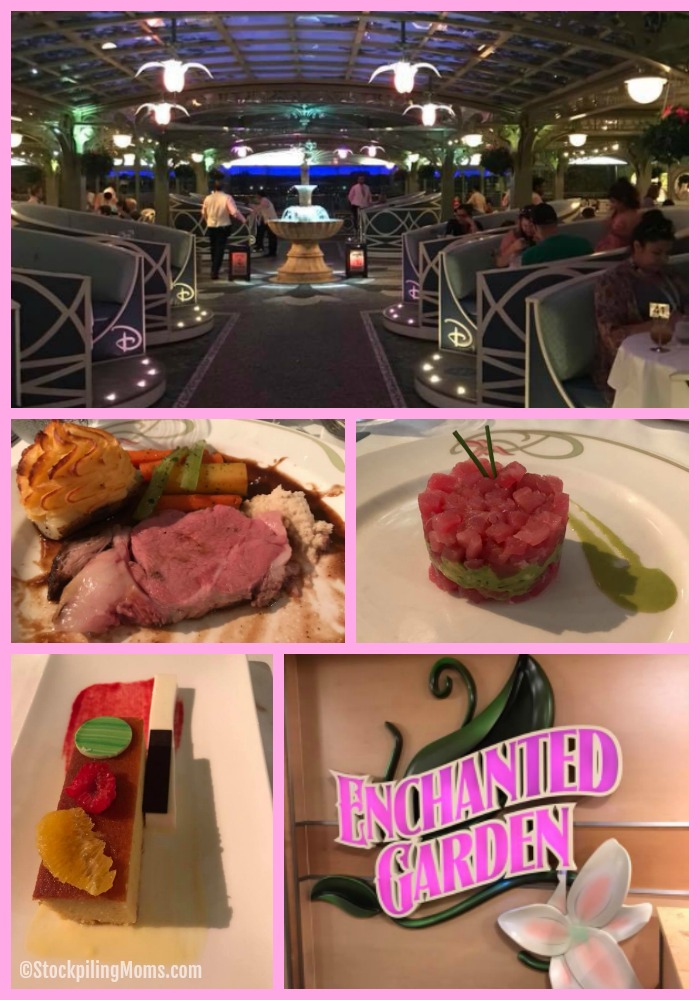 On the first night we ate in the Enchanted Garden. This dining room was gorgeous! For my appetizer I enjoyed a fresh ahi tuna tartar with avocado. It was out of this world! For dinner, I had a delicious Prime Rib with root vegetables and twice baked potato. As for my dessert, I never got a choose but was always served something delicious. For the first evening I enjoyed a vanilla cake that was moist and delicious! I would also suggest that you eat in the main dining rooms for dinner.
At dinner our waiter took a pre-order for me for breakfast and for dinner the next evening. He told me that it would be best to eat in the dining rooms for my meals as the chefs are available to make sure that my food is prepared safely.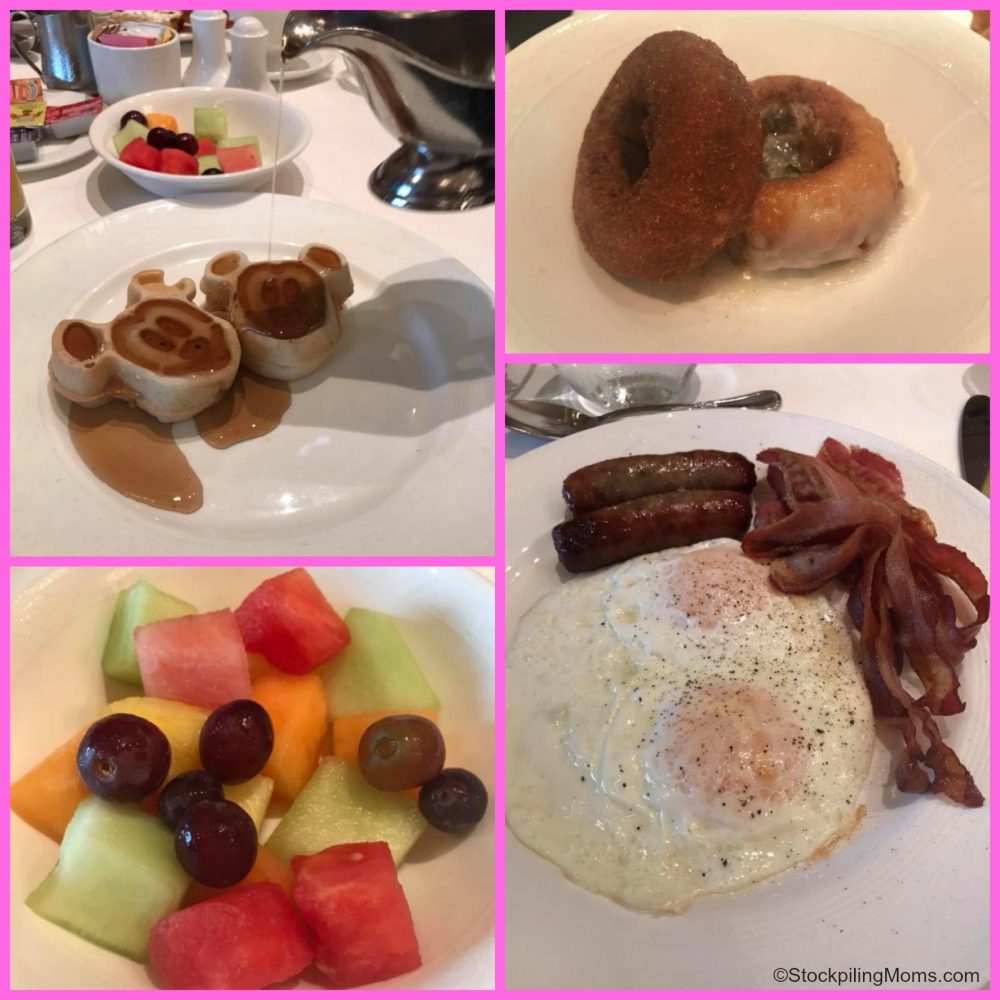 The next morning I finally enjoyed Gluten Free Mickey Waffles! This was what I wanted so badly and they were delicious! I also enjoyed two eggs with bacon and sausage and a lovely fresh fruit bowl. They even offered me gluten free and dairy free donuts when they brought out pastries for my family. They were delicious and served warm. This was served in The Royal Palace Dining Room.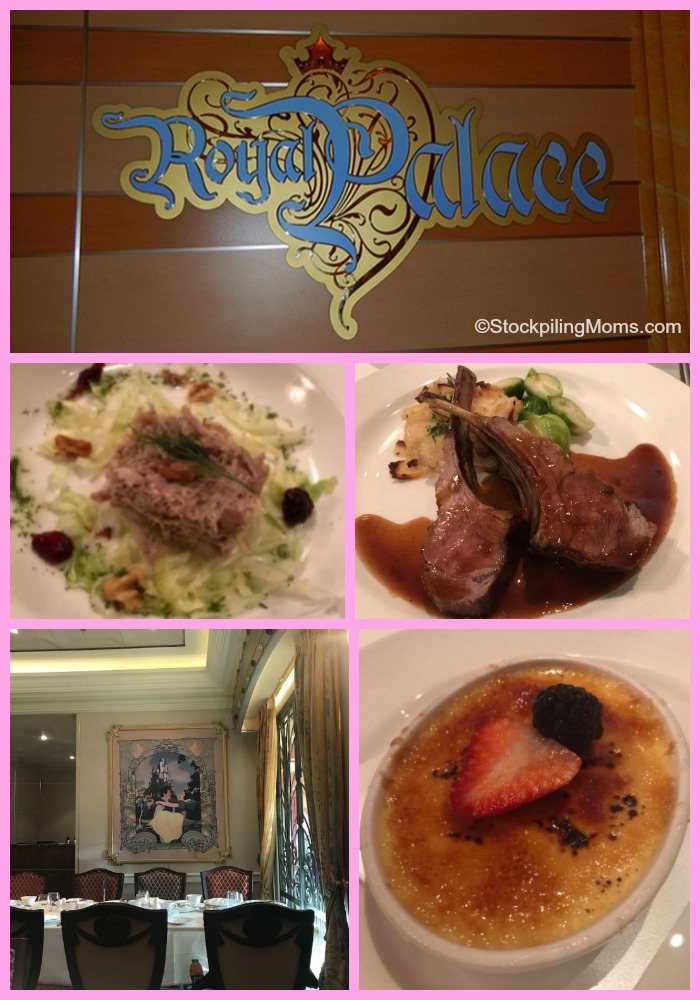 On the second night we enjoyed dinner at The Royal Palace. This was a beautiful dining room. I enjoyed it so very much. In fact if I had to select I would say this was my favorite meal on board the ship. I started off the meal with warm gluten free bread. I enjoyed a delicious duck confit for my appetizer, followed by a fabulous salad and for the main entree I had lamb chops! Lamb chops are my favorite and though this was not on the menu marked as gluten free my server made it happen for me! I was elated. For dessert I had a yummy Crème brûlée. It was the perfect gluten free dinner!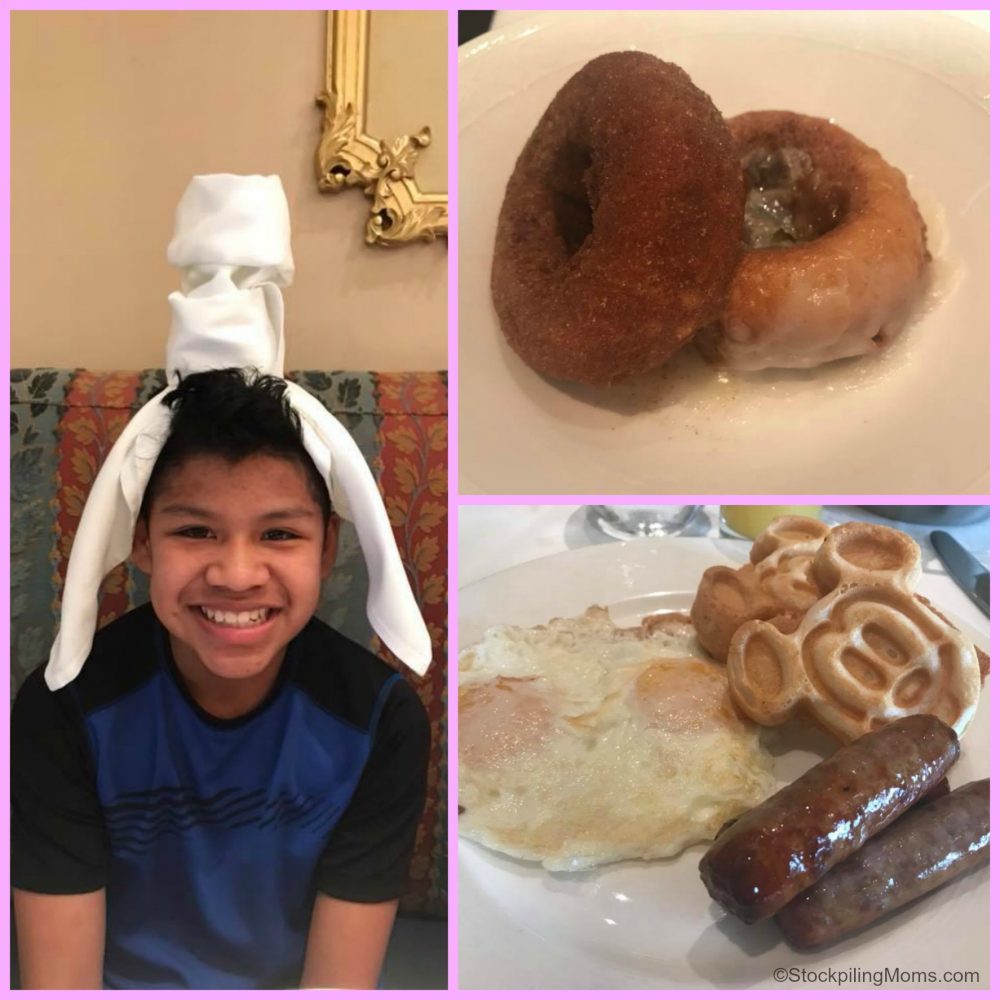 The third morning for breakfast I enjoyed Gluten Free Mickey Waffles again! They were even better than the first morning. I also had two eggs and sausage. Of course I couldn't pass up the gluten free and dairy free donuts again.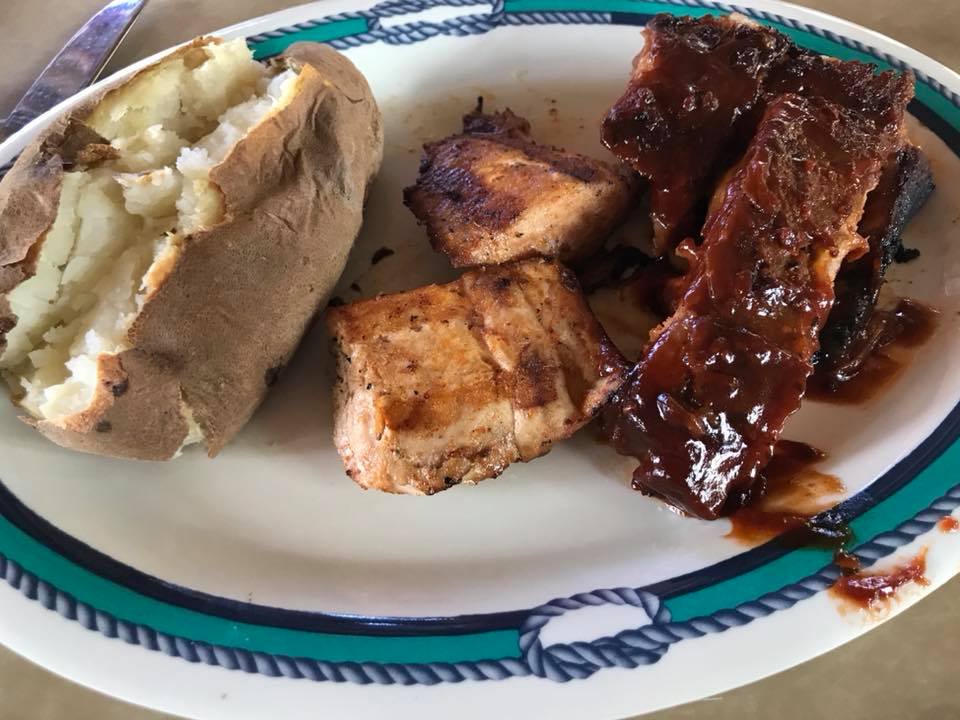 For lunch at Castaway Cay I enjoyed a delicious BBQ lunch. They prepared for me a pre-order which included BBQ ribs, baked potato, mahi-mahi and it was all very tasty. I was supposed to pick that up at Cookies but we were actually closer to Cookies 2 and they delivered the meal to me with no problem. They went well beyond the call of duty so I didn't have to walk over to the other location which is of course part of the Disney magic!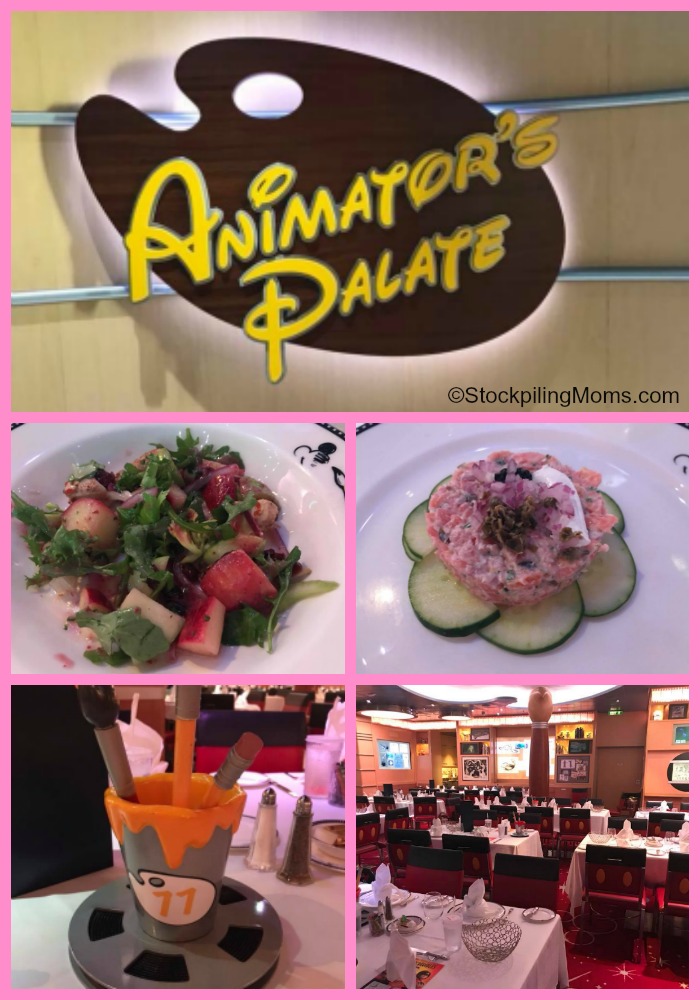 On our final night we enjoyed a fun dinner at the Animator's Palate. Though this was not my favorite meal it was still good. I started off the meal with warm gluten free bread. For my appetizer I enjoyed salmon tartar. I had never eaten this before and I LOVED it! I couldn't make a decision between that salad or the soup so my server insisted on bringing me both. I didn't enjoy the soup (it was a potato soup) but I really enjoyed the salad. My main entree was salmon and though it was good, it wasn't very flavorful. I selected it from the healthy options on the menu so I think it really just needed some additional fat/seasonings. It was a nice meal even though not my favorite.
On our final morning we enjoyed a simple breakfast of gluten free toast, 2 fried eggs and sausage. I sure did miss those Micky Waffles 😉 They did bring me a nice warm gluten free and dairy free donut.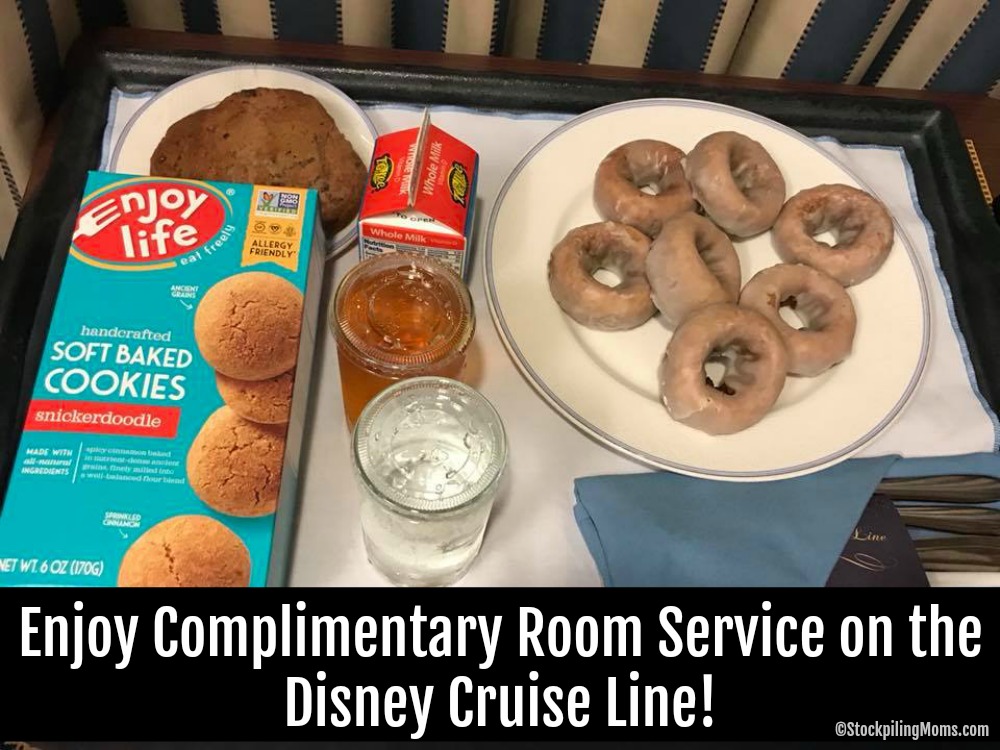 I do want to add that I also enjoyed room service! I was so pleasantly surprised that they were able to send me gluten free cookies and the most delicious platter of gluten free donuts (they were served warm). They were so good everyone in my family enjoyed them!
In closing, I want to share with you that I have been on three cruises since my Celiac diagnosis and Disney did the BEST job accommodating my dietary needs. So to answer the question, Can You Eat Gluten Free on a Disney Cruise? Yes! If you are gluten free (or have any food allergy) I would highly encourage you to consider a Disney Cruise for your next vacation.
MORE DISNEY TIPS
Is Disney Animal Kingdom After Hours Worth It?
The Best Gluten Free Food at Walt Disney World
Ways to Stay Cool at Walt Disney World
Chef Mickey's at Disney World Dining Review
Disney World Hollywood Studios Jedi Training
Disney World The Crystal Palace Dining Review
Disney World Festival of Fantasy Parade
Disclosure: I was invited to attend Disney Social Media Moms Celebration. All opinions are 100% my own
Stockpiling Moms can be found in all your favorite places. Hop on over to Instagram and follow the fun. We love posting memes, family fun, travel, and whatever we are feeling that day. Pinterest is also an amazing place to visit Stockpiling Moms. This is where you can pin all your favorite articles from our Food, Travel & Lifestyle Blog.
Melissa is a football and soccer mom who has been married to her best friend for 24 years. She loves sharing recipes, travel reviews and tips that focus on helping busy families make memories.