7 Gardening Hacks for the Lazy Landscaper
Check out these 7 Gardening Hacks for the Lazy Landscaper. Lots of homeowners want their house to have curb appeal, but the truth is there is only so much time in the day. Finding the time to create the landscaping of your dreams may be an issue, but the good news is there are shortcuts you can take to create a yard your neighbors will envy.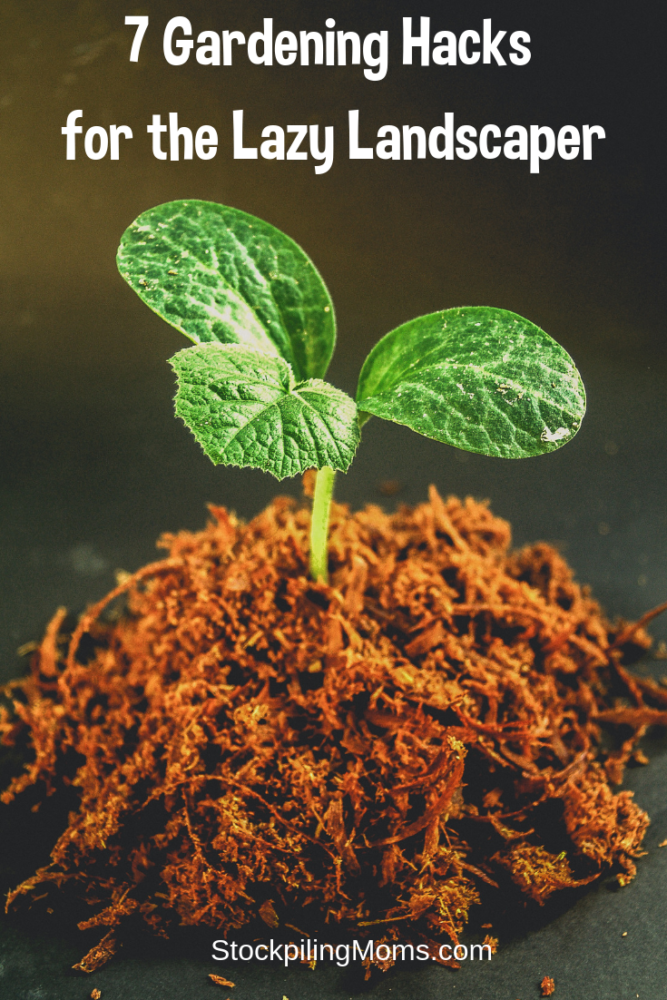 It doesn't take a lot of work to make your garden look incredible. The tips below prove that even the laziest of homeowners can make landscaping an easy task. Check out the tips below for making your yard look amazing!
Check out our Tips for Container Gardening to make the most of limited space for growing your vegetables this summer!
7 Gardening Hacks for the Lazy Landscaper
1. Opt for perennials –
Perennials are wonderful because you plant them once and you are done. They will return year after year looking bigger and better. This not only saves you time but money as well. Opt for easy to grow perennials such as lavender, day lilies, cone flowers, and bee balm.
2. Use rock instead of mulch –
Mulch often needs to be replaced year after year. Instead, spend a tad more on gravel or decorative rock and add those to your flower beds instead. They will last for several years before they need to be replaced, and can even help with drainage issues around the house!
3. Don't be afraid of composting –
You don't have to do anything fancy when it comes to composting. Keep your produce scraps such as eggshells and fruit peels (keeping them in a jar will do) and toss them in your flower bed soil. They will help feed the plants and may even be able to repel pests such as slugs!
Check out these tips for How to Make a Compost Bin!
4. Pay attention to the amount of sun your yard gets –
Don't set yourself up for failure. Make sure you know if your yard gets 6+ hours of sun a day or less. Based on your observations, you can make perennial choices. This way you know you are planting items that will thrive over the years and not ones you will have to rip out in a few months.
5. You can't go wrong with hostas –
Hostas are cheap, they come back each year, and they get HUGE! These are a great way to cover a lot of space for less. Plus, when they get too big you can divide them and plant the extras elsewhere. If you want bang for a buck, hostas are it.
Start your seeds indoors this year with these tips!
6. Consider pest repelling plants –
Try adding pest repelling plants to your garden beds as they will help keep your yard bug free. These plants include lemon balm and citronella plant to name a few. They will go to work naturally and help keep your yard more enjoyable.
7. Attract some free entertainment –
Nothing makes a yard look more lovely than hummingbirds and butterflies! Consider plants such as hummingbird vine, petunias, bee balm, and butterfly bush. They not only are easy to care for, but they will attract these creatures adding entertainment and ambiance to your yard.
Making your landscaping lovely doesn't have to be an all weekend activity. Choose a few hardy perennials, save those kitchen scraps, and take advantage of these other tips to hack your way to a beautiful yard fast!
GARDENING TIPS:
Recycled Milk Jug Watering Can
Melissa is a football and soccer mom who has been married to her best friend for 24 years. She loves sharing recipes, travel reviews and tips that focus on helping busy families make memories.