How To Save For the Perfect Summer Picnic
Summer is here! It is time to come up with tons of fun ways to entertain our children. One of our favorite things to do is pack up the van and head to the park for a fun summer picnic and day together as a family or with friends. Shopping for snacks, supplies and treats can quickly break down your budget. We have several ways to Save For The Perfect Summer Picnic while providing your family with a great fun summer picnic together.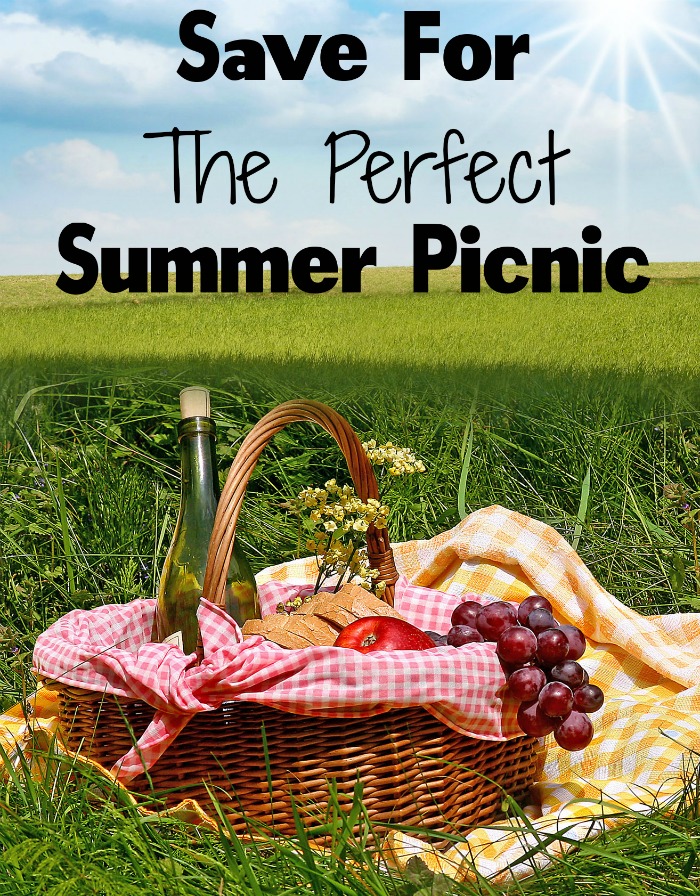 HOW TO SAVE FOR THE PERFECT SUMMER PICNIC
Create an Easy Pasta Salad. One of our favorite items to stock up on at the store has to be the low cost pastas, salad dressings and canned goods. We love throwing together a package of our favorite pasta, a bottle of Italian Salad Dressing, a can of black olives and a diced fresh tomato for a simple and tasty pasta salad treat. All for under $5! Our favorite recipe is Easy Pasta Salad and is a really inexpensive and filling side dish.
Buy Re-Usable Plastic Plates & Utensils. Instead of grabbing discounted paper plates, pick up a package of plastic plates, bowls, utensils and even fun cups to pack each time you go for a summer picnic. While these cost a bit more up front, being able to bag them up after use, bring home and wash to be used again will save you money in the long run. Plus you know you are doing something great for the environment this summer too!
Take Your Own Entertainment. If you are planning on taking the kids for a picnic to a local park be sure to pack a Frisbee, hula hoops, side walk chalk, balls and bikes. This is a great place to let the kids play burn off their energy.
Don't Forget Dessert. The best part of going for a picnic is eating all the food that your Mom typically won't let you have at home. Whether that is a candy bar, cookies or something for the camp fire like S'Mores, don't forget to pack dessert. One of our favorites for on the go is this S'mores Trail Mix. The kids love it and I love that there is no fire required.
No matter where you head out with your family for your summer adventures, you can be sure to save for the perfect summer picnic with help from one of our favorite discount stores and their great line of products for summer. Don't forget the hand sanitizer, paper towels or napkins and of course the sunscreen and bug spray while you are packing!
Melissa is a football and soccer mom who has been married to her best friend for 24 years. She loves sharing recipes, travel reviews and tips that focus on helping busy families make memories.