Crockpot Series – How to Clean your Crockpot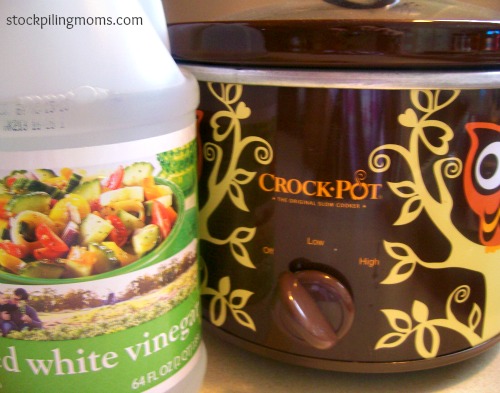 Cleaning your crock pot can be challenging, especially when food gets baked on. Sometimes, doing a little prep work before you use your crock pot can make cleanup much easier. With some elbow grease, you can keep your crock pot looking brand new for years to come. This kitchen tip will change your life!
How to clean your crockpot:
One thing you can try is spraying the inside of your crockpot with cooking spray before cooking, especially if your crockpot isn't removable. This will keep food from becoming baked on, making it easier to clean. Or, you could use a plastic liner that's made for crockpots. These are made of a heat resistant nylon and fit over the edge of your crock pot. ((I make sure to use a coupon when I buy them)) When you're done serving your meal, simply throw it out.
If you have cooked a meal and there is a lot of baked on food try filling the crockpot, after it has cooled with hot soapy water and allow it to soak until anything that's baked on comes off easily. Use a sponge or nylon scrubbing pad with plenty of hot soapy water and elbow grease. Make sure you haven't missed any stains, as they'll be harder to remove if you don't notice it until the next time you clean it.
You can tackle particularly tough burned on food or mineral stains by filling your crock pot 3/4 of the way full with water and add 1 cup of white vinegar. With the lid on, cook for 2 hours on high, allow to cool, then soak with hot soapy water and clean as you would normally do.
Check out these amazing Crockpot recipes:
Crockpot Bacon Cheese Potatoes
Homemade Crockpot Caramel Dip (Dulce de Leche)
Shelley is a boy mom, marine wife, and is blessed with an amazing family. She loves sharing recipes, travel reviews and tips that focus on helping busy families make memories.