Keeping Up with Your Money Resolutions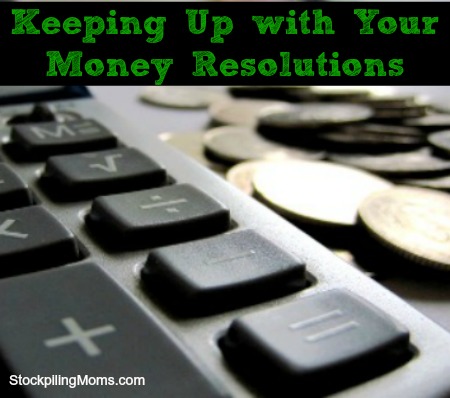 Here are tips for Keeping Up with Your Money Resolutions. If you made a New Year's resolution to stick to a budget, pay down debt, consolidate credit cards, or improve your finances this year, chance is you may have already broken it.
Keeping Up with Your Money Resolutions:
A study shows 80% of people who make New Year's resolutions break them throughout the year—44% have already broken them by the end of the first month. You buy something you shouldn't, splurge on a shopping trip, or continue to avoid your credit card statements because they're just easier to ignore.
Your financial resolutions, however, don't have to be abandoned because you lost steam keeping up with them since the start of the year. You still have eleven months to make big changes in your budget and your finances to get your household back on track. Here are three tips to help you get your 2012 money resolutions back on track:
#1: Set small goals to build momentum
Making a resolution to pay off your credit cards completely is a great goal, but if you have thousands of dollars of debt on multiple credit cards it's also going to seem a bit daunting. To keep yourself motivated, set smaller goals that play into reaching your 2012 resolution. Decide to pay off one card first and set a plan with an end date to achieve that. Once you've accomplished that first step, make another, and continue to move forward.
#2: Stay practical – only do what is within reason
Let's say you've resolved to create a budget to improve your monthly finances. Don't go nuts and just start cutting everything out to save as much money as possible, because you may not be able to keep up such a limited lifestyle. Just like yo-yo dieting, yo-yo money management can end up putting you in a tougher situation, because you're more likely to break your budget and splurge while shopping one day. Instead, start with a few cutbacks and give yourself time to get used to the changes before you make more.
#3 Find the right tools to make reaching your goal easier
Nobody ever said you have to accomplish resolutions entirely on your own, so seek help in keeping up with your resolutions. If you're planning on saving money this year, you can set up a savings or a retirement account that automatically deducts the money out of your checking account each month, so you accomplish your resolution without even thinking about it.
If you've decided to pay down debts this year, don't think that you have to do this alone either. There are a number of options that can reduce your monthly credit card debt payments by up to 50%, including enrolling in a debt management plan through a credit counseling agency. In addition to providing a debt management plan which can give you the relief you need now, they can also provide budgeting advice that can help you reach your financial goals in the future, too.
So, what do you think? Did I miss any obvious tips? Please share your comments and suggestions below!
Melissa is a football and soccer mom who has been married to her best friend for 24 years. She loves sharing recipes, travel reviews and tips that focus on helping busy families make memories.