7 Aldi Brands You Should Skip Buying
Look below at 7 Aldi Brands You Should Skip Buying, since you can typically find these items elsewhere for less. There is so much to love about Aldi. You can find fresh produce, amazing meat and cheeses, even gift items for people on your list. And while Aldi is full of deals and steals, you should know that there are some items you are better off skipping. Look below so you can be in the know and start shopping even smarter!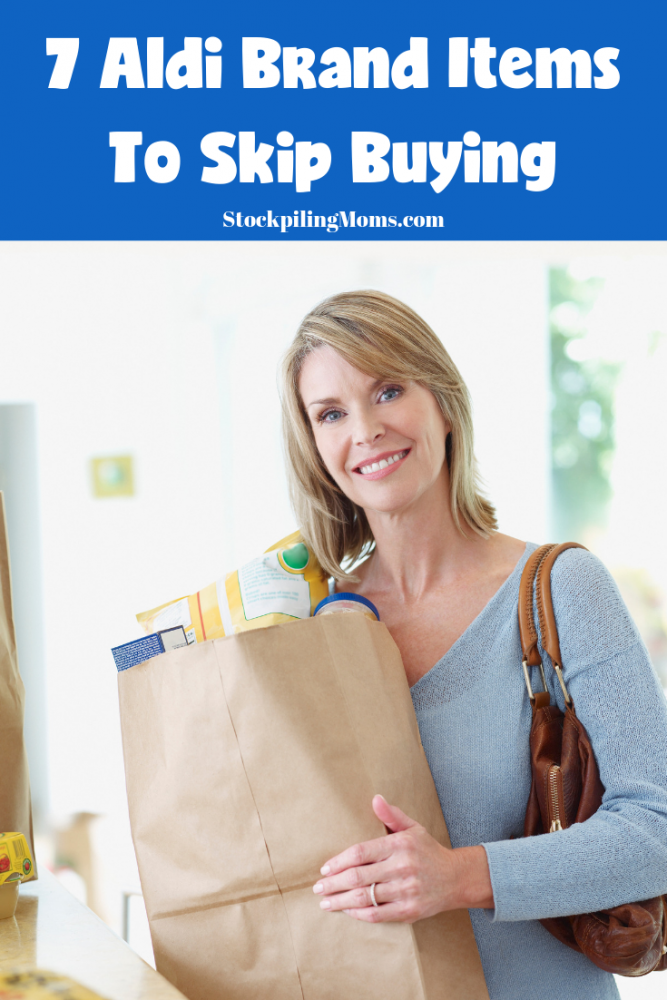 7 Aldi Brands You Should Skip Buying
1. Mac and Cheese/Pasta
Aldi carries a huge selection of mac and cheese as well as pasta, but chances are you can snag the same product for less elsewhere. While 1.50 and $2 is a great deal, you can snag the same sizes/types at most dollar stores. So save your pennies and buy pasta in bulk or at dollar stores for less.
2. Organic avocado/organic produce
Avocados at Aldi are around a buck each which is a great deal, but the organic avocado can be pricey. Look for better deals on organic produce at stores such as Fresh Thyme and save some cash. It is just as good of course, and if you buy organic produce in bulk you could save money fast.
3. Paper Towels
Paper products aren't the best deal at Aldi. You will pay around $2.50 for a two pack of paper towels, but can grab a roll for as little as a dollar at most dollar stores and grocery stores. Instead of paying as much as $1.25 a roll at Aldi, wait and shop for this item elsewhere.
4. Toilet Paper
Let's talk about paper products again. Aldi sells toilet paper rolls for as little as $1 for a four pack, but these rolls are flimsy. You can get a better deal on name brand toilet paper that will last longer and make your bum happier if you buy from your local grocer on sale. While we are on the subject of paper products, try applying this same thought/strategy to other paper products like napkins and even products such as disposable trash bags, lunch bags, and other disposables.
5. Laundry detergent
A large container of laundry detergent will cost you about $7 at Aldi. You can buy name brand liquid soap on sale at most grocery stores for around $5. Use a coupon, and you could save even more. So shop sales, and clean your clothing for less.
6. Toiletries
Aldi offers toiletries such as toothpaste and deodorant, but again, you could save when you pair with a coupon and sale at most grocery stores. These products tend to be about 20% more at Aldi, so skip the impulse to buy and find these items elsewhere.
7. Cereal
Aldi cereal will cost you about $1.25 a box. Yes, this is a great deal, but if you can pair a grocery store sale with a coupon you can typically snag boxes for under a buck or even free. Be sure to check out sale fliers before you shop, and find cereal for a steal elsewhere. $1.25 is a good deal, but the boxes tend to be small and offer smaller servings. The price per ounce may not be a good deal overall, so be sure to check quantity and cost per ounce before you head to check out.
Now that you know of the 7 Aldi brand items you want to skip, you can plan a smarter shopping strategy! So head to your local Aldi, shop smarter, and save tons!
More Tips for Shopping Smart:
How to Shop at Aldi and Save Big
7 Keto Friendly Foods You Can Find at Aldi
Melissa is a football and soccer mom who has been married to her best friend for 24 years. She loves sharing recipes, travel reviews and tips that focus on helping busy families make memories.