Frugal Kitchen Tips for Busy Moms
The older our son gets, the more I see how hard it can be to remain frugal. That's why I am sharing some of our best Frugal Kitchen Tips for Busy Moms. These ideas are perfect for those moms out there that feel like school activities and work, or family life make it harder than ever to stay in budget.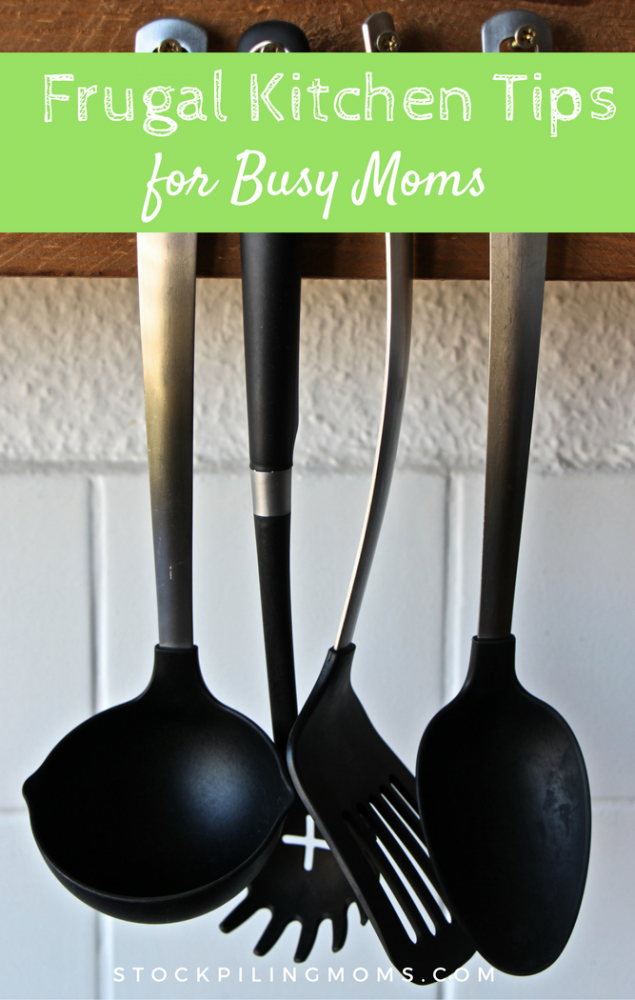 Frugal Kitchen Tips for Busy Moms
Take advantage of ready-made meal plans
We have a ton of great freezer meal plans to help you with ideas for your menu. These are not just for saving time but are also budget-friendly meals. With ideas for everything from slow cooker meal plans to those that are specifically for Paleo, Whole 30, Weight Watchers and more, you have more than enough options to make it easier.
These meal plans save time for you and also allow you to customize things that you would prefer for health reasons. Since they are all about saving time and money, they will be perfect to help you stick with your frugal goals. We especially love our menu plan that is 20 Slow Cooker Meals in 4 Hours. One weekend day can prepare you for weeknight meals for a month!
Use semi-homemade meals
Processed foods are not always the healthiest options, but they are convenient. While I don't recommend using a ton of convenience foods, I do love the idea of semi-homemade meals that can make things easier for you to manage as a busy mom. Below are some of my favorite ideas that save time and can fit into your budget.
Frozen vegetables on hand make for fast easy side dishes.

Instant potatoes can be a quick side that is easy to customize for your flavor preferences

Rotisserie chicken is budget-friendly, saves time, and can be very versatile in sandwiches, full meals, and on salads.

Chicken, beef, and vegetable stocks are inexpensive and save time in many recipes instead of making homemade items.
Stock up on sales and shop from your freezer
Stocking up ahead of time is one of the best ways to save money in your kitchen and grocery budget. Even if you don't need an item that week when you see things that are at a low price, stock up for future meals. Meat sales or purchasing 1/2 cow to get deals on meats are great ideas to save money on long-term meal planning.
Plan for using leftovers
Many families just don't like to eat the same thing day after day, but that doesn't mean you can't plan on using leftovers. If you make a batch of a favorite recipe that makes more than one meal, you can use the leftovers for meals the next day, or put into freezer storage containers for future meals. Soups and stews are great for fast lunches. Just put in the freezer right away and grab and go later for a fast meal.
If you are making large cuts of meats and know you won't be able to use all in one meal, plan for alternative dishes the next day that use the meat but in a different way. Leftover roast beef is great in stews or shredded with taco seasoning. Seasoned ground meat can be divided and used for pasta, casseroles, tacos, salads, etc. with just a few extra spices.
Invest in tools to save time
One of the best tips we can give you is to invest in tools that will save you time and money. For me, that includes using a slow cooker on a regular basis. For others, the Instant Pot or any electric pressure cooker makes a huge difference. These items will save tons of time in your daily cooking routine, but also a lot of money over the long term.
Being frugal and still providing your family with healthy and delicious meals isn't impossible. These are our go-to tips that are easy to manage. Any busy mom can put these frugal kitchen tips to use to save money in their budget without sacrificing flavor or convenience.
More Frugal Living Tips:
10 Frugal Ways to Save on Vacation
Frugal Meal Planning Tips for Weight Loss
5 Tips for Frugal Party Planning
Melissa is a football and soccer mom who has been married to her best friend for 24 years. She loves sharing recipes, travel reviews and tips that focus on helping busy families make memories.