35 Things To Do In The Lexington, KY Area With Your Kids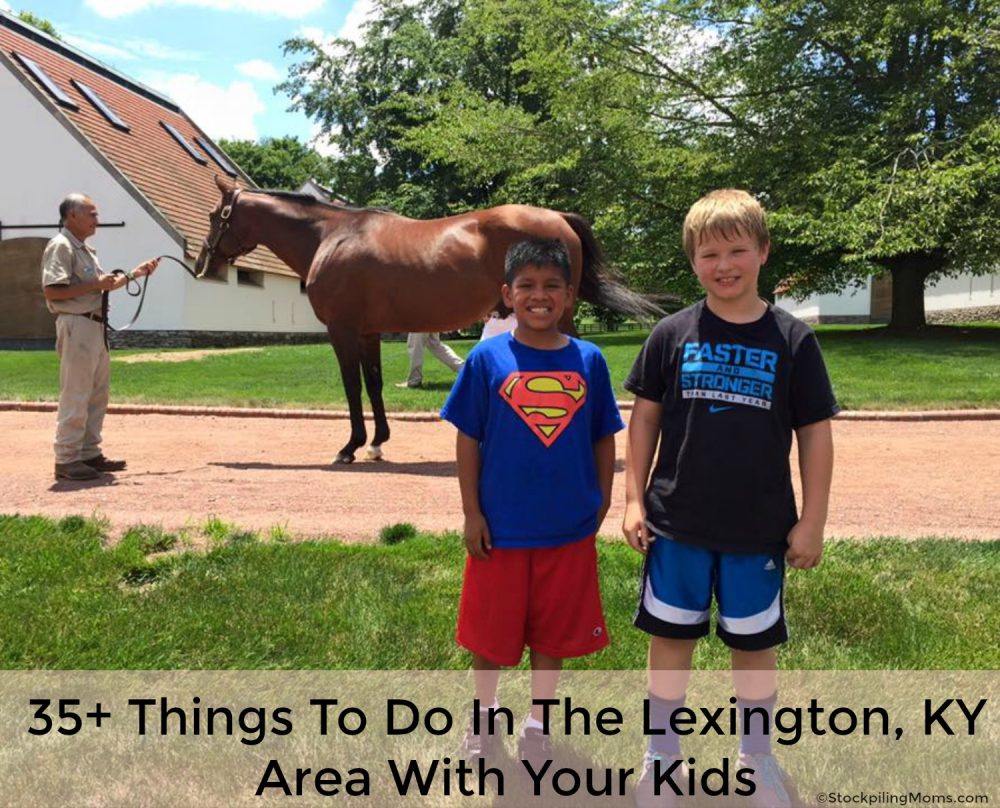 Summer is here! Are you looking for something fun to do this summer in the Lexington, KY area with your kids? We've got you covered with this huge list of 35+ things to do in the south central KY region. This is the perfect summer bucket list! I kept the list to ideas that are located in Lexington or within a 2 hour drive so that it is doable for a day trip. We hope you enjoy! If you are like me you love summer vacation with the kids. It is all about making memories that will last a lifetime.
35 Things To Do In The Lexington, KY Area With Your Kids:
Lexington:
Raven Run Nature Sanctuary – Located in Fayette Country. This is a great location for hiking and they have special events too like night insect hikes, stargazing, etc. Raven Run is a unique, 734-acre nature sanctuary located just outside of Lexington. The park borders the Kentucky River and provides a great place for hiking and wildlife viewing. Ten miles of trails pass through meadows, woodlands and streams characteristic of the inner Bluegrass. Historic remnants of early 19th century settlers can also be found throughout the park.
Lexington Legends – Located in Lexington, KY. Stadium home of minor-league baseball's Lexington Legends, with lawn seating, a pub & tours. This is a great experience for the entire family.
Kentucky Horse Park – Located in Lexington, KY about an hour south of Cincinnati. You can visit the museum, see horse, visit the thoroughbred center and pack a lunch to eat on the beautiful grounds.
Horse Farm Tours – If you are near Lexington, KY you might want to consider a horse farm tour. It is a great way to get a real feel for the horse way of life. Horse Country, Inc. is providing a new way for visitors to connect with "celebrity horses" and get "behind the gates" at the region's legendary Thoroughbred Farms. See visithorsecountry.com to learn more.
Valley View Ferry – Located in Lexington, KY the ferry is open on a regular schedule. It is a nice back roads way to travel from Lexington to Madison County. The Valley View Ferry is a free service. Operating status can also be checked by calling the Madison County hotline at (859) 624-4748.
Waveland – Located in Lexington KY, it is a grand antebellum plantation. Plan a guided tour of this living museum to learn about the 1800's in Kentucky. Admission – Adults: $7.00, Seniors: $6.00, Students of any age: $4.00, Children below six years of age: Free admission.
Ashland – Visit the home of Henry Clay in Lexington, KY. Enjoy the guided tour of the 18-room mansion (take approximately one hour). You will enter the front door and begin a journey through the Clay family mansion and time travel from the 18th century to the present. To take advantage of the full, "Ashland Experience" you'll want to allow additional time to see the permanent Henry Clay exhibit room, an informational video about Henry Clay and to enjoy the Museum Store. Outdoor options are plentiful – with a self-guided tour of the outbuildings, formal garden and walking trails, and Civil War monument. The grounds are free to visit year-round.
Breakout Game Lexington – Located in Lexington, KY. Escape games are real life adventures where you and your fellow players have an hour to break out of a room by cracking codes, solving riddles, piecing together puzzles and finding clues. (It is pricey but look for a Groupon for it).
Urban Ninja Gym – A community organization focused on organizing affordable health and fitness-based events for kids, teens, and adults in our community. Unleash Your Inner Ninja. Only $5 for a drop-in fee for open gym or a you can take a class.
Malibu Jacks – Located in Lexington and newly renovated. The feature indoor electric go carts, putt putt, laser tag, bumper cars, 4D motion theater and an arcade. It is loads of fun for the whole family. (It can be pricey but you can usually get a Groupon for it). Also, be sure to check their Facebook page for special offers.
Aviation Museum of Kentucky – Is located at Blue Grass Airport, Lexington. The facility has 20,000 square feet of display area, a fully equipped shop for aviation restoration projects, an office, a library/archive and a gift shop. The Museum is a dynamic entity which includes not only older restored aircraft and memorabilia, but also air-worthy, flyable aircraft for the public to enjoy. Check out the restored aircraft, aviation artifacts, interactive displays and gift shop. It is open Tuesday – Saturday from 10-5 and Sunday from 1-5. There is a fee to enter.
Old Kentucky Chocolates – Located on 450 Southland Drive, Lexington, KY. Enjoy a FREE tour Monday – Thursday at 10:00 am and 2 pm. During the tour you will smell the delicious chocolate aroma and see how the candy is made. They have free samples of chocolates and a gift shop. Be sure to call in advance (859-278-4444) to reserve your tour.
Georgetown:
Tour the Toyota Plant – Located in Georgetown, KY. This is a FREE tour however reservations are highly recommended. Call to schedule a tour. Perfect for a rainy day or when it is extremely hot.
Frankfort:
KY State Capitol – Located in Frankfort, KY. I believe every resident of KY should visit the KY State Capitol and it's historical offerings. There's a free trolley that will take you around several historical buildings and even the cemetery where Daniel Boone is buried.
Frankfort Salato Center – Seasonal venue hosting indoor & outdoor natural history exhibits & programs, plus fishing & hiking. It is operated by the state Fish & Wildlife department. After exploring you can picnic and fish in their stocked ponds. It is an inexpensive fun day.
Winchester:
Fort Boonesborough State Park – Located in Winchester KY. Fort Boonesborough has been reconstructed as a working fort complete with cabins, blockhouses and furnishings. Resident artisans perform craft demonstrations and give modern-day visitors a true sense of what life was like for pioneers in Kentucky. You can camp, pack a lunch and enjoy the afternoon. My suggestion is combining a tour of Ale-8-One and Fort Boonesborough together in the same day.
Ale-8-One Plant Tour – Located in Winchester KY. Reservations for tours must be made ahead of time by calling 859-744-3484. The tour lasts 30 to 45 minutes. Admission is free and you get a FREE Ale-8-One at the end of your tour. Read our review here.
Richmond:
Paradise Cove – Paradise Cove houses an 8 lane lap pool with two 1 meter diving boards, a play pool with zero depth entry and numerous play features, including four slides. Two slides stand 40 feet tall; one is a straight chute and one is a spiral. There is a family slide and a colorful 'butterfly' slide for younger children. Also on site are a state of the art bathhouse, a concession stand, and several shade structures.
Adventure Falls Miniature Golf and Batting Cages – If you are looking for a fun and inexpensive way to play miniature golf this is it! This 18 hole course features a 9 hole ADA accessible course, challenging holes, and water obstacles. The 8 cage batting facility features state of the art Iron Mike® pitching hands. Cages can be utilized by baseball, fast pitch softball and slow pitch softball players. Click here to see rates and more info.
Hummel Planetarium – Arnim D. Hummel Planetarium is located on the campus of Eastern Kentucky University in Richmond, Kentucky. They are open Monday through Friday by reservation ONLY for groups of ten or more unless there is a public show scheduled. They are open every Saturday with no reservations required. Saturday show times at noon and 1:30 PM. Each show has a star talk that follows it, showing you what is in our night sky. Out-of-the-World Thursdays! $15 includes 1 adult ticket, 1 child ticket & activity after the show.
Meeples Cafe – Meeples Cafe is located in downtown Richmond. It is fun if you like board games. They have food and a variety of drinks (bubble tea, milkshakes, and others). You can hang out and play games as long as you like (and are buying food/drink). They have games available to play for free or premium games available for $5 per person. This is hands down one of our favorite places to go on a rainy day or when it is extremely hot or cold outside. They offer gluten free options too!
Richmond Underground – Weekly air-soft game scenario announcements for Saturdays. Party packages available for Birthdays, Sports Team end of the season celebrations, and Corporate Outings.
Richmond Centre Summer Concert Series – Enjoy free music during the summer months. Be sure to check their schedule online.
Berea:
Visit the Arts and Crafts Capital of KY – Berea is home to a thriving population of weavers, instrument makers, furniture artisans, jewelry designers, glass workers, potters, painters, sculptors, and musicians. The story of Berea's artisan community is interwoven with the historic Berea College, the first interracial and coeducational college in the South.
Pinnacles – If you enjoy the outdoors be sure to hike the mountains (The Pinnacles). You will enjoy this so much on a nice fall day when the leaves are turning.
Berea Artisan Center – A nice air conditioned facility where visitors can enjoy Kentucky history, arts, crafts and dining. They have REALLY nice bathrooms too!
Berea City Pool – If you are looking for an affordable option for a fun day in the sun this is it! At only $4 for adults and $3 for children this pool is perfect for those on a budget. It is clean and a really nice facility. They even offer Dive In movies occasionally at night which are free!
Berea Country Club – If you are looking for a hidden gem of a golf course this is it! We like to call it, "The Best Little Golf Course in Kentucky". Not crowded on most days, this 9 hole golf course is fun to play. It has extremely reasonable rates too!
First Friday Berea – First Friday Berea is a street festival in the "Old Town" Artisan Village shopping district of Berea, KY. Featuring regional live music and performance art, handmade arts and crafts vendors, locally-sourced food trucks, Berea Farmers Market, children's activities and family fun atmosphere.
Get Outside KY – Just as the name says, it is time to Get Outside and explore KY! Where adventure begins. With knowledge of the surrounding area, and even kayaks to rent. Get Outside believes they can find exactly what you have in mind. If you need assistance, ideas, or wanna hit the water, they're at your service. I had the chance to rent a kayak for my son and I for the first time from Get Outside Berea and they were awesome to work with! As a first time Kayaker I was thrilled with the service that Get Outside KY provided us. Not only did we get to use their equipment, they also taught us how to safely use it! In addition they took us to the lake and helped us get into and back out of and hauled the equipment for us. They even came to check on us an hour in. I would highly recommend them!
Mt. Vernon:
Lake Linville – Lake Linville is a 356-acre reservoir in Rockcastle County, Kentucky. It was created in 1968 by the construction of the earthen Renfro Dam, 72 feet high with a length of 1100 feet, owned and operated by the Commonwealth of Kentucky. It is a great location for fishing, renting boats, camping and more.
Renfro Valley – Longtime music venue focused on classic country, Southern gospel & mountain bluegrass concerts located in Mt. Vernon, KY. They have shopping, dining and shows.
Great Saltpetre Cave – The Great Saltpetre Preserve is located in Rockcastle County, Kentucky. The Great Saltpetre Preserve is the home of a historic limestone cave once mined for saltpeter. The cave is now normally closed to visitors, except for the annual Open House (May). We attended a private event there and it is amazing!
Livingston:
Just Kik-N-It Ranch: Offers family fun activities for all ages. All you need is your enthusiasm! Explore the historic Daniel Boone National Forest and virgin Sheltowee Trace Trail by boat, or on foot or horseback. Located near the beautiful Rockcastle River and the famous Civil War Wildcat Battlefield. You too can walk in history and experience this ruggedly beautiful country for yourself.
Slade:
Natural Bridge – Located in Slade, KY is a great place to visit if you enjoy the outdoors and be sure to enjoy a visit to Miguel's Pizza.
Stanton:
Red River Gorge – Located in Stanton, KY. This is a great destination for hiking, zip-lining, camping, climbing and more! A great place to eat is Red River Rockhouse while you are there. They have amazing burgers!
Stanford:
Stanford Drive In – The Stanford Drive In is open every weekend (Friday – Sunday). Gates open at 7:00 pm and the show starts at Dusk. The concession stand is open at 7:00 pm with a huge variety of dinner items as well as popcorn and candy! Please do not bring outside food and drink to the drive in. Adults (12+) $6.50, Children (4-11) $3.50, Children under 4 are free!
Corbin:
Cumberland Falls – Cumberland Falls is one of the most impressive waterfalls in the South, and is definitely one to see. It is located in Corbin, KY and is known as the "Niagara of the South". Cumberland Falls is the only place in North America where you can see a moonbow. The moonbow is only visible on clear nights with a full moon.
Anglin Falls – This is a worthwhile side trip while visiting Cumberland Falls. If you visit, visit in the spring, hopefully after a good rain. If you are a botanist, you will likely find the area interesting even if the falls are not.
London:
Levi JacksonWilderness Road State Park – Located in London, KY this state park combines the beauty of a rolling, wooded hills park with a historic site that honors the pioneers who braved the perils of the wilderness to settle Kentucky. The Mountain Life Museum, a park attraction that brings visitors into a pioneer settlement, is open Friday and Saturday.
Treetop Adventure – The aerial adventure park features 60 elements of fun, including zip-lines, rope bridges, suspended tunnels and much more!
Somerset:
Somersplash Waterpark – Kentucky's Best Waterpark! Located in Somerset, KY the park sits on a goldmine of family fun and adventure! They have 3 Body Slides, a winding lazy river, an ENORMOUS 298,000 Gallon Wave Pool, with waves up to 4 feet tall! They also have a Kiddie Play Area for all the young ones with features and interactive attractions.

27 Twin Drive In Theater – Located in Somerset, KY. They have two screens to choose from, hence the name :-). Child admission will be $3 for children ages 5 to 11 years old. Adult admission will be $6 for ages 12 and over. Children under 4 are admitted free.
Williamsburg:
Kentucky Splash Waterpark – Located in Williamsburg, KY this park has fun for the entire family. They have Tadpole Island which is designed to entertain children 54″ and smaller. If you are looking for fun check out the Triple Slide Complex, Double Slide Complex, and Wipe Out Wave Pool. If relaxation is on your mind then check out the Lazy Castaway River. They also have a miniature golf course and driving range (additional fees required).
Stearns:
Big South Fork Scenic Railway – Located in Stearns, KY. This is the perfect location for a train fanatic. Take a train ride and enjoy a day together. The Big South Fork Scenic Railway is a heritage railroad. The route runs for 16 miles through lush countryside in the Big South Fork National River and Recreation Area.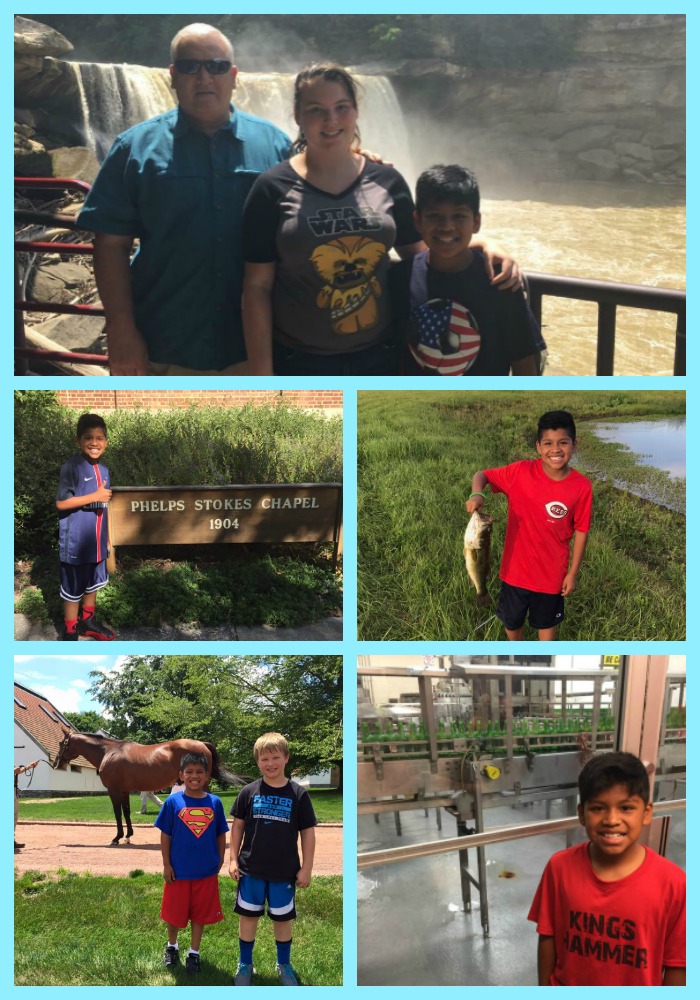 I also feel compelled to mention the Kentucky Donut Trail – This looks to be one that would be exciting. Be sure to check the hours for each location and that they are still in business before you go.
KENTUCKY TRAVEL ARTICLES:
Things to Do in Red River Gorge KY
Why You Should Take A Road Trip to Berea, KY
Best Places to See Christmas Lights in Kentucky
Big Bone Lick State Park – Family Fun in Union, KY
Melissa is a football and soccer mom who has been married to her best friend for 24 years. She loves sharing recipes, travel reviews and tips that focus on helping busy families make memories.